The League's New Best Duo
Which Tandem Will Emerge Now that Kobe and Shaq have Split?
By Anthony Peretore
Through the years, we as basketball fans have eagerly adapted to the varying fascinations the NBA has had to offer. Over the past two decades, these inclinations have revolved primarily around the players performing at (or escalating to) Hall of Fame levels. During the late 1980s and early 90s, fans became enthralled with the individual star: Jordan, Magic, Bird, Barkley, Dominique, Ewing, Isiah, and the list goes on. As children (and some bizarre adults), we couldn't help but try our best to emulate the different aspects of our idols' games: Jordan's tongue wag, Bird's jumper, Magic's no-look, 'Nique's dunks, etc. As we've matured however, our interests have carried us to a stronger appreciation for team play. Thus, our fascination with the individual has gradually evolved into one with the duo: Magic and Worthy, Bird and McHale, Jordan and Pippen, Shaq and Penny, Drexler and Hakeem, Stockton and Malone, Tripucka and Rambis (just making sure you're awake), and the most intriguing of all, Shaq and Kobe. Since 1996, we have had the privilege of following the emergence of this mysterious L.A. duo. The recurrent fluctuations within their relationship were never kept secret, and as their tensions grew stronger, our curiosity followed suit. Thanks to these former Laker teammates, fans' ever-increasing fascination with the duo has arguably reached its peak. Now that Kobe and Shaq have divorced however, it is essential that we uncover the league's next best duo.
After the off-season trade between Orlando and Houston, it seemed accurate in predicting Yao Ming and Tracy McGrady would emerge as the NBA's next best twosome. Much to our surprise however, this Rockets' duo has struggled thus far and several other two-man tandems have stepped up to challenge Ming-Mac for the title. So far, the duos of Shaq and Dwayne Wade in Miami, Cleveland's LeBron James and Zydrunas Ilgauskas, Manu Ginobili and Tim Duncan in San Antone, and the Suns' Stevie Nash and Amare Stoudemire, all look eager to test McGrady and Ming. Let's take a look at how these inside/outside combinations have fared thus far in the 2004-05 season and determine who truly is the NBA's new best duo.
Note: Rank within that category among the five duos in ( )'s
Dwayne Wade #3 and Shaquille O'Neal #34, Miami Heat

Combined Stats: 45.8 PPG(1), 17.5 RPG(2), 9.8 APG(2), 2.1 SPG(t-3), 4.4 BPG(1)

Total Ranking: 9
No one doubted Shaq would have a great year down in Miami, but Dwayne Wade's emergence as an MVP candidate has propelled the Heat to a 10-6 record, first place in the Southwest Division. Thus far in 2004, DWade (24.9 PPG, 5.4 RPG, 7.4 APG, 1.9 SPG, 1.4 BPG) has to be considered the best all-around point guard, especially with Baron Davis and Jason Kidd on the shelf with injuries. Besides Lebron and Kobe, the second-year stud from Marquette is the only player in the league filling all five categories on a consitent basis. Add to it that Shaq (finally rid of his hamstring injury) is dominating once again, and it's no wonder this team had won 5 of their last 7 before their collapse last night against the Raptors. For the season, the "Diesel" is averaging 20.9 PPG, 12.1 RPG and is second in the league with a gaudy 3.0 BPG. With Indiana ravaged with suspensions and Detroit struggling early, Miami has quietly emerged as the "Beast of the East."
LeBron James #23 and Zydrunas Ilgauskas #11, Cleveland Cavs

Combined Stats: 44.2 PPG(2), 15.8 RPG(3), 7.7 APG(3), 3.3 SPG(1), 2.6 BPG(3)

Total Ranking: 12

How can anyone put into words what LeBron James is doing for the NBA? Am I the only one who realizes he's only 19 frickin years old!? King James (26.3 PPG, 7.8 RPG, 6.1 APG, 2.4 SPG, 1.1 BPG) has to be considered the MVP of the league right now, leading the Cavaliers to a surprising 9-5 record, just 1 game back of the Central-leading Pacers. With his stellar all-around play reaching a new level this season, LeBron's Cavalier teammates have reaped the benefits, especially the Big Z. The 7-3 Lithuanian, Ilgauskas (17.9 PPG, 8.0 RPG, 1.6 APG, 0.9 SPG, 1.5 BPG), is averaging a career-high in points thanks in most part to the pentration ability and unselfishness of James. Ilgauskas' inside-outside game has complimented LeBron extremely well, perhaps well enough to snatch the Central Division away from the favored Pistons and Pacers. It will be very exciting to see how far these two can carry the Cavs in the 2005 Playoffs (Yes, they're making it).
Manu Ginobili #20 and Tim Duncan #21, San Antonio Spurs

Combined Stats: 38.8 PPG(4), 18.1 RPG(1), 7.0 APG(4), 2.9 SPG(2), 3.3 BPG(2)

Total Ranking: 13
We all expected Duncan (23.3 PPG, 12.9 RPG, 2.3 APG, 0.8 SPG, 2.9 BPG) to play well early, especially after a slightly down year last season and an extremely disappointing Olympic performance in Athens. These same expectations were not as high for Ginobili (15.5 PPG, 5.2 RPG, 4.7 APG, 2.1 SPG, 0.4BPG) however, who currently leads the team in steals and ranks 2nd in points and assists. Along with Duncan, the Argentinean star has helped lead the Spurs to the third best record in the league at 12-3, comfortably atop the Southwest Division. Many consider San Antone to be the team to beat this season, and with TD and Manu leading the way, those predictions seem right on course.
Steve Nash #13 and Amare Stoudemire #32, Phoenix Suns

Combined Stats: 42.2 PPG(3), 12.0 RPG(5), 12.4 APG(1), 2.1 SPG(T-3), 2.0 BPG(5)

Total Ranking: 17
This Suns' duo is perhaps the surprise tandem of the group. The Mavericks, worried about Nash's chronic back problems, elected not to re-sign their point guard, shying many teams away from the Canadian. However, Phoenix GM Jerry Colangelo felt confident in Nash's ability to lead his Phoenix team into the playoffs and so far, so good. With an All-Star starting lineup in desert, Nash (15.7 PPG, 3.1 RPG, 11.2 APG, 1.2 SPG, 0.0 BPG) leads the league in dimes and has shown no signs of an ailing back. Phoenix, currently 12-2, holds the league's best overall record thanks largely in part to Nash and his favorite inside target, Stoudemire. The third-year product out of 12th grade is having his best season as a pro: 26.0 PPG, 9.1 RPG, 1.0 APG, 0.9 SPG, 2.0 BPG. With their solid supporting cast of Shawn Marion, Joe Johnson and Quentin Richardson, expect Amare and Nash to maintain their post among the top 5 duos all season.
Tracy McGrady #1 and Yao Ming #11, Houston Rockets

Combined Stats: 38.1 PPG(5), 12.7 RPG(4), 6.5 APG(5), 1.4 SPG(5), 2.2 BPG(4)

Total Ranking: 23
So here they are, the weakest of the 5 duos statistically, with the worst team record (6-10) to go with it. McGrady (20.2 PPG, 5.1 RPG, 5.4 APG, 1.0 SPG, 0.9 BPG) is having his poorest season since 1999, his last year as a Dinosaur in Toronto. He and his counterpart, Ming (17.9 PPG, 7.6 RPG, 1.1 APG, 0.4 SPG, 1.3 BPG) have not found the rhythm the fans in Houston had hoped for, in what is supposed to be a promising 2004-05 season. There is room for optimism however, with Bobby Sura coming off the injured list this past Saturday. Neither Charlie Ward or Tyronn Lue have been the playmaking point guard Coach Jeff Van Gundy expected them to be. So, in comes Sura (14.7 PPG, 8.3 RPG, 5.3 APG in his final 27 games w/ Atlanta last season) who will be counted on immediately to jumpstart not only McGrady and Ming, but this entire Rockets team. Maybe then TMac and Ming will begin to develop as the duo we all expected them to be at the beginning of the year.

So who's the NBA's best duo? The numbers don't lie. Shaq still holds the crown, doing it by replacing a selfish superstar in L.A. with a pass-first All-Star-to-be in Miami. But just a fifth of the way into the 2004-05 season, we cannot count out MVP LeBron who's flying high with the Big Z in Cleveland. Or Duncan, who's back to his old self with his buddy Manu. Or Stevie Nash and Amare, who are redefining the term "alley-oop" in the desert. And, despite their sluggish start, we cannot forget about Yao and TMac either. Expect these two to get their acts together and start improving their stats across the board. While this battle for league's best duo should go back and forth all season, don't be surprised if we find ourselves falling in love with some new fascinations all the way. Hey, we've been doing it our whole lives, why stop now?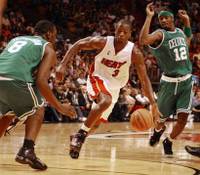 The Heat Hope This Will Be the Only Green Dwayne Wade Will be Smoking This Season