Western Conference: Return of AK-47
By Anthony Peretore

Week of January 19-25
Once a week, I will provide a run down of every team in the NBA, the facts surrounding them, player(s) to look out for on the fantasy front, and a forecast of their games of the next seven days. The intent of this blog is to provide readers with up-to-date information on their favorite teams, help with their fantasy team, and predictions for their games in the current week. Comments are much appreciated.
SOUTHWEST DIVISION

1st: San Antonio Spurs (31-9)
FACTS:
It must be nice missing arguably your second best player and still be able to beat a 22-14 team by 28. Well, that's exactly what the Spurs did on Monday against the depleted Washington Wizards. Manu Ginobili missed the game with a bruised right quad, an injury that 7 year-old girls fight through to make it to their gymnastics practice. But, Brent Barry and Devin Brown stepped up in his place scoring 17 and 24, respectively, while Coach Gregg Popovich continued to destroy the dominance of my fantasy team in holding Tim Duncan to just 27 minutes. This was the eighth time this season (seventh since December 1) that TD was limited to less than 30 minutes of PT. Last year, Duncan played 30+ minutes in all but three games. Don't get me wrong, this is an extremely intelligent move by Popovich, but one that still annoys me to no end.
FANTASY:
We're not certain when Tony Parker actually started dating "Desperate Housewives" actress Eva Longoria, but I'm going to guess around January 6. Since that night, Parker has been on fire, averaging 20.3 PPG, 7.1 APG and 3.3 RPG in seven games, five of them wins. This 22 year-old Frenchman is not only one lucky bastard, but also an extremely valuable fantasy point guard. With no viable backup point in San Antone (besides Beno), Parker has averaged 33.4 minutes for the season and should remain there barring any injury (I love saying that).
FORECAST: Wednesday:
vs. Clippers (Win),
Friday:
@Phoenix (Win, assuming Nash isn't healthy),
Sunday:
@Sacramento (Loss),
Monday:
@Portland (Win)
2nd: Dallas Mavericks (24-12)
FACTS: The Wizards torched the Mavericks last night for 120 points without their second leading scorer Larry Hughes. Too bad Washington didn't have a chance in this game with Dallas lighting up the scoreboard with a NBA season-high 137. En route to their 24th victory of the year, Dirk Nowitzki scored his 10,000 point in the league, becoming the fifth Maverick to do so. This was the team's last game without Head Coach Don Nelson who will be away from the bench for 3-4 weeks recovering from shoulder surgery. In an interview on Tuesday, Nelson said he has been putting off the procedure for some time now. He believed the injury originated while he was a player at the University of Iowa. Maybe it's just me, but that doesn't seem like something you should put off for 30+ years. Avery Johnson will coach the team in Nelson's absence.

FANTASY: Before last night, Josh Howard had been sidelined for the past three games with an upper-respiratory infection. In his absence, GF Jerry Stackhouse stepped up big in averaging 21.0 PPG, 5.3 RPG, 3.3 APG and 1.0 SPG in 40.7 minutes. Even with Howard back last night, Stack still managed a season high 29 points in just 34 minutes. While Howard's PT should increase in the next few games, Stackhouse has still averaged (and still should) 30.6 min for the season. If you're in need for a 15.0 PPG scorer to replace say, a Richard Jefferson (nice pick up Brodeur), then Stack may be your man.

FORECAST: Thursday: vs. Clippers (Win), Friday: @Charlotte (Win), Sunday: vs. Denver (Win), Monday: @Clippers (Loss)


3rd: Memphis Grizzlies (21-18)
FACTS:
Remember when Vancouver was 5-11 to start the year, then Coach Hubie Brown stepped down and the season seemed destined for ruin? Well, since the longtime TNT analyst Mike Fratello (does he dye his hair?) took over, the team is a remarkable 16-8 and currently stand as the 7th seed in the Western Conference. So how have the Czar and the Grizz done it, with tremendously improved team defense. Before Fratello took over, Memphis was allowing their opponents 95.4 PPG. Since December 3, his first game behind the bench, the team has allowed just 84.0 in their last 24 games. This stretch of improvement has allowed Memphis to climb all the way up to 3rd in the league at 90.8. Going 9-10 deep every night has allowed the Grizzlies to stay fresh on both ends of the floor for 48 minutes every night. This team could really surprise in the playoffs.
FANTASY:
I'll butter Paul's bread (whatever that means) and predict big things to come from his boy Stro Swift. With Fratello being very open about giving players minutes as they earn them, Swift could turn into a very valuable fantasy asset. The other night, while totally embarrassing Yao, Swift dropped an impressive 18 points, his highest total in almost a month. In the 10 games that Swift has warranted 25+ minutes, the former LSU Tiger has averaged 15.4 PPG, 7.2 RPG and 2.7 BPG. Keep in mind too that these numbers came in just 27.7 minutes of playing time. Give him say, Amare Stoudemire's 36.3 minutes (who Paul compares SS to), and Swift would be on pace to average 26.8 PPG, 12.5 RPG, and 4.7 BPG, based solely on these 10 games of course. I could make almost any player look good delving into numbers this thoroughly, but take mine, er, Paul's word for it that this guy is the next real deal.
FORECAST: Wednesday:
@Phoenix (Win),
Friday:
@Denver (Win),
Saturday:
@Utah (Loss),
Tuesday:
vs. Orlando (Win)


4th: Houston Rockets (20-19)
FACTS: After winning four games in a row, including road wins at Denver and Dallas, the Rockets quickly came back down to earth and are currently in the midst of a two-game losing streak. The main reason for their mediocrity thus far has no doubt been due to the fluctuating play of Yao Ming. The former number 1 pick overall has turned in some brilliant performances this season, including a 33-12 night against the Kings, 32-7 in a loss to the Lakers and a 40-12 against the Raptors. Then there are those nights when Yao is a soft as a bag of cotton like Monday night when he fouled out after 24 minutes with just 8 points and 5 rebounds in a loss to the Grizz. Check out some of his other point totals this season (with minutes in parentheses): 7 (32), 8 (22), 6 (22), 9 (26), 8 (28) and 6 (31). Why did the team hire Patrick Ewing? Do these two communicate at all? A perfect example of how soft he is came in the game against Memphis Monday, when Yao let Stro Swift posterize him with what Paul called the "dunk of the year." If the Rockets want to get anywhere this season, Yao better grow a pair.

FANTASY: Besides Tracy McGrady, everyone else on this Rockets' roster has been rather inconsistent. For example, Juwan Howard had a 29-6 night last week and followed it up with 12-8 and 6-4. Bobby Sura had 24 points, 10 boards and 4 assists at the beginning of the month and the next night just 2-4-4. You get the idea—stay away if you can. Also, if you have Ming, hold onto him for at least a few more weeks. If he starts to breakout, make your decision right away on whether or not you think it will last. If you do, keep him, if you don't, move him fast.

FORECAST: Thursday: @Orlando (Loss), Friday: @New York (Win-Bye bye Lenny Wilkens), Monday: vs. Orlando (Win)


5th: New Orleans Hornets (5-32)
FACTS:
Just as the Hornets start to show signs of being a respectable NBA team, down goes Baron Davis, again. Winners of just two of their first 31 games, New Orleans won three out of four from January 8-14 including wins over Sacramento and Portland. However, their lone superstar, Davis, left Sunday's contest at Toronto with a bruised ankle and subsequently, the team lost it's next past two. With the playoffs completely out of the question this season, don't be surprised if the Hornets continue their efforts to trade Davis especially with games like his 26 point, 10 board, 17 dime and 4 steal night against the Kings. The Clippers remain the team's best suitor.
FANTASY:
I can't believe what I'm about to write, but here goes. The fantasy pickup of the week is…Lee Nailon? Yes, even though I wrote that it's not wise to trust anyone named Lee (which is true), Nailon has been on fire in recent weeks including 25.7 PPG, 8.0 RPG and 3.3 APG over his last three. In addition, Lee has only been held under 14 points once this month and twice in the last two months. Remember this guy won two conference scoring championships in college, albeit at TCU, but still. If you need a forward, Nailon should be high on your list, especially on this depleted Hornets team.
FORECAST: Wednesday:
vs. Indiana (Loss),
Saturday:
vs. Clippers (Loss),
Sunday:
@Miami (Loss)


NORTHWEST DIVISION

1ST: Seattle Supersonics (27-10)
FACTS:
At just 4-4 in their last eight contests, there is still an outside chance for this team to finish as the 15th seed in the West as I predicted back in November. But for any of you waiting for a Sonic collapse due to the trade of Ray Allen this season, forget about it. As Chad Ford reported this week in his article "Cloud of Uncertainty over Seattle", the Sonics are trying everything in their power to re-sign the Former UConn Husky, but both sides are rather far apart with their figures. Allen is believed to be commanding in the neighborhood of $100 million, a figure Seattle hopes to trim down in order to re-sign some of their other free-agents. If this boat starts to sink quickly, maybe the Sonics will think twice about dealing Allen before the February trade deadline. But at 27-10 and 8 games up on a fading Minnesota team, Seattle has all but locked up a three seed in the West.
FANTASY:
A player quietly blowing up off the Sonics' bench has been F Vladimir Radmonovic. The 6-10 Bosnian has dropped 25 and 23, respectively, in his last two games and 15.0 PPG for the month to go along with 6.1 RPG. He has been Seattle's most prolific scorer off the pine and come summertime Radmo could command a rather hefty contract. For now however, only use him as an eight or nine on your fantasy squad.
FORECAST: Friday:
vs. Minnesota (Win),
Sunday:
vs. Utah (Win),
Tuesday:
@Lakers (Win)


2nd: Minnesota Timberwolves (19-18)
FACTS:
I've had it with this team. If you're not up-to-date on how atrocious the T'Wolves have been, take a look. Minny is 4-10 since December 21 including losses to the lowly Knicks, Bobcats and most recently, the Raptors, teams with a combined winning percentage of 37.3. Everyone on this team, aside from KG, has fallen apart especially Latrell Sprewell (career-low 12.6 PPG) and Sam Cassell (4.1 PPG lower than a season ago). One guy who hasn't been that bad and has actually provided some support from Garnett has been pretty boy Wally Szczerbiak. Surprisingly however, Coach Flip Saunders took away the Zerb's starting spot last week in favor of journeyman Trenton Hassell. The reason behind it has been Wally's grotesque defensive efforts this season. Paul threw up in his mouth a record four times the other night watching Szczerbiak try to D-up Kobe Bryant. This team is in big trouble and no doubt looking to trade Spree and Alien who both have expiring contracts.
FANTASY:
KG and no one else. If you have even clicked on John Thomas' name to see what he's done since Saunders put him in the starting lineup, you have absolutely no chance at winning your league.
FORECAST: Wednesday:
@Lakers (Win),
Friday:
@Seattle (Loss),
Saturday:
@Portland (Win),
Monday:
vs. Detroit (Loss)


3rd: Portland Trailblazers (15-22)
FACTS: Since Zach Randolph went down, the Blazers have played surprisingly well despite their 1-4 record. After a win in Philly, Portland lost games on the road by just 4 (Washington), 6 (New Orleans), 8 (Minnesota) and 6 (Sacramento), respectively. The team now returns home for a five-game home stand. Player news: After losing his starting spot in mid-December, PG Damon Stoudamire was back in the first group against the Sixers and two nights later dropped a career-high 54 against the Hornets. In their last five, Mighty Mouse and Nick Van Exel have been on fire with the former averaging 27.6 PPG, 4.4 RPG, 6.2 APG and 1.4 SPG and the latter 23.8 PPG, 4.2 RPG, 7.0 APG and 1.2 SPG. These two have taken over as the team's starting backcourt, sending veteran Derek Anderson to the bench. On a side note, I almost fell off my chair at work this morning in seeing that Joel Pryzbilla (Geoff Stowe) had 17 points and 22 rebounds last night against the Kings! This will most certainly prompt the Sonics in making a 6-year $50 million contract offer to Joel this summer.

FANTASY: It appears Theo is back and I'm not talking about a Huxstable family reunion. Ratliff started last night and had 8 points, 12 boards, 3 steals and a block in 42 minutes of run. With Randolph, SAR and Miles still nursing injuries, Theo should get enough PT to get back in sync (if you just thought of Joey Fatone, well, you know…). If some moron dropped Ratliff in your league, leave work and go get him right now. Quit your job if you have to.

FORECAST: Wednesday: vs. Cleveland (Loss), Saturday: vs. Minnesota (Loss), Monday: vs. San Antonio (Loss)…Expect these loses, which will run their losing streak to 7, to prompt GM John Nash to start making a flurry of moves.


4th: Denver Nuggets (16-22)
FACTS: It appears Carmelo Anthony chose the wrong nugget this summer in putting his little baggy in front of his practice schedule. Before last night's win in Seattle, Denver had lost five in a row and seven out of their last eight. The main culprit has been Anthony who in his last five has averaged just 16.0 PPG on just 36.0% shooting. To make matters worse, 'Melo left last night's contest in the fourth quarter with yet another ankle injury which has already caused him to miss six games this season. This is the same Nuggets team that was 43-39 last season and added All-Star Kenyon Martin to their roster. They were supposed to crack the top-five in the West and be a legitimate contender in the playoffs. That's not happening this season with Anthony in a sophomore slump and a WBNA coach behind the bench. Kiki's phone bill is probably like $3,482 this month.

FANTASY: If you have Carmelo on your roster, he may end up on the injured list in the next few days. If this does occur and your best option is another Nugget, look to DerMarr Johnson for help. While it's not the best idea to trust anyone named DerMarr or someone with three r's in their first name, this kid has shown signs of breaking out. Last season he was in a neck brace that would make Mike Utley cringe, but this season he's back with a vengeance. Let's start on December 18 when he had his first real game of the year totaling 18 points, 8 boards and 4 steals. When given the minutes, Johnson has produced. In his three games this year with 30+ minutes, the former Cincinnati Bearcat had games of 12-8-1-1-0 (p-r-a-s-b), 18-4-5-2-1, and 18-8-3-4-0. If he starts in place of Anthony this coming week, expect numbers similar to this. Not bad considering 'Melo was only netting 16 a game in the last week.

FORECAST: Friday: vs. Memphis (Loss), Sunday: @Dallas (Loss), Tuesday: @Chicago (Win)


5th: Utah Jazz (14-26)
FACTS:
Ready for the greatest turnaround in sports history? I'm going to go out on a limb here and predict that the Jazz will eventually overtake Seattle and win this Northwest Division. Why am I making such a bold statement? Andrei Kirilenko is slated to return to action this Saturday versus Memphis. His impact on both ends of the floor will inevitably transform the Jazz back into the 6-1 team we saw at the beginning of the season. I predict the Jazz to finish the year at 47-35, narrowly edging out the Sonics for the three seed in the West. Go ahead, say I'm crazy, but I don't see you guys making any bold predictions.
FANTASY:
R&B singer Keith McLeod and Raul Lopez seemed to have locked up point guard duties for the rest of the season. That's right, Carlos Arroyo is on the trading block after receiving his fourth straight DNP-Coach's decision on Monday. Both players have split time at the '1' since Arroyo's altercation with Coach Jerry Sloan, but expect just one to get the bulk of the minutes down the stretch. With Keith recording his second album with Wanya and Shawn of Boyz II Men, expect Lopez to be getting 30-35 by mid-February.
FORECAST: Saturday:
vs. Memphis (Win),
Sunday:
@Seattle (Loss)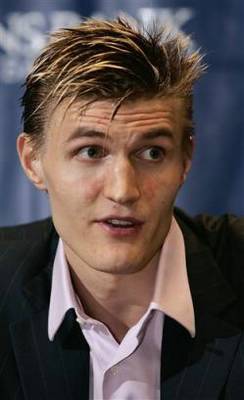 Amazingly enough, this is the guy that is perhaps the most valuable player in the league. Pinks shirts and highlights really bring out his "A" game.

PACIFIC DIVISION

1st: Phoenix Suns (31-8)
FACTS:
A week ago at this very moment, we were collectively wondering if the Suns could break the Bulls' record of 72 wins in one season. Realistically it seemed that only San Antonio, Seattle, and maybe Dallas and Sacramento had a legitimate shot of beating them on a given night. Well, one Steve Nash injury later and we can forget about 73+ wins. Phoenix has lost four straight and with Nash presumably scheduled to return tonight, more bad news arose in yesterday's practice. Backup point Leandro Barbosa and Nash collided and not only did the Brazilian sprain his ankle, but also managed to tweak the back of his already grimacing teammate. Nash has been ruled out tonight against Memphis and Joe Johnson will take over at the point. The team also signed Smush Parker after finding out that former Sun Yuta Tabuse is currently busy filming "Soy Sauce 7" with Asia Carrera.
FANTASY:
Like I've said all year, stay away from any non-starter. It makes no sense when those guys are all getting 30+ a night.
FORECAST: Wednesday:
vs. Memphis (Loss),
Friday:
vs. San Antonio (Loss),
Sunday:
vs. New Jersey (Win),
Tuesday:
@New York (Win)
2nd: Sacramento Kings (20-9)
FACTS:
Steve Francis and Cuttino Mobley were reportedly crying in the locker room after finding out that the former URI star had been traded to Sacramento. There hasn't been this much commotion over a split of best friends since Mike Seaver left Boner Stabone for the college life. Get on with your lives fellas. So why did the Kings make this deal, well for two reasons. 1) They are sick to death of dealing with Jackie Christie on plane rides and providing her husband with more whip marks than Indiana Jones in the Temple of Doom, and 2) Their only legit chance of winning a NBA title is by outscoring every one of their opponents. Everyone one of their starters averages 14+ PPG and Mobley will undoubtedly free up Peja Stojakovic more on the wing. Once they get in a groove, the Kings should average 105-110 PPG for the rest of the season. Book it.
FANTASY:
Yet another team in which the starters absolutely dominate. If you don't have a King on your roster, you're probably lucky. These guys are all very inconsistent with their scoring as a new player seems to lead the team every night. Look for Mobley's numbers to stay about the same from his 16.0 PPG in Orlando.
FORECAST: Thursday:
vs. Cleveland (Win),
Sunday:
vs. San Antonio (Win),
Tuesday:
vs. New Jersey (Win)
3rd: Los Angeles Lakers (20-16)
FACTS:
Much to my surprise, not many people are discussing the long term effects that Kobe Bryant's injury may have on the Lakers' playoff hopes. Currently the team is 20-16 and holds the six seed in the Western Conference. However, the ninth place Rockets loom just 1.5 games back and the cross-town Clippers, a mere 2.5. Fortunately for the Lake Show, seven of their next eight contests are at the Staples Center. Since the Cleveland game in which Bryant sprained his ankle, SF Caron Butler has really stepped up his play, averaging 21.0 PPG, 7.7 RPG, and 2.0 SPG, all well above his season stats. With Butler and Lamar Odom shouldering the load, the Lakers should be able to hold onto a playoff spot by the skin of their teeth.
FANTASY:
It doesn't appear that any unexpected player is going to step up in Kobe's absence. Rookie Sasha Vujacic has started the last two games in Bryant's place but had only 15 points total in those contests. If you have Butler and Odom you will be one happy owner for at least the next two weeks. Upon Bryant's return, look to deal these guys to managers biting on their stats increase.
FORECAST: Wednesday:
vs. Minnesota (Loss),
Friday:
vs. Golden State (Win),
Tuesday:
vs. Seattle (Loss)
4th: Los Angeles Clippers (18-19)
FACTS:
I don't think I could possibly root harder for this team, but they are just one of those franchises destined for misery. Just when GM Elgin Baylor had a handful of teams biting at his heals for a package of Chris Wilcox, Marko Jaric and Kerry Kittles' expiring contract, all three players got injured. They have a solid core of players in Corey Maggette, Elton Brand and Bobby Simmons, but absolutely no point guard to get them the ball. The smart move would be for Baron Davis but with Shaun Livingston waiting in the wings, Baylor seems hesitant to make that move. The Clippers are a solid 13-10 at home including recent wins over first place Seattle and Miami. Their problems, as with almost every other team in the league, come on the road, where Brand in particular, seems to disappear. The former Duke Blue Devil averages 4.4 points less on the road than at home, contributing largely to their dismal 5-9 record away from L.A.
FANTASY:
I would say keep an eye on PG Darrick Martin, but c'mon now, it's Darrick Martin. He's gotten a solid increase in minutes since Rick Brunson fizzled out, but just stay away. It's just a matter of time before the Clippers are forced to make a move for a better point. Although, keep an eye on Livingston who is slated to return very shortly.
FORECAST: Wednesday:
@San Antonio (Loss),
Thursday:
@Dallas (Loss),
Saturday:
@New Orleans (Win),
Monday:
vs. Dallas (Win)


5th: Golden State Warriors (12-27)
FACTS:
As I reported in my "Overrated" column on Tuesday, the Warriors are a solid 7-7 when their starting lineup is Speedy Claxton, Jason Richardson, Mike Dunleavy Jr., Troy Murphy and Cliff Robinson. Do the math and you'll see they are absolutely rancid with any other starting five. The Warriors are not as bad as their record shows and as the season wears on and Chris Mullin realizes that Mike Montgomery just isn't cutting it, the team will be much better off. With the team seemingly having no shot at the playoffs, Monty should be playing youngsters like Andres Biedrins and Mickael Pietrus not scrub 40-year olds like Cal Cheaney and Dale Davis. What good is that for the future of the ball club? Do you really need to be a NBA coach to figure these things out. It's so frustrating when likable teams with likable players have front offices worse than the New York Rangers.
FANTASY:
It's almost a certainty than Pietrus will be getting 30+ by the end of the season. If you have the roster space and he's available, grab him. It's conceivable to think Dunleavy will be moved and if that deal does go down, enter Pietrus into the starting five. There's a reason this guy went 11th overall in the 2003 draft.
FORECAST: Friday:
@Lakers (Loss),
Saturday:
vs. Cleveland (Loss)