Courtside Volume 2: Kobe's Return
By Anthony Peretore

Touching on a Bit of Everything Surrounding the NBA
Note: This article was supposed to appear last Friday but due to email difficulty I couldn't post it until today. Some of the info may seem a bit dated, but I did my best to freshen it up for today. I'll have a preview for the entire second half coming up by the end of the week. Keep an eye out…
Nicked Up
Players Currently Fighting Injuries
1. Voshon Lenard, SG Denver Nuggets
You might remember back on opening night when Lenard blew out his Achilles tendon versus the Lakers, an injury that effectively ended his season before it even started. Well, the former Minnesota Golden Gopher is returning to the hardwood sooner than expected, and will be donning his Nuggets uniform on February 19. However, the Denver 2-guard won't be playing in a game, but rather defending his 3-point shootout title during All-Star Weekend. That's right, Lenard's Achilles is healthy enough to shoot and hobble to each ball rack, but he's still expected to miss the remainder of the season. While riding the IL, it's been rumored that the Nuggets are shopping around Lenard's expiring contract along with Nikoloz Tskitishvili for a decent shooter to fill his void.
2. Jason Williams, PG Memphis Grizzlies
J-Will was limited to just 11 minutes on Friday and then missed Sunday's game at Indy entirely. The injury is being sited as a sore left foot and may keep him out of action versus Boston on Wednesday. Either this is more of a precautionary measure by the team to ensure William's good health for the second half or a trade could be brewing. Call me crazy but Gary Payton to Memphis doesn't seem so far fetched to me. Sorry Hannah.
3. Emeka Okafor, F/C Charlotte Bobcats

Unfortunately, I really think Okafor had a great chance to make the All-Star team this season if he hadn't gone down with this ankle inury. The 'Cats put their rookie on the injured list back on February 1 with a sprained left ankle, and 'Mek returned to action this past Friday against Miami. In 33 minutes of action Okafor totaled 13 points and 7 rebounds but regrettably re-injured the joint. 'Mek missed Sunday night contrst with the Knicks and he should be expected to miss both of Charlotte's contests this week prior to All-Star Weekend. Expect him to be back to full strength come this time next week.
4. Kobe Bryant, SG Los Angeles Lakers

Not quite sure what the Lakers are thinking, but Bryant returned to the hardwood last night and had a sub-par performance: 26 points on 7-22 shooting, 4 rebounds and 6 assists. Did it really make sense to bring him back two games before the All-Star break especially at Cleveland (loss either way) and versus Utah (win either way)? Why not give him another nine days of rest just to be sure he's 100% healthy for the stretch run? Oh yeah, Frank Hamblen's the coach. Let's just pray Kobe's not doing this just to play in the All-Star game. If that's the case, this guy's going to get shunned even worse, if that's really possible.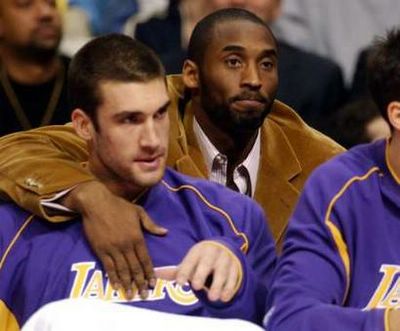 Hopefully this will be the last time we see Kobe in street clothes...and touching Chris Mihm's boob for that matter



Fantasy Watch:
Players to Keep an Eye on in Coming Weeks
Go Get 'Em:1. Jason Richardson, SG Golden State Warriors
Since ridding himself of his nagging left ankle injury, J-Rich has gone off. In 13 games the 4th year star has averaged 25.9 PPG, 6.4 RPG, 4.6 APG and 1.9 SPG. With Troy Murphy out of the lineup with a fractured thumb and Cliff Robinson burning more trees than a Smokey the Bear hater, Richardson has emerged as the leader of this young Warriors team. Perhaps the only thing to worry about is the abundance of PT Rich has quickly gotten since his return. However, despite averaging 39.8 minutes in his last 11, the former Michigan State Spartan had missed just 6 games in his career before this season.
2. Jason Kidd, PG New Jersey Nets
Think J-Kidd likes playing with Vince Carter? Now I know it took Jason a little while to get his playing legs back after returning from knee surgery, but take a look at the former Cal star's numbers before and after the Carter deal:
Before Vince:
9 games, 10.0 PPG, 4.6 RPG, 5.1 APG, and 1.0 SPG
Since Vince:
25 games, 15.0 PPG, 7.4 RPG, 8.5 APG and 2.0 SPG
In last Monday's overtime win over the Sixers, Kidd recorded his third triple-double of the year with an eye-popping 22 points, 16 assists and 11 rebounds. In Jersey's very next contest, yet another OT thriller (this time a loss at the hands of the Lakers), Joumana's hubby tallied yet another trip-dub with 28, 12 and 12. With J-Kidd back in All-Star form, check out to see what his fantasy owner would want for him. Trading for #5 would almost assure you the assist crown every week (unless you're playing Nash).
3. Zach Randolph, PF Portland Trailblazers
It's just a matter of time now before Randolph gets reinserted into Coach Mo Cheeks' starting lineup. After missing six games in mid-January with a sore right knee, the former MSU star lost his starting spot to a combination of Theo Ratliff and Joel Przybilla (not a joke). However, of late Randolph has shown signs of returning to All-Star-caliber form despite severe inconsistency. His last four: 28 and 12, 4 and 2, 26 and 12 and 7 and 7—you catch my drift. Cheeks has to realize this kid needs 35+ minutes a night to shine and if he leaves him coming off the pine it's a huge mistake. Remember that the Blazers signed him to a huge deal this summer and they are not paying that kind of loot to leave this kid out of the first five. Expect a huge second half from the fourth year stud.
Get Rid of 'Em:
1. Andre Miller, PG Denver Nuggets

If you haven't realized it yet, Miller is never going to be the same player he was four years ago in Cleveland. Then: 16.5 PPG, 10.9 APG, 1.6 SPG. Now: 14.4 PPG, 6.3 APG, 1.4 SPG. Is this guy 43 years old? Last time I checked he was 28 and playing with guys named Carmelo, Kenyon and Camby. Is there any reason his numbers have dropped off so dramatically? In addition to his poor performance thus far in '04-05, George Karl is now behind the bench. Since this move occurred two weeks ago, rumors of a Karl-Gary Payton reunion have been cooking up in the rumor mill. Keep an eye on this situation because if Miller gets moved to '2' guard, trade him. But if he got dealt to say the Celtics, you might want to take a risk and deal for him.
2. Rafer Alston, PG Toronto Raptors
"Skip to My Lou" is in trouble with his Coach Sam Mitchell once again after leaving the entire arena last Tuesday night. Mitchell benched Alston at the end of the first quarter and informed him that he would not be returning to action for the rest of the night. This meant that veteran Milt Palacio would be taking his place, prompting the ex-And One baller to pack his gear and leave Gund Arena in Cleveland. Even though Mitchell started Alston the very next day against Milwaukee, things are still not all healed between these two especially after reports said that Mitchell challenged Alston to a fist fight. Mark that down as one of the more comical occurances of this season. As long as Mitch is behind the bench, we cannot expect Alston to be playing with any mental toughness. I'd trade him if you can get a quailty point in return, say a Gary Payton or Jeff McInnis.
3. Mike Bibby, PG Sacramento Kings
With both Chris Webber and Peja Stojakovic recently missing time due to injury, Bibby stepped up with some of his better performances of the season. Over a five-game stretch in late-January and early-February, the former 'Zona star averaged 26.0 PPG, 9.0 APG and 2.0 SPG. At that time he seemed worthy of putting together some type of deal for him. However, with Peja and C-Webb back in the lineup, expect Bibby's numbers to come back down to earth. Thus far they have remained high and if you're a Bibby owner this is great for you. If you can package the Kings' guard for say a Stephon Marbury or Gilbert Arenas-caliber point, do so soon. Some owners may bite after his recent hot streak.
Worth the Risk:1. Ron Mercer, SG New Jersey Nets
I know I had Ron on the list a few weeks ago, but I was just going by reports that he was returning shortly. Well, he's finally back from knee surgery and turned in a rather nice performance last Monday against Philadelphia with 14 points on 7-12 shooting and 2 steals in just 23 minutes. With New Jersey desperate for someone else to step up in addition to Kidd and Carter, Mercer could just be the guy to fill that role.
2. Tyson Chandler, F Chicago Bulls
This is just a hunch on my part, but I think Chandler will be getting 30-35 minutes a night after the All-Star Break. After turning in 8 points and 15 boards last Tuesday night in Dallas, TC followed it up with 12 points, 20 boards and 3 blocks the next night in Houston. If you need rebounds and blocks, I'd take the risk and make a deal for Chandler. He averaged 2.8 BPG in the month of January and with a double-digit rebound game seemingly every other night, TC is worth the gamble.
3. Reggie Evans, PF Seattle Supersonics
I'm not sure what this guy has to do to warrant more than 20-25 minutes per game. Big Reg leads the league in rebounds per 48 minutes with 18.7, but that's the problem—he only gets 23.6 MPG. In the Sonics-Kings game last Thursday night on TNT, Evans had 3 boards and 4 points in like 45 seconds. He was battling the offensive glass, energizing his team, scoring on put-backs, then YANK. Coach Nate McMillan loves to bring in Danny Fortson (the league leader in technical fouls—2 last night) for some attitude. In my opinion, Evans has plenty of toughness to go around and brings a lot more in terms of rebounding than Fortson ever does. In his last four games, Evan has averaged 16 RPG in just 28.0 MPG. His per 48-min average for this stretch would total out to a ridiculous 27.4 boards per night. If he starts to get 30+ a night (Fortson is on the trading block), this guy will carry your fantasy team in boards every week. Worth the gamble now…
Movin' on Up

Teams on the rise

1. Miami Heat (39-14)
During the initial stages of the new year we began to question how good the Heat really were. In their first 12 games of January, Miami went just 6-6 after playing close to or above .700 basketball all season. However, since their win at Toronto (16-9 at home) this team has gone a remarkable 9-1, dropping only a road contest at Dallas. Their win over the Spurs on Sunday left Coach Stan Van Gundy claiming: "That is the best I have felt about our team in a long time.'' With Miami rumored to have a deal in place for Alonzo Mourning, their interior game should become even stronger (if that's even possible).
Note:
I watched the Heat-Knicks game last Wednesday and if I've said it once I'll say it again; Dwyane Wade is going to be a 10-time All-Star in this league. He has that natural scoring ability that only a handful of players have, even more so with the game on the line. When that game went to overtime, there was no doubt in my mind who was getting the ball. Don't believe me? Wade went base line so quickly he caused Nazr Mohammed to re-injure his groin (that doesn't sound right, but you get the point).
Prediction:
With 'Zo possibly on his way to Miami, it will allow Shaq to maintain his durability for the playoffs. Title number four for the Big Aristotle?
2. Boston Celtics (26-26)
Yes sir, at 7-3 in their last 10, the Boston Celtics are on the rise. In the process, they have become the only Atlantic Division team to reach the .500 mark since the infant stages of the season. Their big wins lately include, vs. Indiana, at and vs. Chicago, at Minnesota, and a 23-point comeback vs. the Clippers. Meshing together veterans and youth is never an easy task, but it seems as if Coach Doc Rivers has discovered the best rotations for his players at a critical juncture of the season. With rookie phenom Al Jefferson scheduled to return right after the All-Star Break, this team is only getting stronger. Paul Pierce has had a fabulous last few weeks, even garnering Eastern Conference Player of the Week honors on February 7th. He came one assist shy of his third triple-double of the season last Wednesday vs. the Clips.
Prediction: Look for Boston to keep Gary Payton and instead package Marcus Banks and an expiring contract (Tom Gugliotta, Michael Stewart) or two to get back a veteran center to backup or replace Mark Blount. Remember, if Boston holds on to the Atlantic crown they will receive a 3 seed in the playoffs. If they don't add some veteran depth to this roster it will be one and done for the Celts and quite a waste of a high seed.
3. Houston Rockets (31-21)
Don't look now, but the Rockets are very quietly evolving into one of the better teams in the Western Conference. This team started out 6-11 but have since gone 25-10, currently positioning themselves as the six seed in the West. The biggest boost behind their surge has to have been the acquisition of David Wesley from New Orleans. Now Wesley hasn't played especially well since the deal went down (24 games, 10.0 PPG, 2.8 APG), but it has allowed Tracy McGrady to move over to his natural '3' position. Take a look at the difference:
Playing the '2' (26 games):
22.9 PPG, 6.0 RPG, 5.6 APG, and 1.5 SPG
Playing the '3' (21 games):
29.3 PPG, 6.6 RPG, 6.1 APG, and 2.0 SPG (1 POTW honor)
Looks like T-Mac will be staying at forward for the rest of the season, except for one particular game in Denver where millions of people voted him in to play. I forget what it's called though.
Prediction:
Rockets will eventually pass the Kings and nab the four seed in the West before all is said and done.
Free Falling

Teams in Big Trouble
1. Minnesota Timberwolves (25-27)
As if the Wolves' season couldn't get any worse, on Saturday GM Kevin McHale fired Coach Flip Saunders (like it's his fault) and replaced him with…himself. McHale has zero coaching experience and I'm sure Latrell Sprewell and Sam Cassell will respond to him as their leader after he's shopped the both of them all season long. Before the firing of Flip and last Wednesday's win over Denver, the T-Wolves had dropped six straight and appeared destined (and still do) to fall completely out of the playoff picture. However, Saunders should not have taken the rap. Their main problem has been the atrocious play of Cassell and Spree. After bitching about not being paid enough in the off-season, Sprewell has responded with big time averages of 12.4 PPG, 2.5 RPG, and 2.2 APG. Cassell hasn't been too much better with 14.3 PPG, 2.3 RPG, and 5.9 APG, numbers all significantly down from a year ago. Their struggles have certainly effected Kevin Garnett whose spectacular numbers from the beginning of the season are now coming back down to earth (at least for him). He hasn't let his frustration show yet, but one has to think that unless a trade goes down soon, KG is almost certain to explode. For a team that was arguably the favorites behind the Spurs to represent the West in the NBA Finals, they are now fighting for their playoff lives.
Prediction:
Both Cassell and Spree will be dealt at the break, but it won't matter. Minny will be back in the lottery.
2. Utah Jazz (17-33)

I really expected the Jazz to start to turn things around once Andrei Kirilenko returned from injury but so far, no good. Utah is just 3-7 since AK came back and one of those W's came against the brutal Hornets. Since he regained his starting slot, Kirilenko has done all he can to boost the team, averaging 16.3 PPG, 6.3 RPG, 4.7 APG, and 2.5 BPG. The bigger problem has been the lack of consistent play at the point where the Jazz have rotated three different players all year long with none of them proving worthy thus far. Raul Lopez now controls the reigns but before Friday's decent performance against Minnesota, the second-year point had putrid averages of just 3.6 PPG, 4.0 APG and 0.4 SPG in his previous five. This is Utah's starting point guard for Pete's sake (who's Pete?). To make matters even worse, there's a rumor going around that Utah's biggest free-agent signee from this past off-season, Carlos Boozer, is now on the trading block. No wonder everyone goes on Mormon missions in Utah.
3. Orlando Magic (27-24)
As if GM John Weisbrod hasn't done enough already, first trading Tracy McGrady for Steve Francis and Cuttino Mobley, then a month and a half ago shipping Cut (Franny's Best friend) out to Sactown. This latest move has angered Francis so much, that due to his distress, Weisbrod has taken it upon himself to entertain trade ideas for "The Franchise," something that could harm this organization beyond repair. I'm not really sure the mentality behind getting rid of Francis unless they are thrilled thus far with the play of rookie Jameer Nelson (which I doubt). If that's the case then they wouldn't need to receive a high caliber point in return, but instead maybe a '2' to play along side Nelson and Grant Hill. What boggles my mind even more is that Weisbrod claims that Francis is miserable, yet the All-Star snub's numbers have actually gone up a bit since his buddy's departure.
Prediction:
Weisbrod will come to his senses and keep Stevie and make a trade for a player of Francis' personal choosing. The Magic will get the 6 seed in the East and get swept by the Celtics anyway, so it's not like it matters.
Random Facts:
For those of you dreaming to one day be a NBA coach but are worried you need to play in the league before doing so, here are ten current coaches with no NBA playing experience whatsoever:
• Bernie Bickerstaff, Charlotte
• Jim O'Brien, Philadelphia
• Lawrence Frank, New Jersey
• Mike Fratello, Memphis
• Frank Hamblen, Lakers*
• Mike Montgomery, Golden St.
• Gregg Popovich, San Antonio
• Flip Saunders, Minnesota
• Jeff Van Gundy, Houston
• Stan Van Gundy, Miami
*Interim coach
Source: Benmaller.com

Top 4 Fantasy Team Names
Just for Fun:

1. Rolling a Mark Blount with Willie's Green
2. Diagnosed With Zarko Cabarkapa
3. Ha Seung-Jin 'n Tonic
4. Mo' Cheeks Part 7 (Starring Amanda Duke)