Fast-Breaking It Down Pt.2
By Paul Benedict
-Not to toot my own horn or anything, but late last night I was up tinkering with potential trades that could potentially go down today. One trade I concocted was a deal that had the Spurs sending Malik Rose and a 1st round pick to the Knicks for Nazr Mohammed and Jamison Brewer (I ended up ruling it out, deciding that Isiah wouldn't possibly take on a Mike Sweetney-clone with another 4 years, $27 million on his contract--go figure). Of course I have nothing to back this up on, so do with it as you will. Here are some other doozies I brewed up:
Magic trade Steve Francis, Kelvin Cato, Andrew Declercq to Celtics for Paul Pierce and Raef LaFraentz.
Lakers receive Carlos Boozer and Bobby Jackson; Kings receive Lamar Odom; Jazz receive Peja Stojakovic.
Sixers trade Willie Green and Glenn Robinson to Raptors for Donyell Marshall, Eric Williams, and Aaron Williams.
Nuggets trade Nikoloz Tskitishvili and Bryon Russell to Raptors for Eric Williams.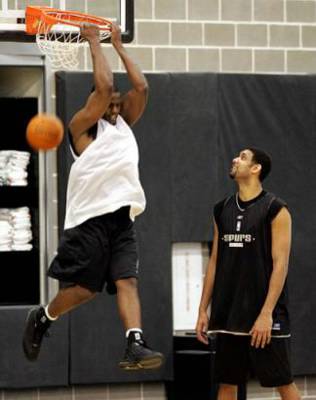 It has been Reported that Isiah Made the Rose Deal Based Upon This Picture

-Oh, Isiah. As if the Knicks weren't overpaying enough guys, Isiah has now tacked on another $22 million to the team's payroll and for what? An undersized, overpaid power forward (Rose) scarcely reminiscent of one he already has (Sweetney)? An average, injury-prone, overpaid power forward afraid of contact (Taylor)? 2 late-first round draft picks? So now the Knicks are left with 4 power forwards (Thomas, Sweetney, Rose, Taylor) and just one center-- Bruno Sundov (does he even count? I'm serious.). Apparently Isiah wasn't trying to free up time for Sweetney after all...
-The Dallas Mavericks acquired Keith Van Horn from the Bucks in a move which Milwaukee purely made to clear cap room this summer for Michael Redd and quite possibly another quality free agent. While Van Horn fits right into Nelson's system, how many minutes is he going to play? With Dirk, Stack, Howard, and Finley all battling for PT and playing central offensive roles on the team, I'm just not sure Van Horn is going to be able earn what his contract is worth given that he can't possibly log any more than 20-25 minutes a game. Although I suppose Mark Cuban basically writes blank checks as the Mavs' owner, so it's not like adding Van Horn will hurt the club.
-Rob Babcock ended up calling the 3 pm news conference to announce that he did
not
come to agreement on any trades before today's deadline. This makes almost no sense to me. Donyell Marshall will be bouncing out of Toronto this summer quicker than the crap coming out of Stephen A. Smith's mouth, so why not at least get
something
in return? Toronto has virtually no chance at making a playoff push now that Boston and Philly have beefed up their rosters, so Babcock really should have just taken the best offer he was presented with. I find it hard to believe that he could not have at least gotten a decent 1st round pick for Marshall.
-I've enjoyed watching Golden State all season long-- Mike Montgomery has his guys playing hard every night out, they have a noticeable on-court chemistry that is a pleasure to watch, Jason Richardson is arguably the most underappreciated star in the NBA, and their fans actually come out to games and cheer them on-- the excitement is a lot more contagious when you hear the crowd actually getting excited for a team that is an annual bottom-dweller. Baron Davis, a California native, has a chance to do wonders for this franchise. For starters, he will instantly become a fan favorite in Oakland and attract national attention with his pairing alongside JRich in the backcourt. It's also on him to bring the team back to the playoffs for the first time since Run TMC in the early 90's. Of course Baron has dealt with his share of injury problems over the past few years, but I firmly believe that his time off this season has a lot to do with the Hornets' woes rather than his toughness as a player. People tend to forget that he carried the Hornets in the playoffs 2 years in a row while being hobbled by injuries. And just for the record, Chris Mullin may have pulled off the steal of the day when he grabbed Skita and Rodney White, two talented, yet underachieving forwards, for Eduardo Najera, his hefty contract, and a future #1 pick. If Skita and White can show a little something before the end of the season, then Mullin can offer to pay them this summer and keep them around. If not, then both are off the books and Mullin has freed up some quality cap room.