My Super Bowl Sunday
By Anthony Peretore
Well, I know this is a NBA site but I think it's safe to say that the majority of our readers were watching the Super Bowl last night. If the game was a blowout or I just watched it at home with my parents, I wouldn't be wasting your time with this article. But, with all the excitement I took in on Super Bowl Sunday, I thought I'd give you a running blog of my day and night, Bill Simmons style.
After a late night on Saturday in which I finally hit the sack somewhere between 4 and 5 a.m., I knew the early stages of Sunday would be a struggle. I woke up around 12 to my buddy Adam's phone call, curious to know if I would go with him to Costco. Since there is no other store I enjoy going to more, of course I was in. Nowhere else in the world can you get a 42 gallon tub of mayo for 5 dollars or 5,700,000 pretzels for $6.99 or 115 rolls of toilet paper for 10 bucks. So, we'll start the blog here on our mission to get Super Bowl snacks:
3:30:
I got in the car with Adam on our way to Costco while he and his girlfriend brought the art of arguing to a new level. Adam broke the world record for curse words in a 2 minute span with 856, shattering 2pac's old mark in the song "Hit 'em up." Then somehow 10 minutes later it was like nothing happened and they were all lovey dovey. Is this the way all relationships are these days? I like being single.
4:15:
We arrive at Costco and park within 50 yards of a brand new yellow Corvette with the Ruff Ryderz logo on it. Imagine DMX walking out with three 400-lbs. bags of Gravy Train for his pit bulls? We looked around for about 11 seconds for someone from the RR crew, but then the lady passing out free samples distracted us. You can't beat the free samples. If you hit them all up, it's basically like a full lunch. After we filled up, we got the necessities and $130 later, we were out the door.
5:00:
We got back to Adam's house and a few other guys showed up. First there was Ryan who's about 7'4" and said no more than 15 words the whole night. Then Erik, Gus and Steve got there and the chaos was about to begin. Quick background on these guys: Erik is a die-hard Pats fan so it was no surprise when he showed up with a Tedy Bruschi jersey on. (How come no questions why his name is Tedy? Why not Ted? I mean he's a NFL linebacker and he's got the nickname of a 3 year-old?) I decided to monitor Erik's quotes for the majority of the night, which I'll get to in a bit. Steve is Erik's close friend and a die-hard Yankees fan—always good in my book. Gus is a quiet kid but has a strong desire to make a quick buck, just like me. So, I knew I'd be able to convince him to make a few prop bets with me. For those of you who don't know, prop bets are those ridiculous wagers on the Super Bowl like, will Terrell Owens score a TD, yes or no? Or the over/under on Andy Reid's poops in the first half. Half of them are absolutely ridiculous, but it's something to help spice up the game if you really have no interest in who wins.
5:30:
Gus and I settle on four bets with the ground rules set at this: pick three winnable bets with relatively even odds and one stretch bet that could win us a bit more money. So, we agree on: the coin toss to be won with heads, Brian Westbrook to score a TD, Donovan McNabb to throw an interception and Corey Dillon to score the first TD (which was +450, so our $10 bet would net us $45, not bad). These all seemed like logical wagers and if we lost, well at least we had a reason to be excited for the game. One problem: my damn bank wouldn't allow me to put money in an online-gambling account. Is it their money? Who are they to decide how I spend my money? This was ridiculous. So after we skimmed through over 1,300 prop bets to decide on four, we ended up just wasting an hour of our night. Time to crack the beers.
6:15:
I sat down to watch the Black Eyed Peas perform their song "Let's Get It Started" for the 8,000th time. Is it just me or has the girl in that group gone from punk to 'out-of-this-world' sexy in like three months? How did that happen? Anyway, I'm already bored with all the pre-game ceremonies and it's only been like 3 minutes. Finally, the player announcements are coming up next. That's when Erik chimed in with this cocky remark: "Don't worry guys, the Pats will come out as a team, it won't take that long at all." Now I guess it's not Erik's fault that he's become so overly confident with his team because that's the same way I felt about the Yankees in the late-'90's and early Y2K years. But what makes me mad is that back in the '90's I swear there were no more than 11 Patriots fans in the whole state of Connecticut and now they're everywhere you look. I hate the fact that when teams start to get good you see people with team flags on their house, team license plates, and even the dog has like a team collar or water bowl. It makes me sick.
7:00:
Just for kicks we decided to monitor our 'would be' bets and hope that they all lose. The Pats choose heads and then some 7 year-old in full football gear decides to just throw the coin straight up in the air with no rotation whatsoever. Who was this Tim Wakefield's kid? It lands tails. Good, we would have been out $10 before the game even started. So, all 45 captains ran off the field and the game was underway. Time to get some food.
7:10:
Plate number one: 2 buffalo wings, 2 buffalo bites, 3 pigs in a blanket, and 4 cocktail shrimp. I would repeat this routine at least 7 more times during the night. There's nothing like Super Bowl snack foods. Most underrated snack: Ruffles and French onion dip; Unbelievable. But the best "snack" of the night had to be the Jell-O shots. Who came up with this? It's so brilliant. Everyone likes Jell-O, but not many people like taking more than a few shots, so why not combine the two? The problem is it doesn't register in your brain that you're consuming alcohol and by the middle of the second quarter after we tore through an entire tray, things got a little blurry. But not blurry enough for me to forget Erik saying, "What up wheels," referring to Rodney Harrison after he intercepted Donovan McNabb. (Erik is famous for saying "what up so and so," it's just his thing. Like when I told him I was the commissioner for the fantasy baseball league, he responded with, "Oh, what up Fay Vincent." Guess you have to know him). With the McNabb pick, its means we would have won back our $10 from the coin flip. After two "bets" we were even.
8:07 (complete guess):
Start of the second quarter: McNabb to L.J. Smith for a 6-yard touchdown. Eagles 7, Patriots 0. Not only were the Eagles leading the game, but it also meant that our Corey Dillon for the first TD was wrong, and we were back to being $10 in the hole . So, the best we could have done is break even, making both Gus and I very happy with our respective banks. What was even better was that Erik was getting nervous with the Patriots trailing for the first time in the postseason. Could the Eagles really win this game? Of course not. Has McNabb ever won a big game in his life? He went to Syracuse, a team never contending for a national championship, so in my book, no game he played there can be considered big. In the pros, out of four NFC Championship games, he's won just one against a decent Falcons team at home two weeks ago. So beating a team with a rookie head coach and a QB that isn't yet accustomed to his new offense is McNabb's biggest personal highlight? My money's still on the Pats. Although, the Eagles D does look awesome.
8:28:
Right before the half, the Pats tie it up at 7 on Tom Brady's 4-yarder to David Givens. Well, that was fun. Now the Pats are going to completely dominate the rest of the game on their way to becoming recognized as a dynasty. Although if you had asked every member of the Eagles before the game if they'd be happy with a tie at halftime, I bet the consensus would be yes. Halftime show: Paul McCartney. Sounds fun, I'll be downstairs shooting some pool.
9:19:
After missing the first few minutes of the second half, I get back just in time to see Mike Vrabel catch the 5th pass of his career (all TDs) for a 2-yard score. It took New England just 4:55 to score, striking a collective fear in every Philadelphia fan across the country.
9:38:
After both Philly and N.E. punt, the Eagles get the ball back and march quickly down the field. McNabb had been throwing to Todd Pinkston (who Erik referred to as Todd Stinkston) and Terrell Owens (I'll get to him later) a lot, but this drive was a steady dose of Brian Westbrook. The running back had 33 of the 62 yards on the drive, capped off with a 10-yard TD catch to tie the game at 14. I'm shocked. McNabb looks sharp after that early interception and with the stadium filled with a majority of Philly fans, the Birds might just pull this off. (Also, the Westbrook TD catch seals our split in the would-be bets).
10:02:
Pats come back with a 9 play, 66 yard drive capped off with a Corey Dillon 2 yard TD run. 21-14 Pats. Erik's rejoicing and feeling a bit more comfortable, even after someone just referred to him as Dilbert. I got up for my 5th plate of food, 5th beer and 119th Jell-O shot. It's amazing I have any recollection of the game.
10:21:
A 22-yard Adam Vinatieri field puts the Pats up 10 (24-14) with just under 9 minutes to go. Erik then reaches over for two Jell-O shots at once, giving me the feeling that this one was over. Wait a second; we forgot to make the taquitos! That's like the Patriots forgetting to use Corey Dillon.
10:29:
That's the Donovan McNabb I know. Picked off for the second time in the game and all he can do is pat his chest and say "my bad, my bad?" Oh really? It's been your bad for four straight year dude. What an atrocious pass to0--not a receiver in site. The good thing was that it was picked by Bruschi so I got to make fun of Erik for the next 10 minutes, mocking him with "Tedy B.!!! I got you're jersey on buddy! I love you Tedy!" He was too into the taquitos to pay any attention.
10:42:
After the Eagles hold the Pats to a three and out, they have one last chance to score a TD then try for an on-sides kick. I'm not sure why the hell they are taking their dear sweet time, but they finally score with McNabb hooking up with the underrated Greg Lewis for a 30 yard TD. 24-21, Pats. Time for the on-sides.
10:44:
On-sides kick fails. Then someone asks me to do the math to guess how much time the Eagles would have if they managed to stop New England and use their two timeouts in the process. Okay, 1:43. That means the first two plays would take off about 10 seconds, so 1:33. Then with the Eagles unable to stop the clock after the Pats' third down play, the clock would tick down 35+ seconds to just under a minute. After the punt I guessed the Birds would be left with just under 50 ticks.
10:51:
46 seconds to go and the Eagles have the ball on their own 4 after a great punt from Josh Miller. Somehow I get ridiculed for not guessing close enough to 46 seconds; who am I Nostradamus? You know what happens next, McNabb's third pick of the night, which consequently seals the fate of the Eagles. Final score: Patriots 24, Eagles 21.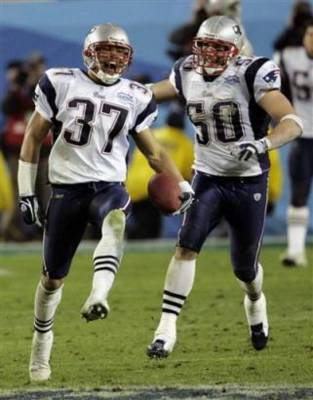 "Wheels" seals the deal with this pick in the closing seconds
11:02:
Not giving a crap who won the game, Adam and I fire up the rest of the taquitos and tell everyone "they aren't quite ready yet," while we scarf down at least five each in the kitchen. Hey, if you've ever had these things you would have done the same.
11:07:
For no reason whatsoever I decided to stay for The Simpsons and a new show made by the Family Guy producers called The All-American Dad, or something like that. Simpsons was good. The Dad sucked—not even remotely funny. It was too much of a rip-off of The Family Guy. There was a dad, mom, daughter and son. Then an alien took the place of the dog and a talking fish took the place of Stewie, the baby. It was ridiculous. A total waste of my time, especially considering the fact I had work at 8 a.m. and it was now close to 11:25. Great.
11:59:
After a fun-filled day, it's time for bed. Can you picture me under my blankets with a flashlight writing this? Well stop because that's absolutely ridiculous. I wrote this at work today and put it all in the present tense. Suckers.
Game Notes:
First of all, my hat's off to Terrell Owens. The guy had surgery to repair a broke his leg (while having screws inserted into his ankle) just 6 ½ weeks ago. He told everyone he was going to play in the Super Bowl and he did just that. Nine catches for 122 yards, are you kidding me? As much as I can't stand the guy, I respect the hell out of him. After last night, I consider him the best wide receiver (with Jerry Rice as the only exception) I have ever seen play. In addition to his great hands, size and speed, it's his swagger and demeanor that make him the most complete pass catcher in the league. I was honestly expecting to see Owens for 10-15 plays last night, hobbling around with maybe 1 or 2 catches. But surprisingly, New England played well off of Owens for the majority of the game, perhaps questioning how much of an impact he could actually have. Well, he was brilliant and did everything he could to help the Birds bring home their first Super Bowl ever. Which leads me to this…
How could Philadelphia not once go deep to Owens in this game? With the running game relatively non-existent (17 carries for 45 yards), how could they not try and spread the field? Aside from a 40-yard strike to Pinkston and the 30-yard TD to Lewis, McNabb really never threw deep the rest of the game. Sure T.O. had some big gain catches, but those were all yards after the catch. Think about it, this team was one big play away from winning a Super Bowl and they didn't take the chance. What did they have to lose; they had NEVER won a Super Bowl. Even when starting safety Eugene Wilson got hurt and rookie Dexter Reid came in to replace him, the Eagles STILL didn't throw deep! I was absolutely shocked at how conservative Andy Reid played this game. This is what people have shunned him for the past three years and yet here he was in a back-and-forth game with a (now) dynasty football team and he doesn't take the necessary chances to win the game? I'm not sure what he could have been thinking.
Finally, I leave you with the quote of the night from who else but Erik: "rainbows used to be cool until gay people ruined it." Classic quote for a classic night. Congratulations to the Patriots. That makes three dynasties in my lifetime with the Niners and Cowboys and soon to be four with my Giants.
Back to the NBA tomorrow…