2005 NCAA Tourney: Studs, Duds and Picks
Administrator's Note: This site is www.nbasource.blogspot.com no longer. WELCOME TO WWW.NBASOURCE.COM ----HOLLLLLLLLLLLA
Recent Articles
What If? The 2005 NCAA Tournament
My boy Dee Brown

I've been pondering this same question for a few days now: even though this is a NBA site, would anyone really mind if I wrote a NCAA Preview? I mean, out of all the NBA fans how many willingly ignore the tournament and focus solely on the pros, 1%? Well, to satisfy both sets of readers, I decided to focus on a handful of players in this year's Tournament and give you a better perspective on who should (and should not) be continuing his success onto the next level. I have also provided my picks at the end of the article, if you care to take a peak. Good luck.


CHICAGO REGION
STUDS:1. Dee Brown (Jr.) 6-0 SG (Illinois):
Despite being an undersized '2-guard,' you just get that sense that he's going to be a winner at the pro level. Once transformed into a point guard in the NBA, look for Brown to emerge as one of the more solid pass-first leaders in the league.
2. Brandon Bass (So.) 6-8 F (LSU):
Not only did he nab SEC Player of the Year in just his second season, but like Emeka Okafor a year ago, received scholar of the year honors as well. This rare combination of brains and athletic ability make him my favorite for NCAA Player of the Year next season (no chance he stays).
3. Deron Williams (Jr.) 6-5 PG (Illinois):
Williams reminds me a lot of a Jeff McInnis/Kirk Hinrich type player. He has as fluid a mid-range jumper as anyone at the college level and if he can bring that to the pros as well as his tremendous passing skills, we're looking at a starting combo guard for years to come.
4. Daniel Gibson (Fr.) 6-2 PG (Texas):
So what's the difference between Chris Paul last season and Gibson this year? Not much. Gibson led the Longhorns in PPG and APG in his freshman campaign, and may just be the most heralded frosh in the nation. If Rick Barnes' squad doesn't improve on their 8 seed next season, look for Gibson to make the early leap.
Honorable Mention:
Jared Dudley 6-7 F (B.C), Nick Fazekas 6-11 C (Nevada)
DUDS:1. Salim Stoudamire (Sr.) 6-1 SG (Arizona):
Sorry to burst everyone's bubble over perhaps the best shooter in the game, but he's just too small. Now, if he makes the transition to point guard, perhaps we will see the second coming of his cousin (Damon). For now however, all we have is an undersized shooter about to be d'ed up by much taller and gifted defenders. Remember, he plays in the Pac-10 and no All-Star has come from that conference in years (Arenas?)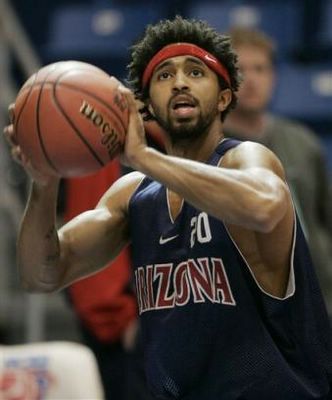 He may be lights out now, but just wait...
2. John Lucas (Sr.) 5-11 PG (Oklahoma State):
Too small, too skinny for the pros. He's a shoot first PG with a pretty nice assist-to-turnover ratio, but I just don't see him being any good in the pros. Call it Bobby Hurley syndrome, but Lucas is only going to be good in college. Unless however, some moron of a GM gives John Lucas Sr. another NBA coaching job. Maybe Mike Dunleavy can hire him as an assistant and both coaches could have their sons on the team. It'd be like Little League all over again.
CHICAGO PICKS:First Round Winners:Ant's Picks:
Illinois, Nevada, Alabama, Boston College, LSU, Arizona, Southern Illinois, Oklahoma St.

Paul's Picks: Illinois, Nevada, Alabama, Boston College, LSU, Utah State, Southern Illinois, Oklahoma State

Second Round Winners:
Ant: Illinois, Boston College, LSU, Oklahoma State
Paul: Illinois, Alabama, LSU, Oklahoma State

Sweet Sixteen Winners:
Ant: Illinois, Oklahoma State
Paul: Illinois, Oklahoma State

Regional Champion:
Ant: Illinois
Paul: Illinois



ALBUQUERQUE REGION
STUDS:1. Chris Paul (So.) 6-0 PG (Wake Forest)
Flat out the best prospect in the entire country. I watched him from two rows back in the Sweet Sixteen last year and he blew my mind even as a freshman. There are certain players you watch where you just know. Maybe he doesn't light up the boxscore every single night, but leading his team to only 5 losses (he was suspended for one) playing an ACC schedule has to tell you something.
You can be sure the only genitals he'll be touching from now on are his own


2. Eric Williams (Jr.) 6-9 PF (Wake Forest)
Besides being a beast down low, Williams has an extremely high basketball I.Q., something that's going to carry him into the lottery next summer. I don't think Skip Prosser has pushed him enough to turn him into an All-American caliber player, but that's just because of the abdundance of talent on this Wake team. E-Will has the potential to be 17 and 9 guy at the next level, but a lot depends on how hard he works this summer in preparing for his senior campaign.

3. Francisco Garcia (Jr.) 6-7 SF (Louisville)
Putting Garcia up here may surprise you, but the kid has tremendous athletic ability and is learning from one of the best in Pitino. Look how many pros Pitino has turned out from Kentucky. He won't fall short with Garcia either, arguably his best player since taking over at Louisville. I see Garcia in the Larry Hughes mold, with his long, spidery build and tremendous athletic ability. Some NBA team is going to get a stud in the middle of the draft this summer.

4. Chris Taft (Jr.) 6-10 F (Pittsburgh)
Now this kid is still a big IF in my book, but there's no denying the raw talent that's there. I can easily see him falling into the Darius Miles mold (maybe because he looks like him) and slacking off his whole career. His potential to be a special player depends on two things: 1) which team drafts him, and 2) how long he stays at Pitt. If he gets taken by a coach who's not going to ride him hard in his first few seasons or he leaves early (say, this summer), his career might be over before it starts. He should stay in the program and be the go-to-guy for his final two years then be a top 5 pick in 2007. The odds of this happening are even to 50 Cent and Fat Joe becoming boys.

Honorable Mention: Chevon Troutman (Sr.) 6-10 PF (Pittsburgh), Ronny Turiaf (Sr.) 6-10 PF (Gonzaga)

DUDS:

1. Carl Krauser (Jr.) 6-2 PG (Pittsburgh)
He simply cannot take care of the basketball, evidenced in his 4.1 turnovers per game. This is acceptable for a frosh PG, but c'mon, this guy's a junior. Krauser has had a great supporting cast the last two seasons and both teams have turned out to be a disappointment. Either we can put the blame on Coach Jamie Dixon or on their floor leader, Krauser. I choose the latter.

2. Ronald Ross (Sr.) 6-2 SG (Texas Tech)
I'm putting Ross here simply based on the fact that Andre Emmett is doing nothing in the pros and he was every bit the offensive player Ross is, and an excellent defender as well. Bobby Knight doesn't have the luxury to breed along NBA stars like he did once upon a time at Indiana. With Texas Tech he must preach team basketball and unfortunately for Ross that equates to a roster spot on a NBDL squad next season.


ALBUQUERQUE PICKS:

First Round Winners:
Ant: Washington, Pacific, Georgia Tech, Louisville, Texas Tech, Gonzaga, Creighton, Wake Forest

Paul: Washington, Pittsburgh, Georgia Tech, Louisville, Texas Tech, Gonzaga, West Virginia, Wake Forest

Second Round Winners:
Ant: Pacific, Georgia Tech, Gonzaga, Wake Forest
Paul: Pittsburgh, Louisville, Gonzaga, Wake Forest

Sweet Sixteen Winners:
Ant: Georgia Tech, Wake Forest
Paul: Louisville, Wake Forest

Regional Champion:
Ant: Wake Forest
Paul: Louisville



SYRACUSE REGION
STUDS:1. Sean May (Jr.) 6-9 PF (North Carolina)
May's already regarded as the best rebounder in college basketball today and his scoring touch down low is following right in stride. May hopes to follow in the footsteps of his father and make the strong leap to the next level. The one thing I admire about this kid is that he's gotten remarkably better each year despite his heavy struggles at the beginning of his career. That will to improve is sometimes half the battle with these kids. If his knack for scoring keeps improving there's no telling how good May can be.
2. Marcus Williams (So.) 6-3 PG (Connecticut)
This is the one player I've had a close eye on all season. Keep in mind I've maybe missed three UConn games all season and Williams has been the main subject of my viewing probably 70% of the time. At the beginning of the year he was as immature a point guard as I've seen at Connecticut. He tried to make the flashy pass every trip up the court and wow the crowd as often as he could. After he missed a wide-open layup in the last seconds to tie the score in South Bend, Williams has never been the same player. Instead of regressing from that low-point, Williams took control of the team and became one of the best floor general in the conference. He still makes the dazzling passes, but now they come with about half the turnovers. Also, he's developed a beautiful mid-range jumper that tends to drop more and more each week. Keep an eye on Williams during this tourney because he will make or break Connecticut's chances.
Can Maaaacus lead the Huskies to back-to-back titles?
3. Wayne Simien (Sr.) 6-9 PF (Kansas)
His size and post moves make him one of toughest (if not the toughest) big men in all of college hoops. I've only seen Simien once or twice this season, and both times he was double and triple-teamed showing the type of post presence he provides the Jayhawks every night. With Nick Collison struggling at the next level, I still have my doubts about him, but there's no denying how good Kansas has been the past two seasons, and to that we must credit their best player.
4. Raymond Felton (Jr.) 6-1 PG (North Carolina)
Is there anything this kid can't do besides shoot free throws? Leading this talented UNC squad is no small task, especially under Roy Williams. But, Felton has been on top of his game all season, an experience that has no doubt prepared him for life at the pro level. Garnering this experience at such a renowned university should transform him into an excellent floor leader. These pass-first guys are hard to find these days, but when then come around, NBA teams gobble them up quickly.
Honorable Mention:
Danny Granger
(Sr.) 6-8 PF (New Mexico),
Marvin Williams
(Fr.) 6-9 PF (UNC) and
Rudy Gay
(Fr.) 6-9 F (Connecticut)—Haven't seen enough of them to evaluate fairly. Also,
Rashad McCants
(Jr.) 6-4 SG (UNC)—not quite sold on him yet, perhaps after the tournament I will be. The talent in this region is ridiculous.
DUDS:1. Julius Hodge (Sr.) 6-7 GF (N.C. State)
Last year we talked about how Hodge was too skinny. And now, I actually think he lost weight this summer. Didn't N.C. State think to hire a personal trainer for this kid? Did they want to contend at all in the ACC? 10 seeds are cool.
2. Charlie Villanueva (So.) 6-9 PF (Connecticut)
Charlie is a kid that doesn't quite get it—yet. He doesn't understand how to take over a game or that his team needs him to be the post presence Emeka Okafor was. He doesn't understand that the way he took the team on his back in Syracuse in January is way he should have been playing all season. Denham Brown, Josh Boone and Rudy Gay certainly aren't stepping up as leaders, so why isn't Villanueva? Maybe Jim Calhoun is milking Charlie along still so that he stays another year, making UConn the hands down favorite for preseason #1 in 2005-06? That's really the only theory that makes sense.
SYRACUSE PICKS:

First Round Winners:Ant:
North Carolina, Iowa State, New Mexico, Florida, Wisconsin, Kansas, N.C. State, Connecticut
Paul:
North Carolina, Iowa State, Villanova (Alma matter), Florida, Wisconsin, Kansas, N.C. State, Connecticut
Second Round Winners:Ant:
North Carolina, New Mexico, Kansas, Connecticut
Paul:
North Carolina, Villanova, Kansas, Connecticut
Sweet Sixteen Winners:Ant:
North Carolina, Connecticut
Paul:
North Carolina, Kansas
Regional Champion:Ant:
North Carolina
Paul:
North Carolina
AUSTIN REGION

STUDS:1. Hakim Warrick (Sr.) 6-8 F (Syracuse)
I give Warrick a lot of credit for staying all four years at the 'Cuse. He already won a national title and probably could have been a first round pick last season, yet elected to stay and now the Orangemen have a legitimate chance at the Final Four bid. Warrick has that natural ability to take over a game and doesn't shy away one bit. The difference in their game against Connecticut last week is that Warrick came out aggressive and Villanueva and Boone for UConn (as usual) did not. His spidery frame could use some bulking up, but his raw talent and athleticism are no doubt going to make him a lethal player at the next level. Is often compared to Shawn Marion.
2. J.J. Redick (Jr.) 6-4 SG (Duke)
My ass he's 6-4, but hey, that's how he's listed. I think he's really about 6-2, but if Ben Gordon can make it a 6-1, so can Redick. Saying the kid has range is an understatement. Even the gawd awful shots he hoists up from time-to-time only miss be a few centimeters. If you haven't seen him play, understand this: in a conference with Chris Paul, Sean May, Rashad McCants, Raymond Felton, Jarrett Jack, B.J. Elder, Julis Hodge, and Sheldon Williams, among others, it was Redick who nabbed Player of the Year honors, not any of them. Which leads me to the question, how many times do you think the phrase "Damn, that white boy can shoot" was used in reference to J.J. this season? 4, 5 billion?
3. Sheldon Williams (Jr.) 6-9 PF (Duke)
Williams is an absolute monster, someone that is not going to take crap from any guy down low. These type of guys consistently make good pros: Brad Miller, Kurt Thomas, Ben Wallace, Kenyon Martin, DeSagana Diop (just kidding). He plays like a warrior night in and night out and after his final season at Cameron Indoor next year, he will make some NBA team a lot better.
4. Taylor Coppenrath (Sr.) 6-9 PF (Vermont)
It's easy to proclaim that a big white guy from UVM isn't going anywhere in the NBA, but have you seen him play? Not only is he a beast down low but his Birdesque jumper makes him perhaps the most versatile big man in college basketball. If Chris "Kamannnnnnnn dude" can start in the NBA, so can Coppenrath. Plus I like his name, Coppenrath. Imagine the Knicks drafted him? I can see the back of the New York Post now: "Feel Taylor's Rath."
May look doofy, but sure doesn't play that way
DUDS:1. Andrew Bogut (So.) 7-0 C (Utah)
He reminds me a lot of Coppenrath (or vice versa) but something just tells me this kid is going to be a big time dud. No one knew anything about him and now that they do, expect the Utes to be bounced out on Thursday. However, ESPN.com called him the most skilled big man in the country along with like 7 other players. That's the problem with ESPN.com. They assign these team overviews to like 20 different guys and they all end up saying the same thing about several different players. But I digress…
2. Daniel Ewing (Sr.) 6-3 G (Duke)
This is more my biased opinion than anything. I just don't like Ewing and his style of play. He's a two-guard forced to play the '1' and has adjusted for the most part. But these types of players just don't make it that often in the NBA. Plus he doesn't do one thing particularly well either. He's an okay passer, dribbler and shooter, which translates to an okay NBDL player. Sorry Danny boy.
3. Gerry McNamara (Jr.)
A gunner who's an under-skilled passer, sure, he'll be a good pro. Plus he's got that line beard that make me wonder if there is a single mirror on the Syracuse campus. I would have probably left him off this list if he spelled his named Jerry.
AUSTIN PICKS:First Round Winners:Ant:
Duke, Stanford, Old Dominion, Syracuse, UTEP, Oklahoma, Cincinnati, Kentucky
Paul:
Duke, Stanford, Old Dominion, Syracuse, UTEP, Oklahoma, Cincinnati, Kentucky
Second Round Winners:Ant:
Duke, Syracuse, Oklahoma, Cincinnati
Paul:
Duke, Syracuse, Oklahoma, Kentucky
Sweet Sixteen Winners:Ant:
Syracuse, Oklahoma
Paul:
Syracuse, Oklahoma
Regional Champion:Ant:
Syracuse
Paul:
Syracuse
Ant's National Title Game:
North Carolina 78, Illinois 73.
I said I wouldn't go with every one else with this pick, but these are by far the most polished teams in the country. I know what they say about Roy Williams, but if he's ever going to win a national championship it's this season. His players realize this too and I think Felton and McCants will do a good enough job on Brown and Williams for Carolina to squeak this one out. Don't be overly surprised if UConn slips by UNC however.
Possible Cinderellas:
UTEP, Northern Iowa, Utah State
Paul's National Title Game:
North Carolina 77, Illinois 73.
Carolina is the most talented team in the field, but I'm not even sure if they can win 6 games in a row, but I guess they are the safest pick. Actually, I kind of have a gut feeling Duke can be here, but I wussed out of taking three #1 seeds in the Final Four. This decision is like choosing between going out with the guys or a smoking hot chick. What would you do?
Possible Cinderellas:
New Mexico, Southern Illinois
Check out Paul's "What If" piece below...Enjoy the Tourney and St. Patty's Day