Break Down: Eastern Conference
By Anthony Peretore


Now that trade deadline has passed, it becomes much easier to gauge the direction in which teams appear to be heading. Rather than wait out the last eight weeks or so of the season, Paul and I have decided to fire up our crystal balls and give you the results at the beginning of March.

Note: Records are predictions of end of the year results


LOTTERY BOUND

15. Atlanta Hawks (14-68)
Good: Fortunately, Atlanta's front office and coaching staff has done a relatively nice job in allowing themselves to evaluate their young talent this season. F Josh Smith is perhaps the most athletic player in the league and F's Josh Childress and Al Harrington should also factor as nice pieces for the future. In addition to promising youth, the one thing this team has shown is the will to win. Despite shipping out their best player and leader in Antoine Walker last week, the Hawks still managed to play their most recent opponents tough losing by a combined 8 points at Portland and the Clippers (that is until they got smoked Tuesday night in Denver).

Bad: Sorry Hawk fans (all 5 of you), your team has been just downright dreadful this season. On top of never winning more than one game in a row, Atlanta ranks dead last in the league in point differential (-9.1), 3-pt FG% (30.4), and opponents' FG% (46.9). But the most glaring statistic weighing down upon this team has to be the fact that they rank dead last in attendance for the second straight season. Sure being bad and attendance go hand-in-hand, but will the people in Atlanta ever care about the putrid Hawks with the successful Falcons and Braves in town?

Summer Plan: Despite Atlanta's hideous record, one has to remember that only three players on this 15-man roster are older than 29 and one of them is Kevin Willis who just finished the paperwork for his will. Adding to the nucleus of the aforementioned players will undoubtedly be a top-3 pick in this summer's Draft. The goal has to be Wake Forest PG Chris Paul, who would certainly be an excellent fit in helping this young team to jell. Also, the Hawks currently have just $19.4 million tied up in contracts for next season, leaving them plenty of money to attempt to land a quality free agent. Good joke right?
14. Charlotte Bobcats (20-62)
Good: The emergence of rookie F/C Emeka Okafor and 4th-year pro C Primoz Brezec has to be the highlight of the Bobcats' inaugural season. Charlotte expected big things from Okafor (14.8 PPG, 10.9 RPG), but never did they anticipate him discussed as a possible All-Star in just his first pro season. Brezec, signed away from Indiana this summer, has also been a pleasant surprise averaging 12.5 PPG and 7.0 RPG in just 30.5 minutes. GM/Coach Bernie Bickerstaff is still trying his best to evaluate the talent on this team, evident in recent games where he has given up to nine players 18+ minutes of run. Building around Okafor and Brezec, and perhaps F Gerald Wallace, appears to be a solid foundation for this young franchise.

Bad: Honestly, if the 'Cats do indeed win 20 games, I'm not sure we can say anything bad about this team. Building a new organization into a legitimate contender takes time and it seems as if Charlotte's management has done a very nice job with the initial steps. Step One: getting two or three guys that are willing and able to form the core, check. Now comes Step Two: increasing that threesome (finally an excuse to use this word) into a solid five-man nucleus by this time next season.

Summer Plan: That secondary step begins as soon as the '04-05 season ends. Charlotte's position in the draft will be very important, but one has to believe they will go after the best scorer available no matter what. They don't need a '1,' as PG Brevin Knight did a marvelous job running the show in the first few months of the season before getting slowed by injuries. The front court is solid with the "Big Three" mentioned above, and so the next piece is most certainly a high-scoring '2.' My only recommendation is to stay clear of high schoolers—a young franchise does not need immature talent. Possible picks: Salim Stoudamire (Arizona), Rashad McCants (UNC)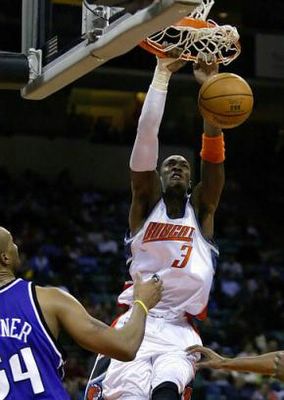 Gerald Wallace is better than you think


13. Milwaukee Bucks (35-47)
Good: The highlight of the season came on February 24 when the Bucks' front office was able to rid themselves of F Keith Van Horn's monstrous contract. This should most certainly allow the team to re-sign their best player in SG Michael Redd this summer. Besides freeing up cap space for Redd, Coach Terry Porter has perhaps found a running mate alongside his sharpshooter in Desmond Mason. Mason, a longtime sixth man, was forced into starting duties earlier this season with Van Horn nursing injuries. The 27 year-old swingman has never looked back and is currently averaging a career-high 16.6 PPG and 2.8 APG, and 36.3 minutes. With PG T.J. Ford due back next season, Milwaukee should be pushing themselves back into the playoff picture.

Bad: The lack of a decent front court on this team is unbearable. The Bucks haven't had a decent center since Jack Sikma laced them up and if you consider PF Joe Smith a solid '4' maybe you should watch him play a few more times. If it were me, I'd give F Marcus Fizer every shot in the world to perform, but Porter has found reasons to warrant him just 16.7 min in his 30 games in a Bucks uniform. Also, TP must decide which guy he plans on being the future at the center position. Splitting Dan Gadzuric and Zaza Pachulia's PT is doing nothing for the team now and hindering them even more for the future. At least the front office will have another shot at a lottery pick this summer so they can screw up again. Last six first round picks: '97: F Danny Fortson, '98: F Dirk Nowitzki (traded for Robert Traylor) and F Pat Garrity, '00: C Joel Przybilla, '01: Marcus Haislip, '03: PG T.J. Ford (not bad). Enough said.

Summer Plan: Go hard after either Zydrunas Ilgauskas (if the Cavs let him go) or Stromile Swift and give Redd and Mason someone to compliment them down low. With their lottery pick, it wouldn't help in drafting another big, but if I know the Bucks they'll blow their pick on a guy with 17 vowels in his name.


12. Toronto Raptors (36-46)
Good: Getting rid of Vince Carter and getting the two draft picks from New Jersey isn't as bad as first assumed. The main thing is that Carter is gone and that the team has been able to evaluate their youth to determine whom best to build around. The answer is clearly PF Chris Bosh (16.1 PPG, 8.4 RPG) who has emerged as one of the best young big men in the game. Aside from Bosh, PG Rafer Alston (if his beef with Coach Sam Mitchell is indeed over) seems to have emerged as another piece of the puzzle averaging a career-high 13.9 PPG and 7.0 APG. Also, the six-year deal he signed this summer (valued at just $26.25 million) leaves management with a good amount of financial flexibility. If they are able to deal GF Jalen Rose this summer, the team may be able to take a shot at a decent free agent with over $10 million scheduled to come off the books with the departures of F's Eric Williams and Donyell Marshall.

Bad: Last summer GM Rob Babcock could have had Iguodala, Al Jefferson, Josh Smith, Jameer Nelson, Delonte West, Beno Udrih, and the list goes on. But instead, he elected to draft C Rafael Araujo (3.2 PPG and 3.5 RPG in 12.5 min) with the 8th pick, a player that has thus far been an utter disappointment. In building for the future, Babcock must make wiser decisions—hint, saving cap space to acquire a solid scorer. With only Bosh, Alston and possibly Mo-Pete as the foundation for the future, the next several moves for this organization are crucial.

Summer Plan: Trade Jalen Rose and one of the draft picks from New Jersey to get some cap relief. Then go hard after G Larry Hughes and make him the focal point (along with Bosh) of the offense. In the draft, select players with college experience such as a Joey Graham (Oklahoma State) or Luther Head (Illinois) and put them alongside PF Matt Bonner to form a solid, young, energetic bench.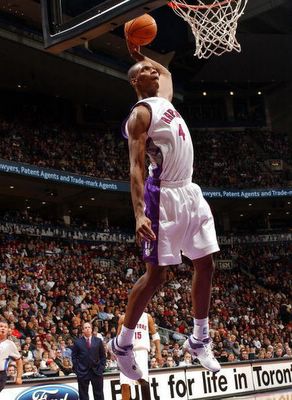 Bosh is the future in Toronto

11. New York Knicks (37-45)
Good: The only remotely positive thing I could say about this team is that they are discovering some promising youth in PF Michael Sweetney and SF Trevor Ariza (pronounced O-REE-zahh by Walt "Clyde" Frazier). Anything else? Umm, they are in New York, a very cool city. The orange and blue is a nice combination. Stephon Marbury is from Coney Island (also in New York). They play in the "World's Most Famous Arena." And, that's really it.

Bad: The Knicks may be the first team to crack the $100 million mark in salaries after their loony deadline deals. SG Allan Houston is due to make $39.8 million in the next two seasons which feels more than $8 zillion since he has played in only 20 games this season, 19 of which I probably could have played better. Add to it that Penny Hardaway looks a year older every time he enters a game and that he's due a cool $15.75 next season. That's not all. Not only does President Isiah Thomas spend money more freely than that kid on the Osbournes, but his roster currently consists of no true point guards, three shooting guards (one of which is Jermaine Jackson), eight forwards and just one center, Bruno Sundov who is averaging –2.4 min. It's no wonder that a Knicks fan kills himself every 3.2 minutes.

Summer Plan: Hire MacGuyver to take out Thomas. Fine, I'll give you a real assessment. Honestly, this team is extremely strapped for cash right now, so their first step has to be to try and move some of this money. Maybe trading Marbury or Jamal Crawford could be an answer since none of them are true point guards anyway. With the player they elect to keep, New York must pull an Orlando (Franchise to the '2') and move JC or Steph over and acquire a true point guard. If they can do this and draft or trade for a quality center, maybe, just maybe by the time Houston's contract comes off the books and Herb Williams is back somewhere in a pool hall with no shirt on, this team can return to the playoffs.

10. New Jersey Nets (39-43)
Good: If I told you in October that the Nets would keep Jason Kidd at the trade deadline with Richard Jefferson out for the year and the team being eight games under .500, you might have laughed yourself to death. But, that's the case and next year RJ will be back to team with Kidd and Vince Carter to form arguably the most lethal three-headed monster in the NBA. But wait, New Jersey is in the dreadful Atlantic Division and with a 25-32 record stand just four games back of Boston for first place. With seven of their remaining games against division foes, the Nets still have a legitimate chance at locking up the three seed in the playoffs.

Bad: Besides Kidd and Carter, the rest of New Jersey's roster is pretty pathetic. I mean, Jacque Vaughn started every game in February. During this stretch run, the Nets must count on players with either A) relatively no experience (Nenad Krstic, Jabari Smith), B) those who could legitimately be playing in the NBA Senior Division if one existed (Cliff Robinson, Elden Campbell), or C) guys who you thought may have died (Ron Mercer, Travis Best). You don't need to be Chard Ford to figure out that this will probably be the main reason behind the Nets missing the playoffs for the first time in four years.

Summer Plan: Get Stromile Swift. Kidd sorely misses an athletic '4' in the lineup now that Kenyon Martin is in Denver. Swift clearly has the athleticism to keep up with Kidd and he may just be the final piece in placing this team back at an elite level. If they fail at signing Swift, a nice alternative could be Syracuse F Hakim Warrick.

9. Orlando Magic (41-41)
Good: Coach Johnny Davis finally realized what he has in rookie PG Jameer Nelson and it just might be the first step in Orlando turning their second half around. Last week Davis moved Steve Francis to the '2' and Nelson into the starting lineup for the first time all season. With Nelson, Francis, Grant Hill, Dwight Howard, and Kelvin Cato starting, there is no reason this team should be sliding out of the playoff picture. For most of the season, the Magic have been able to win with a mixture of veterans and youth, thus far improving mightily on their putrid record (21-61) from a year ago. Orlando currently ranks 8th in the league in PPG (99.6) and 2nd in RPG with 44.0. Judging by these two statistics alone it seems as if the Magic should be able to hang with any team in the East. However…

Bad: On the defensive end of the floor, the Magic can't keep their competition off the scoreboard. They rank 26th in opponents' PPG (100.7), but remarkably, aren't too bad in opponents' FG% and 3-PT%. The main problem in leading to points at the other end has been their turnovers—29th in the league at 15.9 per. On top of all this, Francis has been miserable since the departure of his best friend SG Cuttino Mobley. Now with the team asking him to switch positions, we may be seeing "The Franchise" moved to yet another location this summer. Think the fact that two superstars leaving in consecutive years has anything to do with Davis and/or GM John Weisbrod? Just a thought.

Summer Plan: Move Steve Francis for young talent. With Howard and Nelson as the foundation for the future, the Magic mined as well kick the bucket and start from scratch. With an asset like Francis to deal, they could certainly get a third piece to add to this nucleus.


PLAYOFF BOUND

8. Indiana Pacers (42-40)
Good: The fact that this team still has a shot at the playoffs with Ron Artest, Jermaine O'Neal and Stephen Jackson missing a total of 118 games this season is remarkable. Add to it that PG Jamaal Tinsley has been fighting the injury bug all year and Rick Carlisle has to be considered for Coach of the Year. The main reason the Pacers have been able to hover around .500 is that they've been able to maintain their defensive intensity despite the absence of Artest. The team currently ranks 5th in the NBA in opponents' PPG, holding their foes to just 93.1 per contest. Also, something tells me that there is still an outside chance of Artest returning for the playoffs because at this point, it may be more beneficial for the league to allow him to play rather than uphold his suspension. If that's the case, there's no telling how much damage Indy can do come May and June. For now, consider them one and done.

Bad: Their team rebounding has been atrocious all year ranking dead last in RPG with just 39.4. No one on the team averages double-digit boards, and besides Jeff Foster and O'Neal, there isn't one guy with more than 5.5 per contest. With Foster currently nursing a back ailment, the Pacers could be in serious trouble for their stretch run. Now you understand why they've been calling Dale Davis every two minutes for his services. Expect the big fella to be in yellow by the end of the week.

Playoff Prognosis: Assuming Artest is indeed done for the year, the Pacers aren't going to do much damage come post-season. With Ronnie returning next season and Fred Jones or Jonathan Bender entering the starting lineup for Miller, this team should be on the other end of the playoff bracket come '06.

Jackson and Artest should still be ashamed of what they did to this team

7. Chicago Bulls (43-39)
Good: What's not good when you start the season 0-9 and end up finishing over .500 and in the playoffs for the first time since Michael Jordan left? If Scott Skiles doesn't get Coach of the Year I don't know who will. He's currently starting a rookie point (Duhon), a second-year point (Hinrich), a rookie '3' (Deng), a 47 year-old F/C (Davis) and a plump center that everyone pretty much gave up on (Curry). His bench consists of a relative bust with a bad back (Chandler), a rookie '2' who just may nab 6th Man of the Year honors (Gordon), and a white boy from Nebraska (Piatkowski). Oh, and we can't forget a rookie from Italy that looks like he hasn't showered since Growing Pains went off the air. This team right now is five games over .500 and you're telling me that every Chicagoian (probably not a word) isn't jumping for joy? In three years this team is Finals bound.

Bad: Repeat, nothing is bad when you start out 0-9 and make the playoffs for the first time in seven years.

Playoff Prognosis: I'm still not sold on this team and although they may be very pesky in the playoffs, I cannot see them even putting a chink in Detroit's armor. Oops, I gave away my two seed. As for this summer, the Bulls have to make some decisions about long-term deals for Curry and/or Chandler. As for the Draft it will be really weird to see them without a top-5 pick won't it?

6. Philadelphia 76ers (44-38)
Good: I'm not sure what got into team President Billy King this summer, but the Sixers better make sure he keeps up with the same regimen. After nabbing perhaps the best defensive rookie in the Draft in Iguodala (and his best pick since Samuel Dalembert in '01), King finally pulled the trigger last week and added an All-Star to compliment Allen Iverson. The long overdue arrival of a talented big man came in the form of 5-time All-Star Chris Webber. Adding C-Webb's offensive savvy to a defense that already leads the league in forced turnovers may just be the push this team needs to get past the division-leading Celtics. With SF Kyle Korver stroking the three ball and Dalembert finally showing signs of what we saw at the end of '03-04, Philly may have one of the best starting fives in the East. If A.I. and Webber can find a groove, this could be one of the more surprising teams come playoff time.

Bad: The use, or lack there of, of some of the youth on this team really blows my mind. With young talent such as G's Willie Green and John Salmons, one would think Coach Jim O'Brien would give these guys a more thorough look. For instance, in the six games Iverson has missed this year, Green has averaged 17.7 PPG, 5.5 RPG, and 4.5 APG compared to 8.1, 2.7, and 1.9 for the year. Shouldn't those games alone warrant him more run? Even Dalembert was stuck on the pine for the first month and a half of the season because Obie apparently didn't like his style. Hmm, yeah he's probably right, I hate double-digit boards and four blocks a game too. Now Sammie is starting every night, but O'Brien is still quick with the hook, something that could be harmful come playoff time. Give the younger guys run over the ancient Aaron McKie and Amil McCaskill (I know he's not playing anymore, I just wanted an excuse to use his name).

Playoff Prognosis: The next several weeks should tell us a lot about how this team is going to jell (if at all) with adding another All-Star to play alongside a greedy Iverson. If Webber and A.I. can coexist, this team could make it all the way to the Conference Finals. But if one guy gets selfish or the young talent starts to get irritated with barely any shots, this whole thing could blow up in their faces. For some reason a first round match-up with Boston seems evident.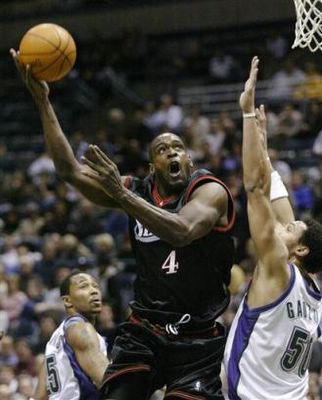 Will C-Webb and Iverson get along?

5. Cleveland Cavaliers (46-36)
Good: LeBron. The King. King James. LJ. Bron Bron. Bronnie. LeBro. LBJ. Alright, that's enough. I just wanted to give you a glimpse of what I've been seeing everywhere over the last few months. What bothers me more than anything however, was portrayed on the cover of Sports Illustrated last week with that "Best Ever?" piece. First of all, let's allow James to win one playoff series, then one Conference Semi series, then one Conference Finals series, then one NBA Title before we even put him in the same sentence as MJ. Jordan won six championships, count them. He was the best ever to play the game and will go down in history as the best ever, mark my words. He did things that recreated basketball and gave fans a reason to sit in front of their televisions and watch the NBA. Just remember while all this LeBron hype is going on, that the league wouldn't be half as popular without Jordan. He paved the way for the popularity of kids like James. While we all await an "Air apparent" let's remember that we're lucky to even have seen Jordan play so let's not be too quick to replace him with a kid who can't even legally buy a cocktail. Sorry, I know this is the good section, but someone had to say it.

Bad: Besides LJ and Zydrunas Ilgauskas, everyone else is pretty much a role player. Jeff McInnis is a decent combo-guard, but someone that's going to win playoff games? Drew Gooden is the Jose Contreras of the NBA with his inconsistent play. And Ira Newble, Jiri Welsch, and Robert Traylor certainly can't be counted on for much. This is a nice foundation for the future, but if they wanted to compete this season, they had to get Michael Redd. Not only is Redd still in Milwaukee, but now he's expected to re-sign with the team this summer. I know the Cavs are thrilled to have a superstar in James, but they must not forget that it will take more than just him to get over the hump.

Playoff Prognosis: Sorry, but I do not see this team getting past the second round, and maybe not even the first. They must re-sign Big Z in the off-season and go hard after a quality '2' to compliment James. If not, this team will be stuck in mediocrity for '05-06 as well. Wow, sorry, I feel like I just wrote a eulogy.

4. Washington Bullets (48-34)
Good: Yes, I know they're the Wizards, but I just like the nickname Bullets so much more and especially those burnt orange jerseys. This team was a borderline playoff team in the preseason but has quietly emerged as one of the better teams in the East. Much of the credit has to be given to PG Gilbert Arenas, who has emerged as a top 10 scorer this season in guiding the Bullets to perhaps their best season since '96-97—coincidentally the last time they made the playoffs. Arenas (25.5 PPG, 5.3 APG, 2.0 SPG) and newly acquired F Antawn Jamsion (20.7 PPG, 8.1 RPG) have teamed as one of the best duos in the East this season. With these two leading the way and SG Larry Hughes due back anytime now, Washington could surprise a lot of teams come playoff time. At 5th in the NBA in scoring (101.3), the Bullets can hang with anyone offensively, but the key in the next month or so, will be how the team responds defensively under Coach Eddie Jordan.

Bad: Defense. The Bullets give up just as many points as they score, yet still manage to be seven games over .500. They rank 29th in opponents PPG, 25th in opponents' FG% (46.3) and 24th in 3-PT FG% (36.9). They do make up for their shoddy defense with forcing turnovers, a statistic in which they currently rank 4th (15.4). Still, relying upon steals and opponents' mistakes can prove costly in the playoffs. Jordan must implement a tougher team D if he expects his team to make it out of the first round. One more thing that worries me is how the landscape of the team will change once Hughes (21.2 PPG, 6.1 RPG, 5.3 APG, 2.8 SPG) returns from injury. Arenas is on a role and everyone else seems to have found their niche. When a scorer like LH comes back into the fold, things tend to get skewed.

Playoff Prognosis: The way I have it now, the Bullets would match-up with the Cavaliers, in which I'd have to give the slight edge to Cleveland. However, Washington does have the ability to hang with anyone in the East aside from the top two teams, which I'll get to. If they do indeed make it into the second round of the playoffs, the season has to be considered a huge success. The key will be re-signing Hughes this off-season.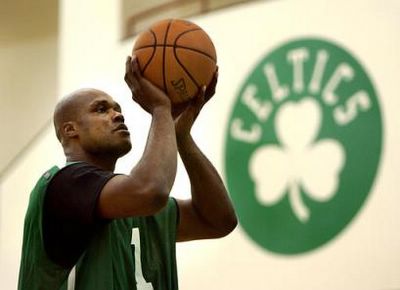 Back in Beantown: Can Walker lead the Celts to the Atlantic title?

3. Boston Celtics (45-37)—Atlantic Division Champs
Good: Bringing Antoine Walker back to town is good for a few reasons. First, it gives the team another big time scoring option besides Paul Pierce and Raef LaFrentz (the fact that Raef was their only other scoring threat shows you where this team was headed). Also, it immediately makes 'Toine the leader of the team by default. With Gary Payton gone (for the moment) and the fact that Pierce is far too passive to step up as a vocal/emotional leader, Walker immediately assumes control. Next, Pierce needs Walker to excel, evident by the clear drop off in his game ever since AW was shipped to Dallas. Finally, in Walker, the Celtics now have a low-post presence to not only score but help rebound as well. Currently, Boston ranks 24th in the NBA in rebounding margin at –2.2. 'Toine and his 9.2 RPG immediately take over the team lead. While the buzz from the trade deadline lingers mostly in Philadelphia, I have a funny feeling that come playoff time, the more significant trade will prove to be that of Danny Ainge.

Bad: Boston is still a very young team and not quite united enough to make a serious run in the playoffs. This is most evident in their team defense in which they rank 24th in opponents' PPG (100.2), but surprisingly place 10th in opponents' FG% at 44.3%. So what's the problem? Giving teams second chance opportunities—27th in the league in allowing their foes 13.0 offensive boards per night. Coach Doc Rivers hopes Walker will get this number down and with C Mark Blount coming off the bench, he should be fresher and better able to keep opposing bigs off the glass.

Playoff Prognosis: Okay, so say Boston takes care of Philly in the first round (since they seem to own the Sixers in the playoffs), they could possibly make a run in the East, right? Wrong—the only way for this to happen is if Detroit or Miami gets bounced in the first round which is as likely to happen as Paris Hilton joining a convent. The main goal this summer would be to re-sign Walker, that is if he can maintain the energy he has brought back to Boston thus far. If the rookies, especially PG Delonte West, can continue to mature at a rapid pace, this team could be contenders for years to come (maybe even in '06).

Hey Mike Tirico, could this be again?

2. Detroit Pistons (56-26)—Central Division Champs
Good: Well, it took a little while, but the Pistons appear to be back at full steam. In my eyes, the stepping stone to put them over the edge was the acquisition of PG Carlos Arroyo from Utah. Since he suited up in red, white and blue, the Pistons are a remarkable 13-3 and have crept their way to just 4.5 games back of the East leading Heat. Their main staple is obviously their swarming team defense in which they rank 2nd in opponent's PPG (88.3) and third in FG% (42.7). Along with their balanced scoring attack (6 players with 9.3 PPG or more) and the recent injury to Shaquille O'Neal, the Pistons should have the slight edge in representing the East in the Finals. Although, I'm sure they like the fact that almost everyone is picking Miami.

Bad: Besides the 'Malice in the Palace" incident, the only real negative surrounding this team was the buzz around Coach Larry Brown. Not only was the media claiming he no longer had the passion to coach (especially after the debacle in Athens) but also that he was a front-runner to take the Knicks' coaching job this summer. But hey, we already knew how devious the media was already, right? Now that the team is back to winning we surprisingly have heard nothing about Brown's lack of desire or his aspirations to coach in New York. Funny how that works.

Playoff Prognosis: Pistons vs. Spurs in the Finals. Book it.

1. Miami Heat (59-23)—Southeast Division Champs
Good: When the Heat acquired Shaq this summer, they expected some improvement from their 42-40 record and four seed from a year ago. But to be the one seed at this point of the season with a 4.5 game cushion was way beyond expectation. The heart of the team has undoubtedly been the Shaq-Dwyane Wade combination. Not only have these two shined on the basketball court, but they established an even strong bond off of it. Check this quote from Bill Simmons regarding his game of P-I-G with the Diesel: "Random note: I'm totally sold on this Shaq-Wade friendship -- total big brother/little brother thing. There's absolutely no reason for Wade to be here right now. It's nine in the morning! You think these guys aren't legit? You think these guys aren't best friends? I want you to watch Dwyane Wade laugh at another dumb Shaq joke ... watch this ... watch this right here ... BAM! You see that?" Shaq won three titles with Kobe and those two absolutely despised one another. Imagine what Shaq could do with an equally talented player that he actually trusts? Can I really be doubting this team?

Bad: I'm still not sold on Miami's supporting cast quite yet. Eddie Jones just got invited to the Senior PGA Tour, Damon Jones brings it every five games or so and Udonis Haslem is still very young. The signing of Alonzo Mourning may have dividends, but honestly, the guy hasn't played in months and still has internal problems. I understand he's back in Miami and he'll be fired up to play in front of the fans there, but c'mon, this signing is not going to make or break the Heat's run at a title.

Playoff Prognosis: I think everyone agrees it will come down to the Heat and Pistons for who gets a chance at the Spurs in the Finals. The problems I see right now are Shaq's knee injury and the rest of the team's playoff inexperience. The Pistons won it all last year and are no doubt primed to do the same this year. Plus I think Ben Wallace can irritate Shaq enough for Detroit to take the series in six. Sorry Heat fans.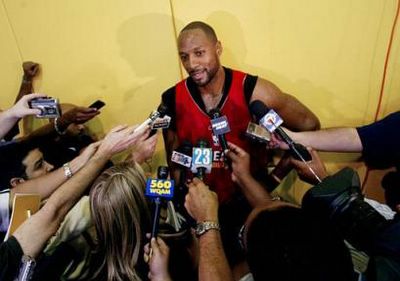 Don't expect 'Zo to be too big of an impact
Western Conference coming later this week...