Break Down: Western Conference
By Paul Benedict
Now that trade deadline has passed, it becomes much easier to gauge the direction in which teams appear to be heading. Rather than wait out the last eight weeks or so of the season, Paul and I have decided to fire up our crystal balls and give you the results at the beginning of March.Note: Records are predictions of end of the year results

Lottery Bound


15. New Orleans Hornets (16-66)


Good: This season has been pretty ugly for the Hornets, but on the bright side, they have a leg-up on other rebuilders this season from a personnel standpoint. With a solid foundation in the backcourt featuring Dan Dickau, J.R. Smith (who has the makings of a superstar), and Speedy Claxton, a quality center locked up long-term in Jamaal Magliore, and two young power forwards who can capably hold down the nest (Andersen and the injured David West), the Hornets may only be a high draft-pick and a quality free agent pick-up away from being a consistently competitive team again.


Bad: The attendance and fan support has been terrible ever since moving to the 'Big Easy', even with the playoff team they had last year. People anticipated a tough season this year with the switch to the Western Conference, but I'm not sure anyone predicted the team to have the worst record in the West and to part with their best player in Baron Davis. My question is: who wants to play for the Hornets? As long as the ownership continues to run the organization like Rachel Phelps (re: city of Charlotte, Paul Silas, Baron Davis), nobody will dare step foot in New Orleans. And if you thought Baron didn't want to play in New Orleans, what about Jamaal Magliore? Out 3 months with a finger injury? Does it appear he's in a rush to return to the court? Just wait till next year when he buzzes his way off the team.

Summer Plan:
The Hornets should do no worse than a top 5 pick and will likely look to draft a 3, but may not stray away from choosing a big man and shifting Magliore to the 4 where his size suits him better in the West. I'd be shocked if they went international given that the team is having problems attracting fans as it stands, but with a college and high school class that merits little praise, Allen Bristow might just have to. As for the free agent market, Bristow would be smart if he targeted players that may actually have an interested in playing in the bayou, so it's no surprise to hear names like Stromile Swift (LSU product) and Joe Johnson (Arkansas product) being thrown around. One thing is sure—the Hornets are going to have to overpay big time to get anyone.
14. Golden State Warriors (25-57)

Good: You have to like the Baron Davis trade whether he's an injury liability or not. Speedy Claxton is a decent point guard, but he was never going to guide the current club to a playoff spot. Baron not only pushes the team towards that level, but he also brings a lot of excitement to a team that already plays high-energy basketball. Jason Richardson continues to elevate the level of his play in now his fourth season, and that is commendable considering many players lose the desire to improve when they're stuck with a losing franchise such as the Warriors. It's also worth mentioning the job Mike Montgomery has done this season—though the win/loss record might not show much, the team has gone out and played hard every night, and the young players appear to be responding positively to Monty, who like themselves, is also a work-in-progress.

Bad: The Baron trade was a no-brainer for Chris Mullin, but it also kills just about any cap room the team has for the next four years. With Jason Richardson, Troy Murphy, and Baron all locked-up to max contracts, Mullin is going to have one of the tougher GM jobs in the league as he explores ways to improve this seemingly borderline-playoff team. Luckily, he has some younger guys that could attract attention on the trade market this summer in Mike Dunleavy, Mickael Pietrus, and Andris Biedrins. Now would be a good time to give Biedrins some quality run, especially with the team trying to mesh Baron into the mix as well.

Summer Plan: It'll be interesting to see whether Mullin gives this roster a full year to play together or whether he decides to make a big move this summer. Obviously the biggest need is at center where Adonal Foyle has (surprise!) proven not to be the answer. The Warriors should end up with a top 6 pick and I would bet that Mullin again looks to go big, but with the best big guys being European, is he willing to roll the dice on another Euro big like last year? Do not be surprised to see Mullin make an aggressive move this summer and package their draft pick with Dunleavy for a guy that fits in well with the run-and-gun style he's trying to implement.


13. Portland Trail Blazers (29-53)
Good:
At this point in the season, it's really tough to find anything good about the Blazers, who have been one of the most disappointing teams this year. On the bright side, Joel Pryzbilla has been one of the most pleasant surprises since the midway point of the season, averaging a double-double and over two blocks per game and making Theo Ratliff expendable this summer. Sebastian Telfair has shown flashes of brilliance and should assume the starting point guard spot next season—it wouldn't be a bad idea for new coach Kevin Pritchard to install him as the team's starter for the remainder of the season.
Bad:
The Blazers have dealt with injury problems all season, but regardless, they never have had the look of a playoff team. Without a consistent perimeter threat and with no true identity on offense, the Blazers haven't been able to score very well all season. On defense, they just aren't quick enough or physical enough to hold off teams in the 4th quarter and thus have blown a number of late leads. It certainly didn't help matters when word got out that Maurice Cheeks had been a lame-duck since the Darius Miles incident, as it now appears he had lost the team over the past month. It's tough to blame Cheeks however, who had trouble finding any sort of continuity with the team this year as guys shuffled in and out of the lineup on a nightly basis and the talent itself was nothing noteworthy to speak of.
Summer Plan:
While Pryzbilla and Telfair appear to have bright futures with the team, there are questions abound concerning the team's other two building blocks: Zach Randolph and his ability to lead this team while earning the big bucks (6 years, maxed-out, and the contract doesn't even kick in till next season) and Darius Miles' propensity for allowing his attitude to affect the talent in his game (and he's locked up for 6 years as well). One thing is certain: a number of Blazers will likely end up in different cities this summer. Shareef Abdur-Rahim and Damon Stoudamire are unrestricted free agents, Nick Van Exel is set to retire, Derek Anderson apparently has no intentions of wearing black and red ever again, and Ruben Patterson and Ratliff will reportedly be shopped for younger talent. Look for John Nash to make a major play for shooters like Michael Redd and Ray Allen, and quite possibly Joe Johnson and Larry Hughes—Nash has made it known he intends to address the lack of perimeter play that has plagued this team for years. As for the coaching situation, Nash might have trouble attracting any quality candidates (Saunders, Jackson, Musselman) given the way that Cheeks, a man adored in the NBA community, was treated by the players and the management.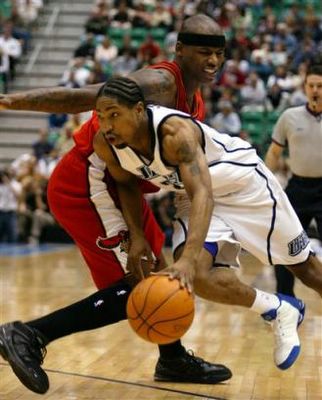 Keith McLeod has been one of the few bright spots on a Jazz team that has caused their fans to sing the blues this season.
12. Utah Jazz (32-50)
Good: The season started off magically for the Jazz after winning 6 of their first 7 and earning contender status as they carried the momentum of what most considered to be an exceptional off-season into the first two weeks of the regular season. Oh, how the mighty fall! The Jazz went on to lose 23 of their next 28, partially because Andrei Kirilenko went out with a knee injury, partially because Jerry Sloan couldn't seem to find a dependable point guard, but mostly because the team lacked the athleticism to keep even the worst teams from dropping 3-figures on them. Since Kirilenko's return in late January, the Jazz have still struggled to stop quality opponents from scoring on them, but are beginning to show signs that their is light at the end of the tunnel. As far as personnel goes, Keith McLeod might be the only player on the squad who has turned heads this season, but it still remains to be seen as to whether he can run a team full-time-- Jerry Sloan will have the rest of the season to find out.

Bad: Kirilenko and Boozer looked unstoppable in those first two weeks of the season, but now it's beginning to appear as though the two might not even be able to co-exist. Boozer was expected to shoulder the load when AK47 went down in December with the knee injury, but instead he got dominated on defense by bigger and better opponents and struggled to make key baskets on offense, and without a go-to-guy, the Jazz fizzled quicker than "The Benefactor". Now with the Jazz winning 3 in a row and Kris Humphries showing signs of being a player, it appears that Boozer may be kicked to the curb this summer by GM Kevin O'Connor. The problems for the Jazz go beyond just Boozer, however, and O'Connor will need to implement some much-needed athleticism into this bunch if he wants to keep Jerry Sloan from blowing a gasket next season.

Summer Plan: The Jazz have had good luck going international and know their best bet of keeping someone long-term is if they find some Euro that doesn't realize Utah is the strangest city in the U.S. If O'Connor can somehow get his hands on the Utah Ute stud, Andrew Bogut, there's simply no way he turns him down; otherwise, I'd imagine he looks closely at one of the 3 stud point guards (Paul, Williams, Felton). As for free agency, the Jazz won't have much to spend, so expect them to offer up Boozer to a team willing to part with an athletic 2 or 3.
11. Los Angeles Clippers (36-46)
Good:
Bobby Simmons is the favorite for the league's 'Most Improved Player Award' and should he re-sign with the team this summer, gives the Clippers another talented "character" player to go along with Elton Brand and Corey Maggette. Shaun Livingston, though he has battled injuries all season, has shown immense promise in the games that he has played, and will likely be named the starting point guard for years to come once he returns from a shoulder injury in March. Two factors have kept the Clippers from staying in the thick of the playoff chase this season (even though they only are 3 games back as I write this)- 1) Losing Livingston and Jaric to injuries throughout the season has kept Dunleavy from playing any sort of transition basketball; 2) The Clippers are still young and in the process of learning how to win close games and on the road. No lottery bound team seems as close to the playoffs as the Clippers and I'm predicting right now that they do indeed reach the playoffs next season with another season of experience under their belts.
Bad:
Shaun Livingston, while immensely talented, right now appears to be incapable of staying healthy for 82 games due to his Lara Flynn Boyle-like physical stature. It's integral that the team lock him in a weight room for the summer so he can develop the strength and conditioning necessary to take on the beatings that NBA players do throughout the course of a grueling season that can last up to 8 months. Right now a healthy Livingston, even though he is still a teenager, would give the Clippers a shot at that 8th spot out West. The team also needs to find a way to utilize the talent of Chris Wilcox, who despite playing excellent basketball early on this season, has struggled to find his role with the team since. Even if Wilcox is not in the team's long-term future, Dunleavy has to find him some playing time in the remainder games so he can showcase him for a trade this summer.
Summer Plan:
Bobby Simmons has to be Elgin Baylor's top priority this summer and despite Donald Sterling not having a history of shelling out the big bucks to hold on to talent, the Clippers have made it clear they have every intention of re-signing Simmons this summer. Jaric reportedly would like to re-sign with the Clippers as well, and the team would be wise to re-sign him as a 3rd guard off the bench as long as his contract demands aren't overwhelming. Look for Baylor to grab an experienced college player in the late lottery that can come in and contribute right away to a playoff-bound team.
Fighting to Stay Alive
10. Lakers (40-42)

Good:
Kobe Bryant is healthy again and that gives the Lakers a fighting chance every time they step foot on the floor. Lamar Odom is showing more signs of becoming Kobe Bryant's "Robin" as of late, but still tends to defer to Kobe a bit too much during key moments despite being one of the toughest forwards in the league to defend one-on-one. Chris Mihm has been a revelation this year by proving that he is capable of starting and playing 30 minutes for a quality team, but Mitch Kupchak still needs to find him some help upfront this off-season.
Bad:
The biggest test Kobe Bryant faced coming into this season was proving to everyone that he was able to carry the Lakers on his back without the support of his career-long crutch Shaquille O'Neal. And he has this season, but only at times, and usually only when he goes off on one of his patented scoring binges. Kobe is still in the process of learning to trust his teammates more and until he is completely willing and ready to, the brunt of the Lakers' struggles has to fall square on his shoulders. An interesting sequence took place at the end of the Lakers/Knicks game Monday night-- Kobe had the ball in the waning seconds with a chance to tie the game and send it into overtime. As he broke down Tim Thomas and created an open look for himself, he noticed Luke Walton cutting hard to the basket to try and tip-in Kobe's shot if he missed it. Kobe went up and dished to Walton, who presumably had not even considered the possibility of Kobe passing the ball and and thus did not see it coming. The ball bounced right off of Walton and the Lakers lost the game. Of course the camera was cast directly upon Kobe who was seen blatantly screaming curse words in the direction of Walton. The fact that Walton didn't even look in Kobe's direction just tells you that there is no sense of trust between Kobe and his teammates on a clutch play, but the fact that Kobe even passed the ball, that at least tells you he is trying. The Lakers will probably miss out on that 8th playoff spot and Kobe Bryant will have learned the hard way that though he can't do everything by himself, he needs to do everything he can to get the most out of his teammates. It's the ability to make one's teammates better that separates legends like Michael Jordan and Magic Johnson (11 rings) from stars like Dominique Wilkins and Stephon Marbury (0 rings) and Kobe needs to learn how to take on this role if he is ever going to take the Lakers to the next level.
Playoff Prognosis:
The Lakers have the toughest remaining schedule of the three teams vying for the 8th spot (15 of 26 on road; a 9-game stretch in April against the top 7 teams in the West) and appear to be slipping as it is having lost their last 4 games. They kick off a 6-game road trip in Dallas next Thursday that, if they don't step up their game, could end up killing any playoff chances they have. Even if the Lakers do reach the playoffs, they would have little chance of being a factor against either San Antonio (0-3) or Phoenix (0-2).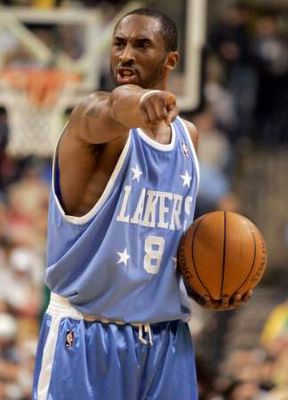 Instead of pointing fingers at his teammates, Kobe Bryant just needs to make them into better players.
9. Minnesota (42-40)


Good:
This season has really been a disaster for Minnesota after being many people's pick to win it all, so I'm going to spend two paragraphs talking about the bad rather than trying to think of anything nice to say about the team. It started with two key players (Cassell and Sprewell) publicly whining about their contracts in the pre-season and it really just has not gotten much better since. Sammie and Spree both appear to have lost a step, Hudson and Wally Z don't know how to pass the ball or play defense, and Olowokandi is a walking punchline. Kevin Garnett, suffering not only through this debacle of a season but also through what's quietly being discussed as a major knee injury, has to be emotionally broken down by this point and who knows what might happen if this team fails to reach the playoffs for the first time since 1996.
Bad:
After getting scored on at will all season long, the 'Wolves have now held 7 straight opponents under 100 points-- problem is the team is just 3-4 in that stint because now they can't seem to put up any points. Sprewell and Szczerbiak too often have hot and cold flashes and for a team led by a guy that is just not capable of dropping 30 on a nightly basis, it's integral that a second scoring option step-up and consistently post 20 a night for the 'Wolves. If Sam Cassell can get healthy for the final 24 games this season, Minnesota has a chance to not only launch themselves into the playoffs, but also to cause a fit for whomever they meet in the first round.
Playoff Prognosis:
Minnesota has the most balanced schedule (11 home, 13 away; 12 vs. +.500 teams) compared to the Lakers and Nuggets with no home or road stint lasting more than 3 games. This might make it tough for Kevin McHale to get his team on a roll, but when you have the reigning MVP in Kevin Garnett and a slew of veterans who know what it takes to win, you have to at least consider the possibility that the 'Wolves will finally put it together. Of the 3, Minnesota certainly has the best chance at putting a scare into the Spurs because of their experience and well, KG. While I wouldn't bank on them to make a serious run in the playoffs, I would not be shocked if they carry any momentum taken from closing out the regular season strong into the playoffs and go on to cause some damage.
8. Denver (43-39)


Good:
George Karl has been a very positive addition as coach since replacing Jeff Bdzelik, having led the Nuggets to a 10-4 record during his brief tenure. The Nuggets are playing much better defense (just once has an opponent dropped 100+ on the Nuggets since Karl took over) and Karl is ensuring that the ball stay in the hands of Earl Boykins and Carmelo Anthony down the stretch of games. Marcus Camby still continues to battle injuries, but as long as he stays off the injured list, he will remain the catalyst for the team on defense and could end up being the reason they reach the playoffs. Once Nene (knee) comes back, Karl will have the luxury of bringing two bruising forwards in Nene and Najera off the bench that will give the Nuggets both a psychological and physical edge on the floor.
Bad:
Carmelo Anthony has failed to step-up his game from a year ago even though he still assumes the starring role, and that has resulted in a number of poor shooting performances that have cost the Nuggets a fair share of games. Anthony, like the entire Nuggets team, has also dealt with the injury bug that has nagged the team all season long and kept them from developing any sort of continuity on the floor by having players shuffled in and out of the lineup on a nightly basis. Now with Nene out at least 2 more weeks and Kenyon Martin possibly facing some time off due to tendonitis in his knee, the Nuggets again will be short-handed as they enter a crucial point in the season.
Playoff Prognosis:
George Karl has predicted that the Nuggets need to win 45 games to get that 8th playoff spot-- that would require his club to go 17-8 in their remaining 25 games. Considering their rather easy schedule to close out the season (15 of 25 at home, 6 of 10 road games against sub .500 teams), Karl might be able to reach that 45-win plateau, though my guess is he won't have to. Assuming the Nuggets do get that 8th spot, they would not pose a major threat to San Antonio, but because of their defense and physical play could cause some concern for the Suns-- perhaps we'll find out as they play Phoenix twice more this season.
Playoff Bound

7. Memphis (47-35)

Good:
Memphis' depth has essentially saved the season for them as they have remained in the thick of the playoff picture despite costly injuries to Pau Gasol, Jason Williams, James Posey, and Stromile Swift. The Grizzlies continue to have great chemistry on the court and are a pleasure to watch because of their team-first mentality. The injuries to the club have allowed many different players to step-up on separate occasions, including Dahntey Jones, Earl Watson, and Brian Cardinal over the past couple weeks. This will give Fratello the option of juggling his lineups in the playoffs as he searches for the right combination of players that can help the team win.
Bad:
There's been word that Pau Gasol is no closer to returning from his foot injury than he was weeks ago and that he might just have to sit out the rest of the season. This would be a blow to the team's chances in pulling off an upset in the playoffs, but would certainly not eliminate that as a possibility. While the Grizzlies only stand a few games within the current playoff picture, it is still important that Mike Fratello get this team healthy in time for the playoffs and therefore not rush anyone back from injury. Considering that 14 of the team's next 19 are against sub .500 teams (23-6 against sub .500 teams this season), they should be able to hold onto their playoff position firmly regardless of whether they have everyone back or not.
Playoff Prognosis:
Memphis is 2-0 against the Spurs and 2-1 against the Suns-- the only team in the NBA that has winning records against both teams. Though the Grizzlies aren't a very good rebounding team, they make up for it by playing hustle defense and causing a lot of turnovers, which in turn can result in victories over anyone. If they do indeed claim the 7th seed, the Suns would be a welcomed opponent as the Grizzlies know their physical and often times tenacious defense can throw the Suns off their game. If the Grizz inch up to the 6th spot, the Sonics might be a tough opponent for them given that they can match their defensive intensity and would completely dominate them on the glass.
It's certainly never pretty when "The Janitor" is involved. But hey, he's doing a helluva job with Gasol and Stromile sidelined.
6. Houston (47-35)


Good:
It may have taken a little while, but Jeff Van Gundy did end up finding a way for Tracy McGrady and Yao Ming to co-exist and his name is Bob Sura. Sura has allowed the offense to open up more thus creating more good looks for McGrady in the open floor and more opportunities close to the basket for Yao Ming. Mike James has dropped 20+ in each of the 3 games he's played since GM Carroll Dawson traded for him last week and expect him to be a source of instant offense off the bench once Sura comes off the injures list next week. Once Sura returns, look for the Rockets to re-ignite themselves after some inconsistent play as of late and make a push towards Sacramento for that 5th spot.
Bad:
It's easy to say good things about McGrady and Yao, but let's focus on the setbacks of the two all-stars that are keeping the Rockets from contending for a title this year. McGrady is one of a handful of players in the league who can take over a game offensively in the blink of an eye, but he still cannot match that intensity on the defensive end. As we head into the stretch run in what has been the most successful season ever for McGrady from a team standpoint, keep an eye on whether or not he exerts himself more defensively-- it could prove crucial to the team's chances come playoff time. Yao has proven this season that he just might not be able to bring his game up another level. He still gets burned by aggressive, skilled big men on defense and becomes almost a non-factor on offense when he's put up against a quality frontline that pushes him around and forces him to take bad shots. And while he has proven that he can finish well and get to the line almost at will, he needs a guard like Sura to find him good looks at the basket if he is going to be most effective-- that is why Sura is the real key to the Rockets' chances.
Playoff Prognosis:
The Rockets have 3 four-game road trips still left on the schedule and that could keep the team from giving Sacramento a hard push for that 5th spot. Houston has played their best basketball this season when they've built some momentum off of some easier wins and carried it into bigger games resulting into some nice wins over Dallas, Indiana, San Antonio, and Washington. As it stands right now, Houston would likely face Seattle in the opening round, a team they lost a close one to at home last week and still play 3 more times this season. Yao could cause matchup problems for the Sonics (he had 30 against them last week), but Houston will need more from T-Mac (7-18, 17 pts) who might have problems against Seattle's tough perimeter defense. If the Rockets slide up to the 5, they would almost certainly face Dallas who they play on Sunday as they look to even up the season series at 2 apiece. With Sura running the show, the Rockets can score with Dallas and will be better suited against them in a close series given their advantage on defense.
5. Sacramento (51-31)


Good:
Many people are writing the Kings off from not only contending this season, but also from even holding on to the 5th spot after trading away Chris Webber for Kenny Thomas, Corliss Williamson, and Brian Skinner. How soon do people forget that the Kings have actually been a better team in the regular season without Webber? Though the Kings have dropped their last two to the (gasp) Bobcats and Magic, Brad Miller missed both games and Peja was out against the Magic. Skinner, Thomas, and Williamson have all played great for the team since the trade and should provide some much-needed depth and physical play to a team that is trying to shed the "soft" label. With a rather easy schedule to close the season, it's up to Mike Bibby, now the leader of this Kings team, to secure the 5th spot and lead a potentially dangerous team into the playoffs.
Bad:
It still remains to be seen as to how the Kings will respond in the playoffs without Chris Webber. All those people (like me) claim that the Kings are better off in the regular season without Chris Webber, but we also have to remember two years ago when the Kings may have had their best shot at the title before Webber went down with a knee injury and then succumbed to the Mavericks. One aspect of the Webber trade that I believe has been overlooked by everyone is the fact that this is Mike Bibby's team now, not Peja Stojakovic. The problem with the Kings and their playoff runs over the last 4 years is that their two best players, Webber and Peja, have both been known for coming up short in important games. Bibby has always stepped up his game in big moments and will be counted on to do so this year, but without Webber to ease some of the load, it might be too much for Rick Adelman to ask for.
Playoff Prognosis:
I've pretty much spent this entire section discussing the Kings' playoff chances because when it comes to a team like this that's been in the playoffs the last six years, that's all that really matters at this point. Anyone predicting the Kings to stumble down the stretch is fooling themselves-- they are still too talented and too experienced to let such a thing happen. Playing the Mavericks in the first round would seem fitting, as the two teams have met in the playoffs in each of the last 3 years and are involved in one of the more underrated rivalries of recent times. The Mavs have taken down the Kings all 3 times they have met this season and might be a tougher out for the Kings in the playoffs because of their improvements on defense this season. However, when it comes down to two teams like these both rich in experience and similar in style, it often is only a matter of who has homecourt advantage or which team is hotter coming in.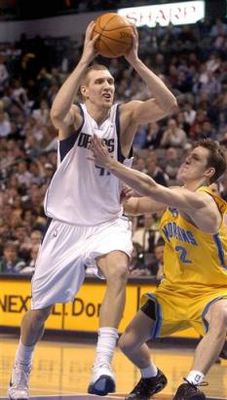 He's been positively "Re-Dirkulous" this season, and perhaps the new 'do can drive the team into full throttle heading towards the stretch drive.
4. Dallas (57-25)


Good:
The defensive turnaround (28th in Opp. PPG last year; 16th this year) has been an impressive achievment for Don Nelson this season and could ultimately be the difference in the Mavericks being a pretender and a contender. Though the team lost its catalyst in Steve Nash during the summer, Jason Terry has filled in adequately and actually gives the team more defense from the point guard position. Erick Dampier has also been a big contributor to the revamped Dallas defense by providing a presence in the middle that Shawn Bradley never was able to. But perhaps most worth mentioning is the all-around improvement of play from Dirk Nowitzki, who appears to be just entering his prime and ready to take the Mavs on his shoulders for a playoff ride. Not only has he stepped it up on offense, but he's also made leaps and bounds on defense knowing that he has to get things done on both ends of the court if he is to lead the Mavericks into the promised land.
Bad:
The health of Erick Dampier is crucial to this team given that he poses a defensive threat in the post and makes the bigger teams work for points down low, and because he allows his teammates to get out on the break more often, where the Mavericks are most successful on offense. Since Dampier went down with a foot injury, Don Nelson has relied more on 'small ball' and the Mavs have allowed 5 of 7 opponents to reach the century mark and have looked particularly bad in the last 3 games. Nelson knows this won't fly in the playoffs and so he'll likely encourage Dampier to take his time before returning, knowing that he needs his big man healthy and on the court for 35 minutes if they are able to battle the likes of the Kings and Spurs.
Playoff Prognosis:
It's hard not to like the Mavericks this season as they have made remarkable improvements in the two facets which have kept them from contending the last few seasons: they can actually hold their own on defense, and they can actually win on the road (19-8 this season). While Nellie still has eyes set on catching the Spurs for the top spot in the Southwest Division, I'm not sure even the most optimistic Mavericks fan can see this happening, so expect Dallas to take on Sacramento in the first round, a team they have already beaten 3 times this season. Conquering the Kings would likely result in a battle with the Spurs, who have incidentally defeated them all 3 times they have met this season. San Antonio would likely prove too tough for Dallas in a 7-game series, but Phoenix on the other hand, is a nice matchup for the Mavericks. Though Phoenix won the season series 2-1, Dallas is able to match the Suns on the offensive end and play the necessary 4th quarter defense it would take to lock down the Suns in a close game.
Thanks to the hustle and gutsy play of guys like Antonio Daniels, the Sonics have had a storybook season and will look to write another chapter in the playoffs this spring.
3. Seattle (58-24)-- Northwest Division Champions


Good:
Seattle has been the story of the NBA this season-- a team with virtually no chance at the playoffs according to critics (including Anthony and myself) largely because of a rotation of 4s and 5s that would struggle to start for the Hawks, a roster flooded with free-agents-to-be including a superstar that should be enraged about not being offered a fair contract extension by this point, and a coach that appeared to be a sitting-duck heading into the season, but has responded by performing one of the greatest coaching jobs in recent memory. The story of the Sonics this season has been just as fun to follow as it has been to watch. By playing dynamic defense and superb team basketball, Nate McMillan's crew has quieted every critic who thought they found a flaw that would ultimately bring the Sonics back down to earth. It hasn't happened, and it's safe to say that it is not going not.
Bad:
Of course the lack of size has to be a concern for the Sonics going into the playoffs, but because they rebound well and McMillan can toss an array of bodies at opposing centers to keep them off the post, this lack of height has yet to spell problems for them this season. Even when Seattle isn't shooting well, as we have seen recently against Houston and Minnesota, they are able to keep the game withing striking distance because of their stifling defense and then make their move late once some shots start falling. There isn't a team out there that the Sonics would not have a chance at defeating in a series, but the Spurs would prove to be the toughest opponent because they can match Seattle in just about every facet of the game and have more size, athleticism, and experience.
Playoff Prognosis:
Memphis would provide a tough test for Seattle in the opening round, especially if Pau Gasol returns and gives the Sonics matchup problems because of his height. Houston could also be a formidable foe, but I would imagine McMillan would find a way to stop Yao and slow down T-Mac and get the Sonics into the Conferene Semifinals with little trouble. The Sonics have split with the Suns in two closely contested games this season with still another to come Sunday in Key Arena. Where the Suns struggle the most, rebounding the ball and when forced to play half-court defense, the Sonics excel and can still run and shoot with the Suns for 3 quarters before slowing things down in the 4th--I like the Sonics to defeat the Suns if they were to meet in the Semis. The Spurs as I said earlier, would be the most difficult for the Sonics to take out, but if Seattle can shoot the ball extrememly well for 4 games, anything is possible.
2. Phoenix (60-22)-- Pacific Division Champions


Good:
It has been a wonderful season thus far for the Suns from the emergence of Amare Stoudemire as a dominant power forwrd to the MVP-caliber season free-agent acquisition Steve Nash is enjoying in his new home. Mike D'Antoni's European-style basketball is a perfect fit for the team with their speed, athleticism, and shooting and the Suns have had the ability to run just about any team off the court throughout this season. If the Suns get homecourt advantage throughout, nobody will want to play them in the playoffs and they will undoubtedly be a tough out.
Bad:
As if you probably already can't tell, I'm not too big on the Suns' chances in the playoffs-- not even to make it beyond the first round. I've had the opportunity to watch the Suns many times this season and the formula for beating them is not brain surgery-- run with them for three quarters by substituting in as many guys as it takes to limit their perimeter shooting and to try and get Amare Stoudemire into foul trouble, then slow the game down in the 4th and force them into halfcourt sets, where you limit Shawn Marion defensively and keep Amare Stoudemire in check on the offensive end. Both of these guys, and obviously Steve Nash, are far better players in the open court and the Suns can be exposed as merely an average team when drawn into a halfcourt game.
Playoff Prognosis:
While the Suns currently have the best road record in the NBA, they would love to have homecourt advantage throughout knowing that a team with little playoff experience can use every edge it can get. With 14 of their remaining 25 in the Desert and no more than 1 game on the road at a time aside from the 5-game road trip down south at the end of March, the Suns are in a good position to make the Spurs really earn the top spot. Looking at the playoff field, there isn't a team out there that might not present problems for the Suns given that they are the worst rebounding and defensive team of the bunch. I'm not sure I see Phoenix escaping the Grizzlies in the first round if such a series is to take place.
It's looking like (as it has all season long) the Spurs will be all hugs once everything is said and done out West.
1. San Antonio (64-18)-- Southwest Division Champions


Good: My pick to win it all at the beginning of the season has failed to disappoint me thus far. Tony Parker and Manu Ginobili have both matured to the point that they are all-star caliber players at this point in their careers; the role players are a step-up from last season's cast with Brent Barry, Beno Udrih, Nazr Mohammed, Bruce Bowen, Rasho Nesteroivc, and Devin Brown; and Tim Duncan is still, well, Tim Duncan. Greg Popovich has been smart this season for realizing the athleticism on the team this year compared to the past and allowing Ginobili and Parker to get out and run the floor when the opportunities present themselves. Popovich has also paced his team all season, limiting the minutes of Duncan, Parker, and Ginobili all season long while trying to give valuable minutes to the supporting players knowing that they may be asked to play key roles down the stretches of important playoff games.

Bad: The only weakness on the team was its lack of athleticism upfront which the team addressed at the trade deadline by acquiring Nazr Mohammed. The Spurs are now better suited to handle the Heat and Pistons down low without having to rely too heavily on Tim Duncan to guard a Shaquille O'Neal or Rasheed Wallace. An injury to Tim Duncan would also prove costly to the Spurs, but what team out there can't say that about their star player?

Playoff Prognosis: The Spurs play 14 of their 25 remaining games at the SBC Center including 7 of their next 8 at their home arena--6 of these 7 home games are against sub .500 teams, the perfect formula for getting hot in the closing stretch of the season. But the bottom line is this: the Spurs are the best team in the West and Greg Popovich is not about to screw around and give the Suns a fighting chance by allowing them to get homecourt advantage throughout-- expect San Antonio to assume complete control over the top spot during this easy stint over the next 2 weeks. None of the potential 8 seeds, save a hot Minnesota team, has a chance to do any damage against the Spurs in the opening round. And let's face it-- even if the 'Wolves do come into the playoffs rolling, could you even begin to fathom a Tim Duncan-led Spurs team being upset in the first round? Me either. Dallas and Sacramento might be able to play the Spurs tough, but neither can match the Spurs defensively and that spells doom. Phoenix would have no chance against San Antonio, and while Seattle might take a series to 6 or 7 games, the Spurs are just balanced all-around to allow a lesser team like the Sonics to beat them in a 7 game series. As for the Finals, you'll just have to wait on any insight for that one...