Eastern Conference Playoff Picture
By Anthony Peretore
Theme: Saved By the Bell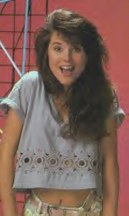 What does Kelly Kapowski have to do with the NBA? Read and find out

1. Miami Heat (52-16), 1st Southeast—Kelly Kapowski (Hottest)
Saying these guys are the hottest team in the NBA is like saying Kelly was the hottest girl at Bayside High—yeah, no kidding. Winners of 12 straight and 19 out of their last 21, the Heat find themselves 8.5 games up on the second place Pistons for home court in the East. Also, Miami has overtaken the leagues' best record honor from the Spurs and Suns. Look for the Heat to coast into the playoffs and possibly begin to decrease both Shaq and D-Wade's PT to rest them for the stretch run.
Next Five: Tue: @HOU, Fri: vs. PHX, Sat: @CHA, Tue: vs. TOR, Thu: @IND

2. Detroit Pistons (42-23), 1st Central—Zach Morris (Champs)
The Pistons got possibly their biggest win of the season on Sunday afternoon, but with a bit of a catch. SG Richard Hamilton went down in the third quarter of Detroit's 110-101 victory over the Spurs with a left ankle injury. X-rays were taken and more information should be made public later on Monday. Aside from this bad news, the Pistons seem to be getting their act together at the right time. After dropping four of five earlier in the month, Detroit is currently on a four game high and have increased their lead in the Central to 7.5 games. PG Chauncey Billups has been a beast of late, averaging 25.5 PPG, 6.3 APG and 4.3 RPG over his last four. Also, SF Tayshaun Prince is quietly emerging as a top candidate for the Most Improved Player award. Not only did Prince drop a career-high 31 against the Hawks this week, but he's also averaging 23.0 PPG and 6.5 RPG over his last four. Barring any disasters, the Pistons should have no problems holding off the Celtics for the two seed.
Next Five: Tue: @CLE, Wed: @PHI, Fri: vs. IND, Sat: vs. BOS, Mon: vs. DAL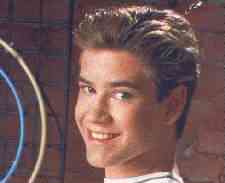 As long as they're the champs, they rule the school

3. Boston Celtics (38-29), 1st Atlantic—Stacey Karosi (Second Hottest)
If the Heat are Kelly Kapowski, then the Celtics must be the Stacy Karosi of the NBA. Boston has won seven straight and are 11-1 since acquiring Antoine Walker from the Hawks. Despite their impressive win streak, most of the W's came against weaker opponents until last Friday when they upended the Rockets (winners of five in a row) in Houston, a game that was never close. Boston, led by their three-headed monster of Walker, Paul Pierce and Ricky Davis, find themselves quickly running away with the Atlantic Division. If the Celts can sure up their shaky team defense by April, they should be able to advance past their first round opponent and set up a semifinal match up with the defending champs.
Next Five: Wed: @NYK, Fri: vs. CHI, Sat: @DET, Wed: @DAL, Fri: @ATL

4. Washington Wizards (36-28), 2nd SE—Lisa Turtle (Fashionable)
Despite playing without Antawn Jamison for the majority of March, the Wiz have still managed to go 5-4 for the month. Led by PG Gilbert Arenas (25.4 PPG, 5.3 APG, 2.0 SPG) and SG Larry Hughes (21.9 PPG, 6.2 RPG, 5.0 APG, 2.8 SPG), Washington will participate in the playoffs for the first time since 1996-97, when they were known as the Bullets. Speaking of the Bullets, the sole reason they get the Lisa Turtle award is for their throwback burnt orange jerseys that they rock on occasion. I know I've mentioned this before, so if you haven't seen them, take a look.
Next Five: Tue: @DEN, Thu: @UTH, Fri: @LAC, Sun: @SEA, Mon: @POR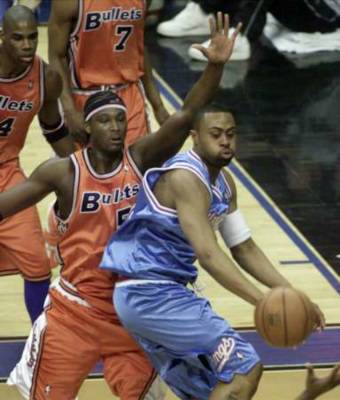 Check out the burnt orange on Kwame, nice right?

5. Cleveland Cavaliers (34-30), 2nd CEN—Screech Powers (Falling apart)
On Monday morning the Cavs fired Head Coach Paul Silas siting the team's need for a spark heading into their final month of the regular season. Cleveland seemed to have gotten their act together last week in winning three in a row from March 8-15. However, the team is currently on a three-game slide and couldn't even manage a 'W' on Sunday with LeBron James (56) becoming the youngest player to ever score 50 points in a game. The Cavs have gone from one of the more intriguing teams heading into the playoffs, to one almost certain to get bounced in the first round. Possible candidates for a coaching replacement include: Flip Saunders and Eric Mussleman
Next Five: Tue: vs. DET, Thu: @HOU, Sat: @DAL, Mon: @NOR, Tue: vs. LAC

Only Screech Powers could make a bonehead move like firing Silas



6. Chicago Bulls (33-31), 3rd CEN—Mr. Belding (Dorky but still in control)
The primary concern for the Bulls right now is undoubtedly the health of starting center Eddy Curry. EC has missed the team's last three games with a strained left hamstring, an injury that may keep him out a few more games. The Bulls hope he can return Monday night when they face the Hawks, but with Atlanta struggling badly, it would be wiser for them to hold him out at least one more game. Before their win on Saturday in Philadelphia, Chicago had dropped four in a row, evidence that this team may be hitting a youth wall. It will be interesting to see if this young squad can hold onto their playoff spot down the stretch. If they do indeed reach the postseason it would be their first trip there without MJ.
Next Five: Mon: vs. ATL, Wed: @TOR, Fri: @BOS, Sat: vs. IND, Mon: vs. MEM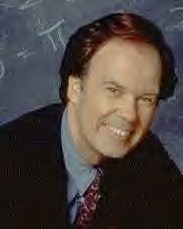 Good 'ol Richie Belding
7. Indiana Pacers (33-32), 4th CEN--Jeff (Dirt bags finish last)
More good news for the Pacers: Jermaine O'Neal is done for the season. If this team doesn't tank the rest of their games, GM Larry Bird should get first ever Worst GM of the Year award. Say they held out Jamaal Tinsley and Stephen Jackson got a "back injury," the Pacers could nab a top 10 pick in this summer's draft. With the return of O'Neal and Artest next season, the Pacers could pull a San Antonio from 1998. To refresh your memory, the Spurs sat out David Robinson for the rest of the season to gain a shot at the number one overall pick that year, Tim Duncan. I forget if they got him though.
Quick tie in with Jeff: remember when Zach caught him kissing another girl at that club when he was dating Kelly, then he ended up losing both of them? Well he reminds me a lot of Artest in that he lost his eligibility to play and his team missed the playoffs. If you don't believe their missing the postseason, check out their upcoming schedule.
Next Five: Tue: @NJ, Wed: vs. SA, Fri: @DEN, Sat: @CHI, Mon: @MIL

8. Philadelphia 76ers (32-34), 2nd ATL—A.C. Slater (Great body, little else)
I'm not really sure what to say about this team. They are a respectable 7-7 since acquiring Chris Webber, but just don't seem close to getting all the pieces together for the playoffs. Coach Jim O'Brien has done arguably the worst job of any coach this season with all he's had to work with. The Atlantic Division had been morbid before the sudden rise of the Celtics, yet Obie seemed to have kept his squad in neutral, perhaps afraid to push them too hard and risk injuries. Well, now with the surging Nets nipping at their heels, it's almost too late to push this team, especially with Allen Iverson fracturing his thumb. Don't be surprised if Philly finishes out of the playoffs or as high as 6. Your guess is as good as mine.
Next Five: Wed: vs. DET, Fri: vs. TOR, Sun: @LAL, Mon: @SAC, Wed: @PHX

9. Orlando Magic (32-34)—3rd SE--Leon Karosi (Sinking like a submarine)
Don't worry Magic fans, Chris Jent is here to save the day! WHO? Exactly. On Saturday morning, the Magic replaced Coach Johnny Davis with the former Ohio State Buckeye (think Jimmy Jackson) Jent, a relative no name in the league. Jent was also a member of the 1994 Houston Rockets Championship team and had only been a Magic assistant since the beginning of the year. With an unproven coach and Stevie Franchise out for two more games, it doesn't appear as if the Magic are going to catch the Sixers or Pacers. However, the team did secure a 'W' in Portland on Saturday and it should be interesting to see how the team responds to Jent down the stretch.
Next Five: Mon: @CHA, Thu: vs. CHA, Sat: vs. PHX, Mon: vs. ATL, Thu: vs. TOR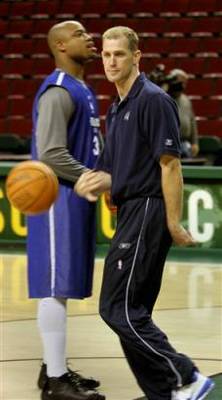 Can Jent pimp-walk the Magic into the playoffs?

10. New Jersey Nets (31-36)—3rd ATL--Deke (Imposing presence, little depth)
Don't look now, but the Nets have won four straight to climb within 1.5 games of the eighth and final playoff spot. With injured SF Richard Jefferson making a strong push to return for the playoffs, the Nets have immediately become one of the more intriguing teams in the NBA. There's no telling what RJ, Jason Kidd and Vince Carter can do together, but too bad they'd likely face the Heat or Pistons if they do indeed sneak in. But, with 15 games remaining and their remaining opponents owning just a .480 winning percentage, it's conceivable to presume the Nets could climb as high as the six seed. But, now we're getting ahead of ourselves a bit.
Next Five: Tue: vs. IND, Thu: vs. MEM, Sat: vs. MIN, Mon: @CHA, Wed: vs. LAC


Western Conference coming later this week…
Reminder: This site is now nbasource.com--no need for the blogspot anymore....