Mafia in the NBA?
By Anthony Peretore
We have reached a point in the NBA season where we're at an ultimate lull. After Selection Sunday, the word "bracket" becomes a primary word in our vocabularies and the NBA takes its annual backseat to college basketball. No one cares about the Heat, Spurs and Suns when Kentucky is about to get knocked off by Southeastern Arkansas Tech and almost no fan wants to read anything that isn't NCAA related. However, with the success of Paul's brilliant "NBA Look-alike List" article, I decided to take a shot at a humorous piece myself. My idea: wouldn't it be great if all the chaos that went down this past summer in Los Angeles led to the creation of a NBA Mafia? Couldn't you imagine some of these guys in the roles of the boys from the Sopranos? As far fetched as it seems, just try to imagine to the existence of:
The Shaquillino Family

The Shaquillino family was established on July 14, 2004, subsequent to the break up of the once "immortal" Lakero family. While the family operates strictly behind NBA scenes, we have managed to uncover most (if not all) of the members of the clan. Here are the primary parties of the family and of course, their ultimate target.

The Godfather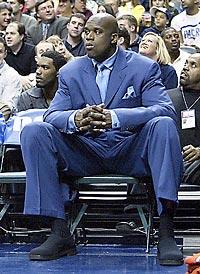 Shaquille O'Neal (Vito M. Shaquillino)
The Godfather is a term used to identify the boss of a Mafia clan, the eldest or most respected member of his family. Of course, this was the easiest member of the group to uncover. Not only is Shaquillino the most respected player in the "game" today, but he even came out with a musical cassette in 1998 entitled "Respect" (see below). Besides respect, we have uncovered some of the other suspected qualities that have enabled Shaquillino to hold on the position of Godfather.
What a hit record this was
Vito M. Shaquillino has an extremely extensive resume, which includes: 3 NBA Titles, 6 First Team All-NBA selections, 1 MVP Award, 2 All-Star Game MVPs, and 1 NBA Finals MVP
His personal life has mostly been kept a secret for the duration of his career (besides an episode of MTV's "Cribs"). When interviewed, Shaquillino never discusses his family life and for all we know he has 11 children planted throughout the United States.
The Godfather must be able to finagle his way out of any situation. Two summers ago when his former brother-in-law Kobino Bryani (formerly of the Lakero family) accused Vito of giving women hush money, Shaquillino somehow managed to make his wife believe otherwise. This is a prime example of the Godfather's abilities to handle pressure and manipulate.
He must be an established businessman. Vito ranked fifth overall on Forbes' 2004 "Best Paid Athletes List," and first overall among active NBA players. Remarkably, Shaquillino has done all this while keeping his name off relatively important endorsements, maintaining deals with lesser-regarded companies such as Reebok, Nestle, Starter and Radio Shack. This is a Godfather type move, making big money while keeping his name off the streets.
The voice of the Godfather must be unmistakable. Shaquillino's monotonous slur is second to none and he's even been known to lull reporters to sleep during championship interviews.
Finally, he must have the ability to kill at the blink of an eye. Reference a Mr. Bradley Miller from Sacramento to see if Shaquillino qualifies.
Shaquillino is believed to have started his clan in order to extract revenge on the now hated Lakero family. What was once a happy bond (see below) is now a dangerous divorce.

Vito should not be expected to let up until all of his enemies have been taken care of. Let's take a look at the rest of the Shaquillino Family and what their roles are in the vicious plot against the Lakero clan.
Dwyane Wade (Michael D. Wadino)

There are several essential characteristics the right-hand man must possess in order to maintain his desired position alongside the Godfather.
The Godfather must have undeniable trust in his RHM. Quote from Shaquillino regarding Wadino: "This guy is on the same side of the moon, he's on the same planet I'm on." This realization may have come on Christmas Day in Vito's first encounter with the Lakero family since their divorce this past summer. When Shaquillino had to unexpectedly "leave the game," Wadino was counted on to represent the family name. As expected, Wadino delivered the goods and has thus been granted the primary seat underneath the Godfather.

He who holds this position must also be young and willing to take on the Godfather's role once he retires. In only his second season in the "league," Wadino seems primed for a long and successful career.

The RHM must keep his name off the streets. No one has any clue of Wadino's personal life, only that he's married to his high school sweetheart. He may have a son or two somewhere in the Milwaukee area.

Finally, the RHM must be an all around "team player," excelling in almost every area of the business. When ask if Wade provides this sort of effort, Shaquillino responded: "He fills all five categories." We have yet to determine what he means by this.
It is believed that Shaquillino and Wadino are working diligently together somewhere in the Miami area. They have made no secret that most of their money has come within the American Airlines industry.


Jermaine O'Neal (J.O. Nealini, aka "Lefty")
"He's murder."—Jim O'Brien, "Coach"
Nealini is regarded most recently for the left he delivered on a man in Detroit; the same punch that is believed to have gained J.O. admittance into the Shaquillino family. Regarded as "Lefty," the Godfather uses this 7-0 monster specifically for undercover work. Now, to the average fan it may appear that Nealini has a "shoulder injury"—not the case. This is merely a plot by the Shaquillino Family to make Nealini appear susceptible to those who may want to harm the members of the clan. The brace (see above) is protected by kevlar, a bulletproof material and also includes a holster for a small handgun. Right now, the Godfather (although detrimental to Nealini's more direct Indiana family) needs "Lefty" to work from the bench on an under-cover operation. It is believed that the well-known sniper, Reginald Miller, and "banger" Karl Maloney have recently announced their retirements in order to focus solely on their plot against the Shaquillino Family. Vito has caught light of this plot and thus, J.O. must work from the "sidelines" to determine what Miller truly has in store. So, why Nealini? No one would consider a man without a college degree to be working on such an intelligent mission.
Kevin Garnett (K. Vincent Garnetti, aka "MVP")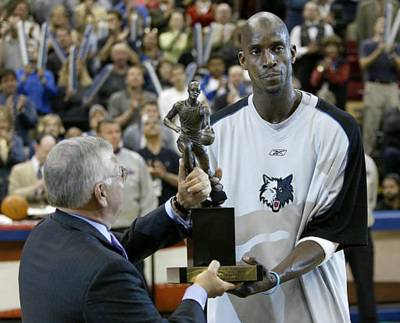 Garnetti was hired this summer in hopes of extracting revenge on the aforementioned Kobino Bryani. It is believed that Bryani had Shaquillino kicked out of the Lakero family this summer, something that angers Vito very deeply. K. Vincent is working right now as the doorman at the "Eight Seed," where Bryani has been a frequent guest since the beginning of January. We have received a tip that once Bryani starts to settle in and feel comfortable at the "Eight Seed," Garnetti's job will be to remove him from the club immediately. This will undoubtedly hurt Kobino very much and maybe even cause him to team up with Shaquillino's old friend, a Mr. Phillip Jackson. Bryani and Vito have had two verified run-ins in the past three months but according to reports, the Godfather refuses to speak to his former brother-in-law. It is believed that Garnetti has been experiencing a great deal of stress since November and that it may cause him to lose control of his actions. This was Shaquillino's intent when hiring Garnetti.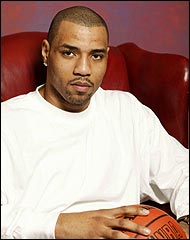 Kenyon Martin (Kenneth Martino)
Working most recently within the Georgio Karlito family, Martino was hired by Shaquillino earlier this season to do some "elbow work." Both Martino, originally from New Jersey and Karlito, of Milwaukee, were never too fond of Shaquillino, but after Vito switched "conferences," the two have grown fond of taking over the West from their Denver location. Vito knew that Martino has had a history of "playing rough," particularly his clothes line on the aforementioned Maloney several years ago. The Godfather's hope was that Martino would be able to get "reacquainted" with Maloney if he decided to make his new home in near-by San Antonio. It is believed that Shaquillino set up Maloney to make a pass at Kobino Bryani's wife, and then a short time later, Martino would have taken him out. However, Maloney elected to "retire" from the game, or so he says. As you can see, Nealini, Garnetti and Martino must be keeping each other well informed of what is going on throughout the "league."
Allen Iverson (Al Versoni)


Al Versoni, formerly of the mean streets of "G'Town," is now working approximately 7-8 months out of the year in the Philadelphia area. Versoni was arrested two summers ago (see above) for allegedly beating on his wife. Shortly after, it is believed that Shaqullino approached Versoni with this deal: If Versoni "sat out a few games" in order to make Vito a little "money," then the Godfather promised to help Versoni as best he could in helping grant him his very own "Eight Seed" franchise in Philly. A man named Christofo Webberio has recently moved into the Philly area, most likely to assist Versoni in establishing the new club.
The Target
Kobe Bryant (Kobino Bryani)
Bryani entered the Lakero family as a teenager in an "even" acquisition for some Yugoslavian goods in 1996. He established the family into what some would label a "dynasty" with the help of Shaquillino. However, relationships within the clan quickly turned sour after Bryani was caught committing adultery with a teenage (barely of age) girl in Colorado. At this point, Kobino somehow saved his marriage with the scorching hot Vanessa (see below), but the inevitable unraveling of the Lakero Family could not be ceased. After Kobino's accusation concerning Vito and his "hush money," along with the family's "mishap" in Detroit, Bryani stayed put but the other highly acclaimed figures of the family (Shaquillino and the aforementioned Phillip Jackson) were forced out. As if this weren't enough, sources from the Lakero family as well as the paparazzi hinted of Bryani's desire for Shaquillino to "play" elsewhere. It was claimed that Kobino as well as the elder Lakeros inevitably preferred "younger talent" to Vito's services. Shaquillino then took off to conduct business in the Miami area, where he remains today. The only thing we know for certain is that Kobino is liked by few and hated by many, especially those of the Shaquillino Family. He is currently on the run throughout the United States, but can be seen often at the "Eight Seed."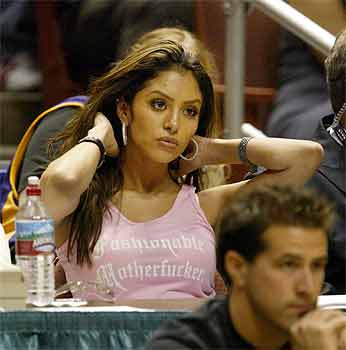 Damn straight she's fashionable

Kobino Bryani as well as the Shaquillino family are armed and extremely dangerous. If you have any information regarding their "work" please do not hesitate to "make comments." Here are some other suspected members of the clan and their possible locations:
Lonnie Mourning—Miami

Patrico Riley--Miami

Franky Hamblen--LA
"Rudy T."—LA
Carono Butlerino--LA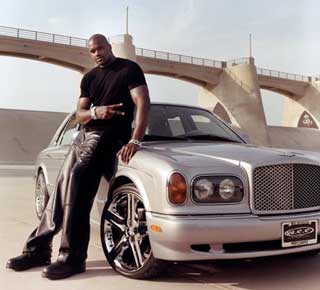 Be on the look out for leather pants and a Bentley
Note: This article is obviously a joke and none of this material should be misinterpreted. None of these players are thought of as real life thugs in my eyes, nor should any racial misconceptions arise. Caucasians in the NBA simply aren't tough enough to be included the Shaquillino Family. I mean really, Shawn Bradley? Mike Dunleavy? Keith Van Horn? Give me a break.