What if? The 2005 NCAA Tournament
#$%@&*@*&!!! Are you SERIOUS?! I was 75% done with this piece when Anthony called me and told me he just caught wind of the new Sports Illustrated which hits newsstands tomorrow. The Cover: LeBron James with an Ohio St. headband, "What if LeBron had gone to college...and Amare Stoudemire and Tony Parker too?" Oh, man. I decided I'm not going to scrap this piece, nor am I going to adjust it to match SI's. There were 4 significant differences we had: I chose not to include foreign players, thus no Tony Parker. I think it's bullshit that SI did because if they were going to bring him in, then it's a foregone conclusion that many other Euros would have ended up at universities as well. I also left out Christian Drejer (Florida) and Erazem Lorbeck (Michigan St.) because each of them withdrew from their respective universities before actually throwing their names in the draft. And I had Dwight Howard going to Georgia Tech, not North Carolina. I did a ton of research on this and the best info I could find had Howard listing Ga Tech as his top choice during his junior season. UNC was mentioned, but truth betold, Howard never even began the recruiting process. I'm almost positive SI placed Howard at UNC because Roy Williams made a visit to Howard's house during his junior season that became public news at the time. But during that meeting, Howard supposedly showed Williams a letter he wrote to himself when he was 15 saying that he dreamed his entire life of playing in the NBA and that essentially ended the college recruitment of Dwight Howard. SI also left out DeAngelo Collins, didn't put NC State in the tourney even though they would have had another scorer to complement Julius Hodge in Josh Powell, and surprisingly didn't seem to think St. Joseph's with Delonte West and Colorado with David Harrison would be good enough to qualify for the field of 64. Well anyways, I'm dropping this article on you-- I don't care. The formatting sucks and looks nothing like the way I'd prefer to have it, but Blogger sucks so there's nothing I can do about it. I apologize for not coming out with something "original", but I promise you I was convinced a few days ago that I had quite a brainchild to bring to you guys. Nevertheless, enjoy...

NBA Players/Wannabees Back in College:
Alabama- Maurice Williams Sr.
Arizona- Ndudi Ebi So., Andre Iguodala Jr.
Arkansas- Al Jefferson Fr.
Baylor- Harvey Thomas Sr.
California- Jamal Sampson Sr.
Colorado- David Harrison, Sr.
DePaul- Eddy Curry Sr., Dorrell Wright Fr.
Duke- Luol Deng So., Shaun Livingston Fr.
Florida- Kwame Brown Sr.
Georgia Tech- Chris Bosh Jr., Dwight Howard Fr.
Indiana- Josh Smith Fr.
Louisville- Ousmane Cisse Sr., James Lang So., Sebastian Telfair Fr., Donta Smith Jr.
Memphis- Amare Stoudemire Jr., Dajuan Wagner Sr., Kendrick Perkins So.
Minnesota- Rick Rickert Sr., Kris Humphries So.
Mississippi St.- Travis Outlaw So.
NC State- Josh Powell Sr.
Nevada- Kirk Snyder Sr.
North Carolina- J.R. Smith Fr.
Ohio St.- LeBron James So.
Stanford- Josh Childress Sr.
St. John's- Lenny Cooke Jr.
St. Joseph's- Delonte West Sr.
Syracuse- Carmelo Anthony Jr.
Tennessee- Jackie Butler Fr.
Texas- T.J. Ford Sr.
UCLA- Tyson Chandler Sr., DeAngelo Collins Jr., Trevor Ariza So.
UConn- Ben Gordon, Sr., Emeka Okafor Sr.
USC- Robert Swift Fr.
Virginia- DeSagana Diop Sr.
Wisconsin- Devin Harris, Sr.

3-time All-American T.J. Ford led Texas to the Big 12 Title despite dealing with a flurry of injuries to key players.

The All-Americans:
1st Team: Amare Stoudemire, LeBron James, Carmelo Anthony, Emeka Okafor, T.J. Ford
2nd Team: Chris Bosh, Ben Gordon, Tyson Chandler, Eddy Curry, J.J. Reddick
3rd Team: Devin Harris, Maurice Williams, Andre Iguodala, Wayne Simien, Kwame Brown
Freshman of the Year: Shaun Livingston
Player of the Year: LeBron James

# 1's:
Duke- Fr. PG, *Shaun Livingston; So. SF, *Luol Deng; Jr. G J.J. Reddick; Jr. PF Shelden Williams; Sr. G Daniel Ewing; Jr. PF Shavlik Randolph
UConn- Sr. C, *Emeka Okafor; Sr. SG, *Ben Gordon; So. PF, Josh Boone; So. PG Marcus Williams; Jr. SF, Rashad Anderson; So. F, Charlie Villanueva; Fr. F Rudy Gay; Jr. F Denham Brown
Georgia Tech- Jr. C *Chris Bosh, Fr. PF *Dwight Howard; Jr. PG Jarrett Jack; Sr. SF B.J. Elder, Sr. SG Will Bynum; Sr. C Luke Schenscher, Sr. F Isma'il Muhammed
Memphis- Jr. PF *Amare Stoudemire; Sr. G *Dajuan Wagner; So. C *Kendrick Perkins; Jr. SF Rodney Carney; So. F Sean Banks; Fr. G Darius Washington; Sr. G Anthony Rice; Jr. G Jeremy Hunt; Sr. PF Duane Erwin
# 2's:
Ohio St.- So. G/F *LeBron James; Jr. C Terence Dials; Sr. G Tony Stockman; Jr. SF J.J. Sullinger; Jr. SF Matt Sylvester; Jr. G Je'Kel Foster
Syracuse: Jr. F *Carmelo Anthony; Sr. PF Hakim Warrick; Jr. PG Gerry McNamara; Sr. G Josh Pace; So. F Terrence Roberts; Sr. C Craig Forth; So. G Louie McCroskey
North Carolina: Jr. PG Raymond Felton; Jr. C Sean May, Jr. SG Rashad McCants; Sr. F Jawad Williams; Fr. F Marvin Williams; Fr. G *J.R. Smith; Sr. G Jackie Manuel
Louisville: Jr. F Francisco Garcia; Fr. PG *Sebastian Telfair; Sr. SF Larry O'Bannon; Sr. PF *Ousmane Cisse; So. C *James Lang; Jr. F *Donta Smith; Jr. SG Taquan Dean
# 3's:
Illinois: Jr. G Dee Brown; Jr. PG Deron Williams; Sr. G Luther Head; Sr. F Roger Powell; Jr. C James Augustine
Arizona: Jr. SF *Andre Iguodala, Sr. G Salim Stoudamire; So. F *Ndudi Ebi; Sr. C Channing Frye; Jr. SG Hassan Adams; So. PG Mustafa Shakur; So. PF Ivan Radenovich
Florida: Sr. C *Kwame Brown; Jr. PG Anthony Roberson; Jr. F Matt Walsh; Sr. PF David Lee; Fr. F Corey Brewer; Fr. C Al Horford
UCLA: Sr. C *Tyson Chandler, So. F *Trevor Ariza, Jr. PF *DeAngelo Collins, Sr. F Dijon Thompson, Fr. PG Jordan Farmar; Fr. G Arron Affalo; Fr. F Josh Shipp
# 4's:
Texas: Sr. PG *T.J. Ford, Fr. G Daniel Gibson, Jr. F Brad Buckman; Sr. C Jason Klotz; Sr. G Kenny Taylor No P.J. Tucker or Lamarcus Aldridge
Wake Forest: So. PG Chris Paul, Jr. SG Justin Gray, Jr. C Eric Williams, Sr. G Taron Downey, Sr. PF Jamaal Levy; Sr. F Vytas Danelius
Alabama: Sr. PG *Maurice Williams, Jr. SF Kennedy Winston; Sr. SG Earnest Shelton; Jr. PF Chuck Davis; So. C Jemareo Davidson
Washington- Jr. G, Nate Robinson; Sr. G Tre Simmons; Jr. SF Brandon Roy; Jr. F Bobby Jones; Sr. G Will Conroy
# 5's:
Wisconsin: Sr. PG *Devin Harris; So. F Alando Tucker; Sr. PF Mike Wilkinson; So. G Kammron Taylor; Sr. F Zach Morley; Sr. G Sharif Chambliss;
Oklahoma St.: Sr. F Joey Graham; Sr. PG John Lucas; Sr. F Ivan McFarlin; Fr. G JamesOn Curry; Sr. SF Daniel Bobik; Sr. F Stephen Graham
Kentucky: Jr. SF Kelenna Azubuike; Jr. G Patrick Sparks; Sr. F Chuck Hayes; Fr. C Randolph Morris; Fr. G Rajon Rondo
Kansas- Sr. PF Wayne Simien; Sr. G Keith Langford; Sr. PG Aaron Miles; So. SG J.R. Giddens; Jr. F Christian Moody; Sr. G Michael Lee
# 6's:
Stanford: Sr. SF *Josh Childress; Jr. SG Dan Grunfeld; Jr. PG Chris Hernandez; Jr. PF Matt Haryasz; Sr. C Rob Little; Sr. F Nick Robinson
Minnesota: So. PF *Kris Humphries; Sr. C *Rick Rickert; Jr. SF Vincent Grier; Sr. C Jeff Hagen; Fr. F Dan Coleman; Sr. PG Aaron Robinson
DePaul: Sr. C *Eddy Curry; Fr. F *Dorrell Wright; Sr. PF Quemont Greer; Sr. G Drake Deiner; So. G Sammy Mejia; Sr. G LeVar Seals; Jr. PF Marlon Brumfield
Oklahoma: Jr. PF Taj Gray; Jr. G Terrell Everett; Jr. F Kevin Bookout; So. PG Drew Lavender; So. G Lawrence McKenzie
# 7's:
Gonzaga: So. SF Adam Morrison; Sr. PF Ronny Turiaf; So. PG Derek Raivio; Jr. C J.P. Batista; Jr. G Erroll Knight
Boston College: Jr. PF Craig Smith; So. SF Jared Dudley; So. SG Sean Marshall; Sr. G Jermaine Watson; Jr. PG Louis Hinnant; Sr. C Nate Doornekamp
Nevada: Sr. SF *Kirk Snyder; So. PF Nick Fazekas; Sr. C Kevinn Pinkey; Fr. F Mo Charlo; Fr. PG Ramon Sessions
Villanova: Jr. G Allan Ray; Jr. G Randy Foye; Jr. F Curtis Sumpter; So. PG Mike Nardi; Jr. C Jason Fraser; Fr. G Kyle Lowry; So. PF Will Sheridan
# 8's:
Mississippi St.: So. F *Travis Outlaw; Sr. PF Lawrence Roberts; Sr. SG Winsome Frazier; Sr. SF Shane Power; So. PG Gary Ervin
NC State: Sr. G Julius Hodge; Sr. F *Josh Powell; Jr. F Ilian Evtimov; So. G Engin Atsur; Jr. G Cameron Bennerman; Jr. G Tony Bethel
St. Joseph's: Sr. SG *Delonte West; Sr. SF Pat Carroll; Jr. G Chet Stachitas; Jr. C Dwyane Jones; Jr. PG Dwyane Lee; Fr. PF Robert Ferguson
Michigan St.: Sr. SF Alan Anderson; Jr. SG Maurice Ager; Jr. C Paul Davis; So. SG Shannon Brown; Sr. PG Chris Hill; Sr. G Kelvin Torbert

Round of 32

Chicago
1) Memphis 84-73
8) Miss. St.

5) Wisconsin 66-63
4) Wake Forest

6) Stanford
3) Florida 74-70

7) Gonzaga
2) Syracuse 78-71

Albuquerque
1) Duke 84-66
8) St. Joe's

5) Kentucky
4) Texas 71-68

6) Minnesota
3) Arizona 83-81

7) Nevada
2) Louisville 92-80

Syracuse
1) UConn 80-70
8) NC State

5) Kansas 83-77
4) Washington

6) Oklahoma
3) Illinois 65-64

7) BC
2) UNC 85-66

Austin
1) Ga. Tech 74-54
8) Mich. St.

5) Okla St. 66-60
4) Alabama

6) DePaul
3) UCLA 79-78

7) Villanova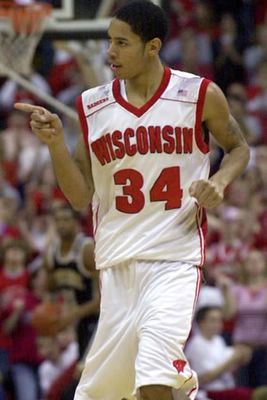 Devin Harris was too much for Chris Paul and Wake Forest as the Wisconsin Badgers advanced to the Sweet 16 with a 66-63 victory
Round of 32 Notes-
No major upsets in this round-- remember, I'm not filling out a tourney pool here but rather trying to pick the better team with respect to the matchup. Wisconsin, led by 2-time Big 10 Player of the Year Devin Harris, matched up very well with Wake Forest and applied their tenacious D to throw the Deacons off their hi-octane approach. Stanford gave Florida a tough game, but was held off late thanks to the powerful frontcourt combo of Kwame Brown and David Lee. Texas, despite being without starters P.J. Tucker and LaMarcus Aldridge, rode T.J. Ford to victory in a win against overrated Kentucky. Arizona rallied behind the 2nd half sharpshooting of Salim Stoudamire to overcome a 15-point halftime deficit in taking down the Gophers of Minnesota. Kansas jumped off to a hot start against Washington and never looked back in an 83-77 victory over the Huskies. Illinois and Oklahoma battled in the most closely contested game of the round, with 19 lead changes and 10 ties, before Dee Brown stole a Drew Lavender pass with 3 seconds to go to seal an Illini triumph. Oklahoma St. point guard John Lucas put the lock-down on Alabama All-American Mo Williams as the Sooners defeated the Crimson Tide in Austin. And UCLA's Tyson Chandler tipped in a Dijon Thompson miss as time expired to send the Bruins into the Sweet 16 in beating the DePaul Blue Demons 79-78.
Sweet 16
1) Memphis 79-66
5) Wisconsin
2) Syracuse 74-70
Albuquerque
1) Duke 81-72
3) Arizona 90-83
Syracuse
1) UConn 77-70
3) Illinois 75-73
Austin
1) Ga. Tech 68-62
2) Ohio St. 76-70
Memphis, lead by Amare Stoudemire's 25 points and 12 rebounds, proved to just be too athletic for Wisconsin in handily defeating the Badgers 79-66. They will meet Syracuse in the Regional Final after Carmelo Anthony once again provided the heroics for Boeheim's bunch, scoring the Orange's final 12 points in lifting his team to a 74-70 victory over Florida. Duke had little problem disposing of depth-ridden Texas 81-72 once Brad Buckman and Jason Klotz got into foul trouble early. The Dukies will take on Arizona after the Wildcats outran the Louisville Cardinals en route to a 90-83 win. UConn continued to look like the team to beat as they took down the Kansas Jayhawks in a game in which they never trailed. Illinois once again pulled out a win in the waning seconds as Luther Head nailed a pull-up jumper with seconds to go in taking down North Carolina. Georgia Tech's freshman sensation Dwight Howard was the difference in the Yellowjackets' win over Oklahoma State with 17 points and 14 rebounds. They will meet Ohio St. in the Elite 8 as National Player of the Year LeBron James continued to dazzle fans with an awesome 28 points, 13 rebound, 9 assist display against UCLA in a 76-70 win.

Elite 8
2) Syracuse 77-75
1) Duke 86-77
1) UConn 75-70
Austin
1) Georgia Tech 70-60


Elite 8 Notes:
Carmelo Anthony dropped 34 on Memphis and Gerry McNamara hit all 6 of his 3-pointers as the 'Cuse played a near-perfect game in taking down #1 seed Memphis. Shaun Livingston continued to stir memories of Magic Johnson as he dished off a tourney-high 14 assists in Duke's 86-77 disposal of Arizona. Illinois gave UConn a run for their money, but in the end Ben Gordon once again hit key shot after key shot down the stretch to lift the Huskies into the Final Four. And Georgia Tech overcame a 23-point first half effort from LeBron James to pull away from the Buckeyes with their stellar defense in a 70-60 win.
1) Duke 76-75
1) UConn 81-70
J.J. Reddick knocked down the game-winning 3-pointer with 2.1 seconds left as Duke advanced to the title game against UConn.
Carmelo Anthony once again lit up the arena with a game-high 30 points, but Duke was able to pull out a 76-75 victory over the Orange on a J.J. Reddick 3-pointer with 2.1 seconds left. Duke led almost the entire game before Anthony scored 8 straight in a 2-minute span late in the second half. It was back and forth from then on until Reddick's 23-foot bomb lifted the Blue Devils into the championship game.
Emeka Okafor won the battle of the bigs against Chris Bosh as he got the junior into foul trouble early in the first half before having his way with Luke Schensher and finishing off with 26 points and 15 rebounds. The Huskies advance to play Duke in the Championship for the 2nd time in 6 years,
1) UConn 75-72
Emeka Okafor was named the 2005 Final Four MVP as the UConn Huskies marched to their 3rd title in 6 years.
Ben Gordon hit a Scotty Thurman-esque 3-pointed with 6.4 seconds to go and Luol Deng's desperation 3-pointer at the buzzer fell just short as UConn won its 3rd National Championship in 6 years. Emeka Okafor was named the Final Four MVP after scoring 20 points, pulling down 15 rebounds, and blocking 7 shots for the Huskies.