Eastern Conference Finals Pre/Review
The X-Factor: The Health of Shaquille O'Neal
By Anthony Peretore
In keeping the same format as Paulio String Cheese, I'd like to share with you the results of the Eastern Conference Finals, "Back to the Future Part 2-style".
Game 1: PISTONS 97, HEAT 92
Is there such a thing as too much time off in the playoffs? Well Miami Head Coach Stan Van Gundy's answer may have changed a bit from Sunday to Monday. The Heat, rather than perform like the team with eight days off since their Semi-Finals sweep of the Washington Wizards, came out like they just got off the bus from another "Up-All-Night-ZhiZhi Wang Sake Party". Miami played a sluggish first quarter, allowing the defending champs (only three days off between series) to establish an early 11-2 lead. Detroit took control of the paint when Shaquille O'Neal, noticeably hampered by his thigh contusion, picked up his second personal foul with just 6:45 to go in the first. Without the "Big Aristotle" clogging up the middle, the Pistons managed 12 points in the paint (8 from Rasheed Wallace, 19 for the game) to close out the final 5 minutes. Fortunate to be down only 9 heading into the second, Van Gundy turned the reigns over to Dwyane Wade (28.6 PPG, 8.4 APG in postseason) who shined in Games 3 and 4 of the Semifinals sans Shaq. The result: a steady combination of Chauncey Billups, Rip Hamilton and Tayshaun Prince managed to frustrate Wade into a 7-23 shooting night, preventing "Flash" from ever getting into any kind of rhythm. When Wade managed to drive past his initial defender, Ben Wallace (7 blocks) provided excellent help D. If Wade drew the double, the long arms of Prince (3 steals) and the quickness of Hamilton were able to rotate over and contest the 3s of Damon and Eddie Jones (combined 2-13). O'Neal, limited to just 14 points and 6 rebounds in 23 minutes, was never really a factor. After the game he had this to say, "Well you know, I just couldn't get my thigh loose and when I can't get my thigh loose I feel all shackled, and Shaq don't like to be shackled."
Game 2: HEAT 105, PISTONS 90.
What a difference a game makes. Shaquille O'Neal, who proved to be a non-factor in Game 1, came out like the Shaq of old with 29 points and 13 rebounds, while managing to keep both Ben and Rasheed Wallace on the bench with foul trouble for most of the second half. Without their starting big men, the Pistons were forced to call on Antonio McDyess to provide a presence in the paint. One problem: Miami PF Udonis Haslem didn't get the memo. Haslem held Dice to just 9 points (3-11), while managing a game-high and career playoff-high 17 rebounds and 4 blocked shots. The other unsung hero proved to be Keyon Dooling, who giving up 4 inches to Rip Hamilton, still managed to force the Detroit 2-guard into just 1-13 (7 points) shooting in the second half. The Pistons as a team shot just 30-78 (38%), allowing the Heat to rack up 28 fast-break points including 18 from Damon Jones (5-9 from 3) and another 10 for Dooling. Dwyane Wade, who seemed totally lost in Game 1, responded with 26 points (9-12) and a game-high 14 assists. He had this to say after the win, "I knew we had to get Shaq going if we were gonna even this thing up. He told me if I got him the ball 15 times in the paint he'd buy me some Duchess after the game and if y'all don't know, Flash don't screw around when Duchess is involved." As the series shifts to Mo-Town Stan Van Gundy better make sure to find the Duchess closest to the Palace.
Check out how this play changed the tides of Game 3
Game 3: PISTONS 109, HEAT 108, OT
This was a battle of epic proportions, a game so intense that by the end of it Marv Albert was so hoarse Cheryl Miller was forced to pick up the play-by-play. After 8 technicals, 3 ejections and 65 personal fouls, the Pistons scratched and clawed their way to a 109-108 victory. The drama began with 3:14 left in the third quarter when Rasheed Wallace, attempting to block a Shaquille O'Neal layup, accidentally caught the Heat center on the side of his right eye. O'Neal responded by shoving the 6-11, 230 lbs. Wallace into the first row of the Palace seats. Shaq was immediately ejected and forced to the locker room with his team down 8. However, the pushing and shoving didn't end there. Moments later Dwyane Wade rebounded a Ben Wallace miss from the wing and took it coast-to-coast for a tomahawk jam. Sheed, still noticeably tempered, shoved Wade to the floor at the conclusion of the play. Wallace quickly received his second tech and was shown the gate with just over a minute to play in the third. Not happy with the call, Larry Brown got in the face of referee Jess Kersey calling him a "fuckin' chicken-necked goat" and his wife a "two-timing rat faced mother of a whore." You can guess the result of this confrontation. When tempers settled, Miami found themselves down 6 and without O'Neal heading into the fourth quarter. Before the start of the final frame, TNT aired a clip of Shaq walking off the court and sending a stare towards Wade, seemingly signaling that it was his time to shine. "Flash" responded by draining a deep three over Rip Hamilton, then on the subsequent possession stole the ball from Carlos Arroyo and hit a wide-open Alonzo Mourning for the dunk. With 11:05 to go and up just 1, the Pistons quickly called a timeout. From this point on, neither team took greater than a three-point lead the rest of the way. With just :07 remaining and the Heat down by 3, it was Wade time once again. "Flash" took the inbounds pass, drove to the right side, crossed-over on Chauncey Billups, faked the pass out to Eddie Jones in the corner and then rose over Ben Wallace for a one-handed jam AND the foul! Calmly sinking the free throw, Wade and his mates were headed to the extra frame tied at 99. Note: Since 1984, defending champs are 12-4 in Conference Finals and after tonight's game we can see why. Experience paid off in the 5 minutes following regulation, as Billups, the 2004 Finals MVP rose to the occasion. The Pistons' point guard held Wade to just 2 points (1-6), while draining two crucial three-pointers, the latter with just 3.4 seconds remaining. A Shandon Anderson runner as time expired fell just short and the defending champs now lead this best-of-seven series 2 games to 1.
Game 4: PISTONS 101, HEAT 91
With Shaquille O'Neal serving his one-game suspension for throwing Rasheed Wallace into the stands, the Heat just couldn't get anything going inside. Ben and Rasheed Wallace finished the night with a combined 30 points and 24 rebounds, controlling the boards from the opening tip to the final horn. Tayshaun Prince managed to frustrate Dwyane Wade into a Game 1-esque 6-25 shooting performance, leaving the Heat with no real go-to guy. Detroit was led by Chauncey Billups' (leaving off from Game 3) 29 points and Rip Hamilton's 11 assists. The Heat seemed flustered and completely exhausted without O'Neal and now face perhaps an overwhelming 3-1 deficit. Alonzo Mourning had this to say after Game 4: "Dammit, I'm so sick of those Wallace mothafuckers! Every time I got the ball down low, there's that nappy headed Ben or Sheed with that little white spot on his head. You know how distracting that white spot is? They should make him throw some Just For Men on that shit. They should treat that like the batters' eye in baseball. I can't play with that white dot following me around all game. Son of a bitch!" The Heat just hope to translate their frustration into solid play in Game 5.
Will Shaq have his game-face on for Game 5?
Game 5: HEAT 116, PISTONS 88
It's safe to say Shaquille O'Neal is back to 100%, either that or he's on a mission. The Miami center scored a game-high 39 points on 18-24 shooting to go along with 14 rebounds and 5 blocks. With the team clearly distraught after dropping both games in Detroit, Stan Van Gundy revealed what he thought was the key to his team's success tonight. "I thought taking the guys to All-You-Can-Eat Ribs night really gave them their boost of confidence. I mean Shaq ate 11 racks of ribs in just under an hour. If that doesn't fire you up I'm not sure you're alive." In addition to the Diesel's dominance, Dwyane Wade seemed to be two steps faster than any Piston defender. The second-year stud from Marquette dropped 31 points to go along with 9 assists and 4 steals. On the offensive end Miami consistently found the open player, whether it was Damon Jones (15 points, 4-6 from 3), Udonis Haslem (12 points), or Eddie Jones (15 points, 5-5 from 3). Their ball movement was reminiscent to what we saw in the series with Washington, and the team will have to perform at the same caliber Saturday in their do-or-die Game 6 at Detroit. The Pistons were led by 22 points from Rasheed Wallace but were hampered all game long by their playoff-high 25 turnovers. As both teams boarded their respective planes, Ronald Dupree was heard shouting: "The only Heat I'll have to worry about is yo ladies in heat over Ronnie DOOP!" Well said Ronald.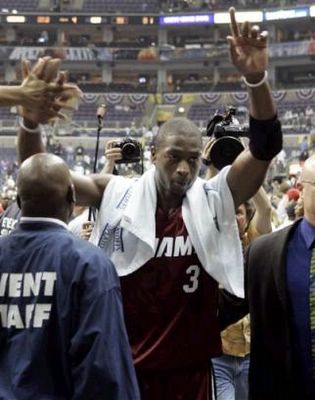 Wade and the Heat need one more win to even things up
Game 6: PISTONS 93, HEAT 91
Defense, defense, defense. Larry Brown preaches it, his players execute it and now the Detroit Pistons are headed back to the NBA Finals to defend their crown. Led by Rip Hamilton's 27 points and Ben Wallace's stifling defense, the Pistons were able to slow down Game 6 and play to their advantageous half-court pace. The game didn't start out the way it finished, with the Heat building an 8-0 lead after two 3's from Damon Jones and a thunderous dunk from Shaquille O'Neal. But after a quick Detroit timeout, Wallace came out and kept O'Neal from scoring for the rest of the first quarter and the first four minutes of the second. Brown even brought in the ancient Elden Campbell to take some hacks at Shaq and send him to the free throw line. The strategy paid off with O'Neal (19 points) hitting just 4-12 from the charity stripe while becomingly noticeably agitated. On the offensive end, Hamilton and Billups (22 points) kept stretching the lead with their spectacular mid-range shooting (combined 21-29) and their unselfishness (15 assists). Down by 11 heading to the fourth, Miami made one more run led by the amazing play of Dwyane Wade. "Flash", who scored 18 points in the final frame (35 in all), had a chance to win the game, but his three pointer from the right corner rattled out into the outstretched arms of Rasheed Wallace. After the game an angry Wade had this to say, "I've never been more disappointed in myself or in a team. We had this shit. Detroit aint no better than us. We killed ourselves with stupid mistakes and now we got the whole summer to think about it. If you aint planning on taking me number 1 in your fantasy draft, y'all better have your heads examined." After this grueling series, the Pistons now face the San Antonio Spurs in Game 1 of the NBA Finals on Monday night at the SBC Center.
The Pistons will look to defend their title against the Spurs
*If you don't trust me and feel like you need to actually watch the games to know how this series goes down, here's the schedule...
Eastern Conference Finals:Game 1:
Mon., May 23-Detroit at Miami, 8:00 PM ET on TNT
Game 2:
Wed., May 25-Detroit at Miami, 8:00 PM ETon TNT
Game 3:
Sun, May 29-Miami at Detroit, 8:00 PM ET on TNT
Game 4:
Tue, May 31-Miami at Detroit, 8:00 PM ET on TNT
Game 5*:
Thu, June 2-Detroit at Miami, 8:00 PM ET on TNT
Game 6*:
Sat, June 4-Miami at Detroit, 8:00 PM ET on TNT
Game 7*:
Mon, June 6-Detroit at Miami, 8:00 PM ET on TNT
* If Necessary