NBA's 10 Biggest Cancers
By Anthony Peretore
Definition of NBA Cancer: When you need to be escorted off the court
10. Antoine Walker, Boston Celtics
The counter-argument to this selection is that as soon as GM Danny Ainge brought 'Toine back to Beantown, the Celtics won 11 of their first 12 games and would have realistically missed the playoffs without him. While that is a valid argument, there's no question of how badly he killed the C's down the stretch of their recent playoff series against Indiana. Check the numbers: 18 TO, 41.4 FG%, 63.6-FT%, and just 14 assists in 6 games (nevermind his bone-headed suspension for Game 4). But the main problem is that Walker cannot be a role player, he just does not have that capability. He needs to hoist his 15-20 shots a night, when in reality he'd be much better playing the post, drawing doubles and dishing to open teammates. Walker's actually really good playing that role yet continues to try and be a player he's not. 'Toine is now an unrestricted free agent and whether or not Ainge decides to keep him will undoubtedly be the headline surrounding the Celtics this offseason.
9. Darius Miles, Portland Trailblazers
With this Blazers team seemingly becoming more cancerous as a whole each season, it seems necessary to deem one player the main virus and that has to be Miles. This year, DM almost single-handedly caused the firing of NBA "good-guy" Maurice Cheeks, stemming from their confrontation in late-January. Miles reportedly blew up at Cheeks during film study, referring to his coach by what was called a "racial epithet." Wait, aren't both of these guys African-American? If were to call someone a "cracker" would that not be laughable? Anyway, Miles was suspended for his outburst and one could argue that this incident caused the entire team to self-implode. Don't believe me? The Blazers were a semi-respectable 17-25 (.405) before the quarrel, and a dreadful 10-30 (.250) the rest of the way (amidst the Cheeks' firing). Yet Portland management has already made it clear they intend to keep Miles and let unrestricted free agent Shareef Abdur-Rahim move on. The lottery seems like a mainstay for Portland for years to come.
8. Carlos Boozer, Utah Jazz
I almost considered leaving Boozer off this list, but I can't help but think that if he stuck around Cleveland he and LeBron James would have made the playoffs this season. That duo was fantastic to end 03-04 and it seemed as if they had the makings of being a legit 1-2 combo for years to come. But this past summer Boozer elected to take the bigger contract in Utah and leave his Cavalier teammates behind. The result: Mr. Chest Hair missed 31 games with a foot injury, a misfortune that allowed the Jazz to finish at 26-56, after starting out 6-1. While we can't say for sure that Boozer single-handedly kept the Cavs out of the playoffs or that the injury was his fault, he nevertheless effected two up-and-coming teams a great deal in 04-05.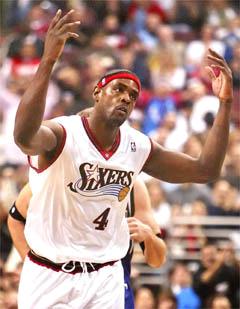 Yeah, we're pretty fed up too Chris
7. Chris Webber, Philadelphia 76ers
Webber is another guy that somehow killed the chances of two teams season. While CW excelled in Sacramento for years, his perennial plague of injuries certainly became detrimental to the team. If you question that in anyway, think back the last 5 years or so and name the one Kings' player that made up the face of those elite Western Conference teams. It absolutely has to be Webber and for GM Geoff Petrie to trade away his star player during the heart of a playoff run shows the team's lack of patience. On the other hand, Philly fans embraced the C-Webb deal and fully expected their team to propel deep into the postseason because of it. So how did Webber respond? By missing 6 games during a crucial stretch in April and by scoring just 16.4 PPG on just 39.1% shooting. In addition, Webber has actually put the Sixers in a deeper hole financially than they were with Kenny Thomas, Brian Skinner and Corliss Williamson. Webber is due roughly $62.2 million over the next three seasons, whereas the aforementioned three just $46.3 million. If Webber can stay healthy and co-exist with Allen Iverson next year I'll gladly take it all back, but the chances of that happening are about as likely as the Eagles bringing home a Super Bowl.
6. Elgin Baylor, GM Los Angeles Clippers
I know Isiah Thomas should probably be up here before Elgin but just hear me out. First of all, at least Thomas is trying to construct a winning franchise in New York. Sure he's becoming more like George Steinbrenner than Jerry West, but at least the interest of the team has come first. In LA, it's been an entirely different story. First of all, Baylor has been an absolute nightmare on draft night; it's like he crammed for the biggest exam of his college career for months then went out the night before and drank with Rick Fox and those porn stars at Big U. Check the list: Chris Kaman (03), Chris Wilcox (02), Melvin Ely (02), Tyson Chandler (01), and Darius Miles (00) when he could have had: Kirk Hinrich (03), Amare Stoudemire (02), Pau Gasol, Jason Richardson, Richard Jefferson, or Zach Randolph (01) and well, we'll give him a break in 2000. Think about it, Hinrich, Simmons, Maggette, Gasol and Amare? Who's beating them? Finally, his lack of effort in free agency as well as at trade deadlines has been abysmal. He could have landed Baron Davis this year for cheap, but instead decided to sleep in that day and watch film of his Laker days. Thanks Elgin for absolutely destroying a team that the majority of us would love to root for.
5. Rafer Alston, Toronto Raptors
This guy started more fights this season than Steven Seagal in Hard to Kill. How many feuds with your coach does it take to get you traded? Earth to Rafer, you were "Skip to My Lou" before this, making $3,000 a year playing with guys named "Hot Sauce" and "Spyda." Now you're balling with Chris Bosh, Jalen Rose and co. and you can't shut your mouth? Walking out on your team, refusing to play, and threatening to retire screams team player, seriously. The Raptors have done a solid job of building a nucleus for the future, but GM Rob Babcock must decide this summer if Alston is going to be included in that core. If he and Sam Mitchell keep feuding, one of them has to go, and soon.
CaCHING!!!!
4. Allan Houston and Penny Hardaway, New York Knicks
I'm going to keep this simple. These two guys cashed in a collective $32.2 million this season while playing in just 57 games and averaging 19.2 PPG, COMBINED! The worst part about it is that both players aren't getting any better health or performance wise, yet still going to cost the Knicks another $34.9 million next season. Penny finally comes off the books after next year, but his buddy Allan will still be getting a check for an astronomical $20.7 million in 06-07. Sure, the real cancer is probably Isiah but after he helps land Phil Jackson this summer I won't be able to criticize him, well, at least until his next idiotic move.
3. Steve Francis, Orlando Magic
I've never seen a grown man publicly pout after a teammate had been traded. After Francis' best friend and backcourt mate Cuttino Mobley was shipped to Sacramento, the All-Star point guard just wasn't the same. Check the quotes: "I can't put it into words. Playing with a guy, living with a guy, just knowing that every day when I wake up that's something I can count on, that I'm going to be in practice or in a game with Cuttino. Him not being here is going to be tough for me. I don't know what I'm going to wake up for." Um, was there something going on here that we weren't aware of. I mean I've said goodbye to boatloads of friends through the years (high school, college) and I'm still waking up every day just fine. These are grown men and supposed professionals, yet they can't handle being apart from one another? Francis' numbers did not fall off significantly after the deal, but his attitude certainly did. The Magic were a legitimate 5 seed heading into the All-Star Break yet finished 6.0 games out of a playoff spot?!?! Part of the blame certainly has to go on the coach, Johnny Davis, which it did (he was canned for Chris Jent). But the second pointing of the proverbial finger must be aimed at the superstar and in this case, it's the Franchise. With guys like Grant Hill, Dwight Howard, Hedo Turkoglu and Kelvin Cato around (not to mention rookie phenom Jameer Nelson), missing the playoffs is inexcusable. Could GM John Gabriel trade superstars in back-to-back offseasons?
2. Latrell Sprewell, Minnesota Timberwolves
"I told you I needed to feed my family. They offered me 3 years at $21 million. That's not going to cut it. And I'm not going to sit here and continue to give my children food while this front office takes money out of my pocket. If [owner Glen] Taylor wants to see my family fed, he better cough up some money. Otherwise, you're going to see these kids in one of those Sally Struthers commercials soon." Okay let's say Sprewell had 20 kids. And say he fed them each filet mignon for breakfast, lobster for lunch and caviar for dinner. Say each of those meals cost $50 a plate, times three and that's $150 per day, per kid. Throw in some snacks, 5-10 gallons of juice and some animal crackers and we'll round it off to $200 per day, per kid. That would come out to $4,000 per day to feed all of these children and roughly $1.46 million for the entire year. But Sprewell was offered $7 million a year and unless he has Wilt Chamberlain syndrome, there's no way in hell that he has 20 kids. Couple this with the fact that Spree's PPG went down 4.0, APG 1.3, RPG 0.6, and that the Wolves missed the playoffs entirely (after being a 1 seed last season) and you can see how helpful he was in Minnesota this year. If anyone signs this guy this summer they're insane.
This is the last time we saw Artest on a basketball court
1. Ron Artest, Indiana Pacers
Now that Indiana evened up their semi-final series with Detroit on Wednesday, it'd be easy for me to say, "now imagine if they had Artest?" I could focus primarily on that aspect of the argument, but that's something you all can do pretty easily yourselves. Instead I'd first like to concentrate on the other facets in which Artest effected by his actions. Keep in mind that the Pacers won 43 despite all of the turmoil stemming from the "Malice at the Palace", and somehow nabbed the six seed in the East. For argument's sake, let's try and pinpoint the number of wins they should have had had this melee never occurred.
In the 15 games Jermaine O'Neal missed, Indiana lost 10. Put him in that lineup and we'll give them back five. New Total: 48 wins.
When O'Neal returned, most of Indiana's opponents' focus certainly turned to him and it eventually started to wear on his 6-11 frame. Because he didn't have trustworthy teammates for long stretches of games, come March he was so worn down that he injured his shoulder and was forced to miss another 22 games. Remarkably Indy won 15 of those, but how many would they have taken had he been healthy? Say another 4? New Total: 52 wins.
So what about Stephen Jackson, the team's third leading scorer (18.7 PPG), who missed a crippling 30 games in December and January? Indy dropped 17 of those 30, and we can probably assume they could have squeaked out another 5 or so with him in uniform, right? New Total: 57 wins.
Finally, let's remember that the #1 seed Miami won only 59 games. Now put Artest on the court for those 75 games he missed and tell me they wouldn't have won at least 60 and been arguably the team to beat right now? If that doesn't spell cancer, I don't know what does.
Check out all of Anthony's work from this year by clicking on "Anthony's Articles" on the sidebar under the scoreboard...