2005 NBA Draft Recap
Bogut's biggest fan
By Anthony Peretore

First things first. I look forward to the NBA Draft more than any other sporting event each season. An influx of young talent bursting onto the professional scene to improve teams' chances at winning year in and year out…c'mon, who wouldn't love it? My first order of attention however, lies with the Boston Celtics. Last night they owned pick 18 but after last year's draft which netted them four rookies (all still on the 12-man), I didn't expect anything too exciting to come from it. But as you all may know now, things got pretty crazy right around pick seven when the Toronto Raptors GM Rob Babcock apparently let his 95 year-old grandmother make their pick. Seriously how does Babcock rank his players? Less hair equates to more talent? The more spanish sounding a name, the better? What a moron. After that selection, it seemed like teams 10-15 were put into a trance, allowing those at 17-19 to royally cash in. It was a crazy sequence of events and in case you missed it, here's a brief running diary of what transpired (and no I haven't read Simmons' yet).

1) MILWAUKEE: Andrew Bogut—The safest pick in all of the draft and one that could get the Bucks right back into the playoffs (barring the re-signing of Michael Redd and the health of TJ Ford). But honestly, how good is Bogut going to be? Brad Miller good? Doesn't Marvin Williams "upside" make him the better pick?

2) ATLANTA: Marvin Williams—I still think they should have traded down to get Deron Williams or Chris Paul, but nevertheless, a great pick. Williams has the potential to be a top 10-20 player in the league one day and when that caliber of player is sitting there, you have to grab him—apparently Milwaukee didn't get the memo.

3) UTAH: Deron Williams—Excellent job by the Jazz to move up and get their guy. I think looking back 10 years from now, we'll all agree that Williams had the most impact of any player from this draft. Even if I'm wrong, did you see his girlfriend/wife? Holy SHIT! Talk about having all-around game.

4) NEW ORLEANS: Chris Paul—The Hornets got the first steal of the draft with Paul falling all the way to 4. Even though point guard wasn't the team's biggest concern, getting a potential 10-time All-Star is hard to pass up.

Paul: steal of the top-5

5) CHARLOTTE: Raymond Felton—Here was the first surprise of the night with Bernie Bickerstaff jumping the gun a bit to get his point guard of the future. Sure he's the fastest guard baseline-to-baseline, has balls of steal, was the PG for the National Champion Tar Heels, etc. But couldn't they have gotten him at 13? My guess is yes. If Bickerstaff had half the sack of Felton the 'Cats would be sitting much prettier today.

--It was at this time that I officially named Mike Tirico the black Mikhail Gorbachev. The resemblance of their thinning hair is uncanny.

6) PORTLAND: Martell Webster—We all sensed the Blazers were going to go the high school route with either Webster or Gerald Green. The deciding factors were that Webster is ready to contribute now and is mature beyond his years, thus making him the safer pick. Green however has the potential to be an elite scorer and an all-around superstar. Honestly, what's the rush in Portland? Couldn't they have thrown Green and Telfair in their backcourt and let them grow up the hard way? Hey John Nash, thanks for Green.

7) TORONTO: Charlie Villanueva—I spoke with Paul briefly this morning and he said he felt bad that ESPN's crew was giving Charlie such a hard time. My response is that he was supposed to be a top-5 pick two years ago when he contemplated making the leap rather than attend UConn. Because of his lack of hard work and commitment to improving his all-around game, he failed to give Jim Calhoun and the Huskies what they expected. Because he has slacked off and continues to be inconsistent, why shouldn't ESPN rip into him? That's their job to call em like they see em. It's Charlie's job to take it like a man, which he did. Now it's his job to prove his naysayers wrong.

Yeah, we're pretty confused too Charlie

Stuart Scott Moment #1: Yelling "It's Brooklyn in da house!!!!!" when Charlie came up for his interview. At this point I'm never surprised at anything Stu says anymore. You know everyone at ESPN always gives him high fives and shit when he passes them in the hall. But as soon as he leaves the room you know one hilarious guy squints up his eye and starts saying stuff like: "Yo T.O.'s got the ill na na…drop down and get yo eagle on DAWG!" I bet the Schwabb is Stu's best friend.

8) NEW YORK: Channing Frye—If I were Isiah I would have drafted the best overall guy left on the board, but Frye should step right in and start at center. I think David Stern paid off Spike Lee to cheer the pick to help restrain Knick fans.

9) GOLDEN STATE: Ike Diogu—I love this pick for the Warriors and word is they may try and slide Troy Murphy to the 5 to give Ike his minutes at the 4. This just makes that Adonal Foyle signing looks even worse—if that's possible. Diogu immediately cracks the top-10 for best NBA names.

--Here's where things got really strange. It seemed as if teams picking 10-15 looked at their rosters and decided to go with the players that made the least sense. Take a look:

10) LA LAKERS: Andrew Bynum—Why would Phil Jackson allow GM Mitch Kupchak to get a kid who is at least three years away from contributing? Wouldn't they have been better off with Sean May here? You're telling me no one wanted to move up to 10 to get a Granger or Green? Jackson must have been fed a sedative before the Draft.

11) ORLANDO: Fran Vazquez—Hmm, a power forward, okay. But didn't they draft Dwight Howard #1 overall last year? And aren't Grant Hill ankles about as strong as Don Zimmer's bladder? Why are Granger and Green not being drafted? Did they contract the West Nile Virus in the last few hours? This is getting crazy. It was here that I started crossing my fingers for one of them to fall to Boston.

--The one thing I don't understand is why ESPN elects to interview players that don't speak a lick of English. I mean from a comedy standpoint there's nothing better, but as fans we get absolutely nothing out of it. Especially when Vazquez uses Sandy Cohen as his translator.

12) LA CLIPPERS: Yaroslav Korolev—He's touted as the "most complete" Euro in the Draft. But when a guy has only played at the junior level in Russia, how can this be determined? If this is the case why aren't kids that are dominating their high school JV teams being drafted? Is this not the equivalent?

Stuart Scott Moment #2:

Scott: "So Yaroslav, why do you feel that Europeans deserve this chance to play in the NBA"

Korolev: "Because dere are so minny Europeen player in dee NBA"

Good reason.

13) CHARLOTTE: Sean May—Now I love May and think he's going to be a really solid pro. But why on Earth does Charlotte need him? Aren't they set in their frontcourt with Okafor and Brezec? Why not Granger? They have Gerald Wallace, fine. But why not Green? Oh yeah they have Bernard Robinson Jr., how could I forget? He sounds like a character on Family Matters.

May and Felton don't even leave the state

--It was at this point that I looked at my boy Dan (also a Celtics fan) and started to wonder who we were actually going to end up with. Granger, Warrick, Joey Graham, and Green were all still on the board…could we really get one of these guys?

14) MINNESOTA: Rashad McCants—I absolutely love this pick for the Wolves. They desperately need an outside scorer to compliment KG and I think McCants has the potential to be a 20 PPG guy. But as much as I like this, again, why not Granger? Did he lose a leg in the last hour? This officially guaranteed the Celtics to get one of the aforementioned guys. YESSSS!

--Great moment in Draft history after this pick. After McCants got hugs and daps from all 895 of his family members and friends, he went up to the stage but Stern had become so tired of waiting, he had his back to the former Tar Heel. Rashad stood up there waiting and gave a look to this crowd like, "is this dude fo real?" Let's give Stern a break though…he's only shaken like 600 hands over the past 20+ years, it must get to be a really complicated process.

McCants reminding Stern his hand is important too

15) NEW JERSEY: Antoine Wright—This pick almost guarantees that Rod Thorn is going to go hard after Stromile Swift this summer. Passing up Warrick to get a shooter is questionable, but not if they manage to get Swift.

Stuart Scott Moment #3: Scott asked Antoine Wright how it felt being drafted knowing that his brother was in prison. What the fuck? This is the happiest day of this kid's life and you try and ruin it by asking about his brother being locked up? This would be like after the Spurs won the championship and Scott asked Gregg Popovich: "So how do you feel knowing you are NBA Champs but you still have those awful acne scars on your face?" You know the producers were like "STU!!! NOOOOOO!!!!"

16) TORONTO: Joey Graham—This is my best guess of what happened here.

Babcock: "Go ahead Bobby, you make the pick."
Bobby (his 4 year-old son): "Ummmmm, Graham…I like Golden Grahams!!!!"
Babcock: "Graham it is!!!!"

Granger has to be on life support somewhere…

17) INDIANA: Danny Granger—Finally! And he seems to be walking okay…He's not vomiting, bleeding, or defecating on himself. We'll have to determine why he fell later on…Oh, and there it is folks. As ESPN broke for commercial, they showed a clip of Granger singing the phrase: "You watchin' da N-B-A Draft on E-S-P-Nnnnnnn!" And to make it even worse, they aired the clip again like 20 minutes later. Teams must have been like, "No way we're talking this guy…someone will kill his candy ass."

Stuart Scott Moment #4: I almost urinated all over myself when I heard this one…

Stu: "Danny you grew up a Jehovah Witness. How will your field in ministry work help you in the NBA?"

--There were no better questions than that? How about, "So Danny, I heard you lead you team in most times getting laid per week at 4.68. How will that experience help you in the NBA?" Isn't that a little more intriguing?

--It's official, either Hakim Warrick or Gerald Green will be a Celtic in five minutes. I'm nervous, anxious, apprehensive…I feel pregnant.

18) BOSTON: Gerald Green—The same guy they call the next T-Mac is now on my team. With the C's nabbing two of the most promising high school kids in the last two drafts (Al Jefferson), one has to think this is reward for the tragic deaths of Len Bias and Reggie Lewis. Every Celtic fan must be ecstatic, I know I am. The question is, where the hell are they going to play this kid? They already have Pierce, Davis and Tony Allen—unless a trade is coming…

This is the most excited two men have ever made me

--What makes the Green pick even sweeter is that he enjoys fishing and his nickname is G-Money. What a relief!

19) MEMPHIS: Hakim Warrick--Great pick for them especially since they're more than likely losing Stro Swift to free agency. Warrick is his clone. Oh yeah and Hakim's nickname is 'Helicopter,' and his favorite breakfast cereal is Cookie Crisp. All good things to know. What's weird is that right as I found this out, Coco Crisp came into to pinch run for the Indians, crazy right?

--Side note: speaking of the Red Sox-Indians game, my friends and I caught an unknown Boston player feeding Manny Ramirez pudding. This is A) Not right, B) Wrong, and C) Not right. I'd rather be a Yankee fan and lose than see Derek Jeter feeding Gary Sheffield a butterscotch snack pack. Sorry, back to the Draft.

20) DENVER: Julius Hodge--I think Francisco Garcia would have made more sense, but not a bad selection.

21) PHOENIX: Nate Robinson—I was pumped to see Nate on the Suns until Ric Bucher ruined everyone's fun and announced he was traded to the Knicks along with Quentin Richardson for Kurt Thomas. I swear ESPN gives all the disappointing news to Bucher to report.

22) DENVER: Jarrett Jack—traded to Portland for shortstop Ricky Sanchez and the newfound STD, Linas Kleiza.

--Seems like a good time to mention the fact that Brad from the Real World San Diego will be appearing at the bar we were watching this Draft from. My buddy Adam said he's going to go just so he can repeat Brad's famous quote to him over and over again: "Congratulations son, you're a meathead, but don't ever put your hands on my underwear!" That guy is doomed for life.

23) SACRAMENTO: Francisco Garcia--Excellent pick for the Kings. I can't wait to see him and Bibby play together.

24) HOUSTON: Luther Head—Most experts loved this pick, I on the other hand, did not. Many people think Head could be a steal, but why take a chance on a guy that has never played the point? Why not address your biggest need at power forward, especially with guys like Wayne Simien, Jason Maxiell, and Chris Taft still on the board?

25) SEATTLE: Johan Petro—Should be fun hearing about Petro beating the shit out of Robert Swift every day after practice and stealing his lunch money.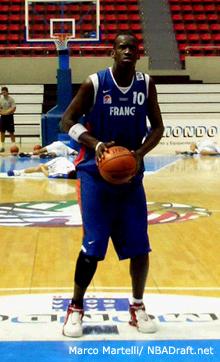 Should be tooling on Swift in due time

26) DETROIT: Jason Maxiell—Great pick in terms of being a Ben Wallace clone. Awful pick seeing that they already have all the depth they need at the 4 in Antonio McDyess. Why not take a Ryan Gomes here?

27) PORTLAND: Linas Kleiza—I'm itchy.

28) SPURS: Ian Shedd, err Mahinmi—Ian Shedd was a kid who Paul and I went the high school with. He weighed 120 lbs. soaking wet, wore glasses, and got something like a 2450 on his SATs. No clue why I'm telling you this, I guess because I know a hell of a lot more about Shedd than Mahinmi, and now so do you.

29) MIAMI: Wayne Simien—Bad pick. Why draft a young 4 when you already have Udonis Haslem? Wouldn't it be smarter to draft a project center that Shaq could mentor? I think Pat Riley's hair is glued on too tight.

30) NEW YORK: David Lee—The Knicks fans loved the fact that they got a big white guy who averaged just 28 minutes per game as a senior. I think I can count at least 300 guys I'd rather have and like 25 of them are dead.


Mickael Gelebale was one of the highlights of Round 2

Steal of the First Round: Danny Granger (Indiana) and Gerald Green (Boston). Both of these players were slated to go in the top-10 and possibly even the top-5. When two playoff teams can add players of this caliber to their roster, they have to be considered steals.

Steal of the Second Round: Ryan Gomes (50th, Boston) and Chris Taft (42nd, Golden State). Both players were first round projections and fell pretty deep into the second. Gomes has four years of Big East ball under his belt and would have been the conference Player of the Year last season if his team didn't suck. As for Taft, he obviously still has top-10 talent, the question is, will he ever get motivated enough to utilize it? Time will tell.

Worst Pick of the First Round: (tie), Toronto (Villanueva) LA Clippers (Korolev). Toronto needed a 3 to come in and contribute right away. There was no better guy than Danny Granger and they passed. Villanueva still has potential to be a good pro, but after watching him all of last season, I doubt it. As for Korolev, he's still 2-3 years away and with the Clippers improvement last year, why not get a guy ready to contribute immediately? It's not like the Clippers can afford to wait any longer to crack the postseason.

Paul and I will be coming out with more Draft content over the next few days, we're just not sure what that will be. Stay tuned…