Game 7 Misconceptions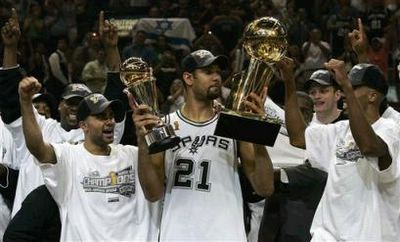 By Anthony Peretore
My apologies for not getting a pick up last night, but we all know I would have taken Detroit with the points. Boy did Vegas clean up last night, huh? What's the equivalent of a bad day for Vegas? Is it like you and I busting a shoelace? Or how about swallowing a watermelon seed when you thought it was seedless? Maybe one day Paul and I will run our own casino…
Anyway, on to last night's game (and I'll do my best to make this brief). Let's fast forward to this morning first. An ESPN headline read something like, "Duncan displays true MVP performance." And then after Bill Simmons rolled out of bed at 10 AM, his article contained this statement: "Tim Duncan played the finest game of his career Thursday night, controlling the second half as the only competent big man against a much bigger team." Was I tuned into another network last night? Did I dream up all of Game 7, or did I actually watch it? Is it just me or was Tim Duncan just mediocre? Am I alone on this?
Now I know numbers don't always tell the whole story, but it's a nice starting point. First half, Duncan: 4-9, 8 points, 3 rebounds. With just 77 total points on the scoreboard at the break, these were not terrible numbers at all—but MVP like? Now for that second half in which Duncan "controlled"-- he began the third by missing his first six shots en route to a 4-13 period with one of those makes a wide open 15-footer off an in-bounds play. Sure he netted 9 points in just over two minutes, but what about the other 10 in which he was a no-show? I seem to remember Timmy getting excellent position on Ben Wallace but just not being able to finish—whether it was the roll, Wallace's D, or just bad shots. With the Pistons up something like 6 or 7 points, Duncan looked thoroughly frustrated and I wondered if he had it in him to turn things around. You don't see Tim Duncan with that "uh oh" face on very often, yet here it was in full display.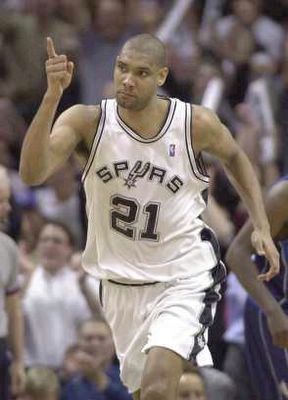 Duncan should point to his teammates for bailing him out
In the 4th, Duncan was solid, going 2-5 from the floor, 1-2 from the line, but committing 3 of his 5 turnovers in the first 5:30 minutes with the game still very much up in the air. In the second half of the final frame, TD really didn't do much-- 1-2 from the floor, 1 free throw, and that's really it. If I only watched the first three quarters, then read these headlines this morning, I would have thought Duncan was like 7-8 in the fourth with 6 boards and 2 monster blocks down the stretch. Not the case. What we have here are classic examples of how the media always does its best to go out on a limb to praise a champion, even when maybe only half of that praise can be deemed worthy. Now don't get me wrong, San Antonio is a fantastic ball club that has mastered playing to their strengths and maximizing their opponents' weaknesses. And last night was no different, with Popovich attempting to utilize his biggest strength by going inside to Duncan early and often—but unfortunately, TD couldn't be totally counted on. Sure Duncan made some great shots over the course of the game, but I just have a HUGE problem with my favorite writer classifying his performance as his "finest ever". 10-27 (37%) from the floor, 5 turnovers in a Game 7…I've seen much better from him.
I guess the biggest problem I have with all of this is that writers can't just sit down and write a piece that tells it like it is. Plain and simple: Duncan was okay, Manu was better, and the ultimate reason the Spurs won is because they were able to wear down their opponent defensively and make bigger shots down the stretch. In my eyes, the real MVP was Manu Ginobili. In San Antonio's four victories Ginobili averaged 22.8 PPG, 5.8 RPG and 5.5 APG; but he was especially good last night. When Duncan couldn't get it done inside, it was the Argentinean slashing to the hole to loosen the Pistons' defense in the paint. Driving dunks, 3-pointers, solid free throw shooting, what more could you ask for in a Game 7? If you ask me, the cameras should be on Ginobili this morning rather than a mediocre Tim Duncan, but that's been the case for much of the season.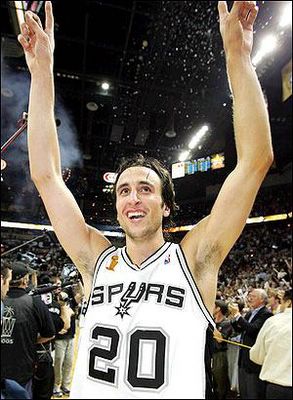 Ginobili was more worthy of MVP honors
Following the NBA closely from start to finish, I've become much more fascinated and in tuned to the game, but also very discouraged with the way it's presented. It's about time for the fans to make up their own minds about players, teams, wins, losses, etc. We shouldn't be force-fed ideas in order to make the league seem like something much greater than it actually is. In the end, it was a hard-fought Finals with two tremendously coached teams going head-to-head for seven games. Many people expected it to be a boring series, one without high-scoring, fabulous dunks, and nail-biting endings. But in reality, these last three games were some of the best played all season. However, instead of the media focusing on team play and execution, they're more worried about making you believe Tim Duncan was much better than he really was. If you've taken anything from The NBA Source this season I hope it's that you've learned to form your own opinions about not only the NBA, but sports in general. I hope you can take some of that knowledge and constantly apply it to every minute of sports you watch from now on. If you do, the entire sports world will be much better off. Enjoy the offseason…