Isiah Strikes Again?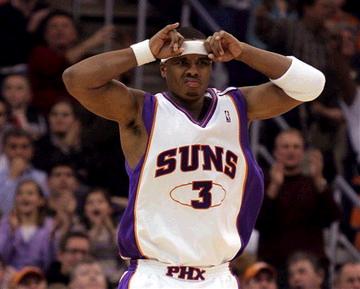 Is Q packing his bags for the Big Apple?

It has been reported by RealGM that Phoenix Suns shooting guard Quentin Richardson will be dealt to the New York Knicks for PF Kurt Thomas and a future conditional first round pick. The deal is pending league approval and would be announced sometime after tonight's Game 7. The trade suggest Suns' GM Bryan Colangelo is set on re-signing Joe Johnson to a long-term deal this summer and that Isiah Thomas is a complete lunatic. The Knicks add Q to a backcourt that already includes gunners Stephon Marbury and Jamal Crawford. Another shoot-first player? Just what New York needs...
Paul's Take - After the Jack Haley debacle (when he falsely reported the Boozer to Lakers deal) and all of these misinformed Eric Pincus of HoopsWorld.com trade rumors (which were confirmed false by Chad Ford), I'm not buying this deal. I check out RealGM daily, but I've also read some of the shit they put up themselves on their site (most of it is off the wiretap) and it's fucking amateur. I think we'll find out tonight that their reporting is amateur as well.

Yeah Kurt, we'd be pretty confused too