Late Breaking Mock Draft
The Jazz have traded up with Portland in a move likely made to draft Deron Williams.
By Paul Benedict and Anthony Peretore
With just hours left until the June 28th NBA Draft, Paul and I would like to present you with the final 2005 NBA Source Mock Draft. Rather than bang heads and fight one another to the ground, my partner and I are going to list our respective predictions for each pick. Trades will not be factored into the mock, but we will certainly mention potential deals when appropriate.

1. Milwaukee Bucks

Anthony - C Andrew Bogut, Utah
--Right now it appears that Bogut is the only sure fire pick in the entire Draft. Last week many experts were on the fence and thought the Bucks might go with Marvin Williams. Not the case in the days leading up to the Draft, as almost every mock out there has the Utah center as the initial pick.
Paul - C Andrew Bogut, Utah
--As close as there is to a lock in this year's draft. That said, anything could happen.

2. Atlanta Hawks
Anthony- SF Marvin Williams, North Carolina
--I had Chris Paul here all day until the Blazers elected to trade the #3. Atlanta must have gotten word that Billy Knight and co. were going to go with Williams instead of a PG. Marv, regarded as the Draft's best prospect, will head to a team littered with 3's and probably force Al Harrington out of town. Probably would have made more sense for them to try and get Charlotte's 5 and 13 for the 2. Oh well.
Paul - SF Marvin Williams, North Carolina
--There's still an outside chance that the Hawks elect to take either Chris Paul or Deron Williams, but it looks like Billy Knight will grab the player who he feels is the most talented regardless of the team's need. Guess he's willing to go with Royal Ivey at the point next year or to overpay for an Earl Watson.

3. Utah Jazz

Anthony - PG Chris Paul, Wake Forest
--If the Jazz were stacked with talent and on the brink of being a playoff contender then I'd say they'd probably take the play-maker in Deron Williams. Utah however, is a team with relatively little scoring punch and thus will decide to make Paul their leader of the future. Maybe this will keep Jerry Sloan on the sidelines for a few more seasons.
Paul - PG Deron Williams, Illinois
--The trade with Portland is finally complete and now Jerry Sloan can go to bed happy tonight knowing he won't have to suffer through another season of post-John Stockton syndrome.

4. New Orleans Hornets

Anthony - PG Deron Williams, Illinois
--Call me crazy, but I still think that Deron will be the best impact player from this draft 5-8 years down the road. He has the undeniable ability to make his teammates better, evident in Illinois' incredible run this past NCAA season (think James Augustine). Though New Orleans may trade down to grab Danny Granger or Fran Vazquez, be assured that Williams will be selected no later than 4, if not by the Hornets, then possibly the Bobcats or Lakers.
Paul - PG Chris Paul, Wake Forest
-The Hornets would love for Marvin Williams to slip to them here, but it's more than likely that they end up taking either Deron Williams or Chris Paul, whichever point guard the Jazz decide to pass up on.

5. Charlotte Bobcats

Anthony - SG Gerald Green, Gulf Shores Academy (TX)
--I had Green here in my first mock mostly because I think he will be the best fit for the expansion 'Cats. As a second year team, Bernie Bickerstaff and co. should still be drafting on best available talent and that will be Green here at 5. If Paul or D. Williams do indeed fall or Charlotte manages to trade up, expect them to end up with their point guard of the future. But my feeling is that they'd be better off with Green or Martell Webster here at 5 and hope that Raymond Felton is still available at 13.
Green is touted as the next T-Mac
Paul - SG Gerald Green, Gulf Shores Academy (TX)
--Bickerstaff is miffed that he doesn't end up with Marvin, Deron, or Chris Paul, but that doesn't necessarily mean he's going to get crazy and started dealing out his picks. The Bobcats need to stockpile talent more than anything and can afford to wait on a project like Green since they won't be competing for at least a couple of years. Granger or Felton could be possibilities here, but Green presents more upside than Granger and Bickerstaff will likely gamble on Felton falling to him at 13.

6. Portland Trail Blazers

Anthony - G/F Martell Webster, Seattle Prep (WA)
--Webster has significantly boosted his stock in the last few weeks, so much that he may even slide into the top-5. The more probable destination for him however, is here with Portland to team in a backcourt with fellow HS-to-NBA leaper Sebastian Telfair. Should be an interesting transition period up in Oregon.
Paul - G/F Martell Webster, Seattle Prep (WA)
--It's been widely speculated that the Blazers will grab one of the high school kids here, but I think they grab Webster even if Green slips past Charlotte. He's a top-notch shooter, he's physically and mentally ready to come in right away, and he will likely help boost a dwindling Portland fan base since he's from the northwest.

--The ESPN Draft special that aired last night had Granger falling all the way to the Lakers at 10. This is what I absolutely despise about the scouting process. Two weeks ago Granger was rising faster than Barry Bonds testosterone levels, but now he's fading down to 10? Does this make any sense? I guarantee you that 3-5 years from now a handful of GMs will be kicking themselves over missing out on Granger. Toronto sure won't...
--Whether Rob Babcock decides to send the 7th and 16th pick to New Orleans for Jamaal Magliore or not, Danny Granger is going in this slot if he's still out there. Babcock is big on Granger and the New Mexico product also gives the team the liberty of waiving Jalen Rose to free up a little cash.

8. New York Knicks

Anthony - C Channing Frye, Arizona
--Frye, whom Jay Bilas labeled as the 5th best prospect in the Draft last night, has allegedly been made a promise by New York at 8. There has been word that Utah may snatch him up at 6 if they aren't able to move up and draft a PG. However, I fully expect Frye to still be sitting in the green room when the Knicks are on the clock. Welcome to New York big fella.
Frye's pumped for the Big Apple
Paul - C Channing Frye, Arizona
--Both Isiah and Channing can breathe a huge sigh of relief now that Utah has moved up and Toronto has snagged Granger. Isiah has been targeting Frye for weeks and Channing has been making it clear that he has no desire to play with either Utah or Toronto.

9. Golden State Warriors

Anthony - F Hakim Warrick, Syracuse
--Warrick seems to be the consensus pick for Golden State here at 9 over the last few days. For a team littered with talent, especially at the '3,' I feel it would be wiser for Golden State to move down a bit, get another 2nd rounder, and snatch up a project such as Johan Petro in the mid-20s. But if Chris Mullin is going to use this spot, why not get a player with the potential of Warrick? He may end up running Mike Dunleavy right out of town...
Paul - F Hakim Warrick, Syracuse
--The next closest pick to a lock aside from Andrew Bogut going #1. Chris Mullin would be thrilled to see Channing Frye fall into his lap, but there's just no way the Knicks will pass him up. Instead the Warriors end up with a superb athlete who fits right into their system and can contribue right away.

10. Los Angeles Lakers

Anthony - PF Sean May, North Carolina
--Phil Jackson is reportedly enarmored with high school phenom Gerald Green, whom he envisions teaming up with Kobe Bryant to form one of the best scoring duos in the league. Unfortunately, Green isn't going to fall out of the top-7 and with only Caron Butler and Chucky Atkins to dangle as trade bait, it looks like LA will be stuck at 10. If that's the case, I'm holding my ground and going with May as the pick. He's one of the few guys that will be available that can make an immediate impact.

Paul - PF Sean May, North Carolina
--In case you haven't heard the news, Phil Jackson is in Montana right now and has informed Mitch Kupchak that he would rather leave the draft in his hands since he really doesn't know much about any of the prospects. I still firmly believe that Kupchak will draft a player that is a Phil "guy" and not someone like a Charlie Villanueva or an Andrew Bynum as some people are suspecting. Raymond Felton is a distinct possibility here, but his game doesn't spell "triangle offense" and so May would appear to be the logical selection with the Lakers in dire need of some offense from the post.

11. Orlando Magic

Anthony -SG Antoine Wright, Texas A&M
-I think the Magic have to set their sites on an eventual replacement for Grant Hill and Wright fits the bill. While they'd be fortunate to get a player of Wright's caliber and collegiate experience, don't be surprised if Orlando trades down.
Paul - SG Antoine Wright, Texas A&M
--The Magic would love for Martell Webster to fall to them here, but that seems very unlikely now that Portland has traded down to 6. I think they'll likely choose between Wright and Joey Graham and end up taking Wright for his sharper perimeter game and higher ceiling.
12. Los Angeles Clippers

Anthony - Yaroslav Korolev, Russia
--He reportedly has "the promise" from the Clips and with relatively no chance that he goes before LA drafts at 12, GM Elgin Baylor will get his man. Coach Mike Dunleavy needs depth and shooters to add to his bench and Korolev should provide both. A nice pick for the up-and-coming Clippers.
Paul - SG Rashad McCants, North Carolina
--I really believe that the Nuggets are going to send the #20 and 22 picks to the Clippers for the right to draft Rashad McCants 12th. The deal makes a lot of sense for both parties-- Kiki Vandeweghe is huge on McCants, a player that can come in and immediately give them some scoring at shooting guard. And the Clippers biggest need right now is depth, which they would get more of by taking on a 2nd pick. Couple that with the fact that Yaroslav Korolev could very well still be out there by 20, and we have a deal that just seems to make perfect sense.

13. Charlotte Bobcats

Anthony - PG Raymond Felton, North Carolina
--Bickerstaff is set on getting a point guard to eventually replace the oft-injured Knight. With neither Paul or Williams falling to him at 5, Bernie will snatch up Felton here at 13 (if the Jazz don't take him). Felton has plenty of big game experience and should team with Gerald Green to form an explosive Bobcat backcourt for the next decade.
Felton's the hard-nose type of guy the 'Cats need
Paul - PG Raymond Felton, North Carolina
--Bernie Bickerstaff didn't luck out by falling to 5th in the lottery, but his gamble of waiting on Felton till the 13th pick did pan out nicely for him. I really can't figure out why people have the Bobcats reaching on Felton with the 5th pick. The only chance Felton gets taken before 13 is if the Lakers pick him at 10 or if someone trades up to draft him-- both seem unlikely to happen.
14. Minnesota Timberwolves

Anthony - SG Francisco Garcia, Lousiville
--The Wolves and new GM Rex Chapman apparently fell in love with Garcia at his workout this past week and aren't going to let him fall past them at 14. In desperate need to replace the NBA's perpetual asshole in Latrell Sprewell, Garcia should come in and provide that same slashing style for Duane Casey and co.

Paul - SG Francisco Garcia, Lousiville
--The naming of former sharpshooter Rex Chapman as a draft consultant has made it appear as though Garcia is the very likely selection for the Wolves at #14. Chapman has been outspoken about his appraisal for the kid (probably has something to do with their Kentucky connection) and should have enough clout to convince McHale to pick him over Joey Graham.

Paul left this pic of Diogu here even though we both have him at least 4 pics lower. I was going to take it out, but I'm not letting Paul get off that easily

15. New Jersey Nets

Anthony - F Charlie Villanueva, Connecticut
- Still looking for Kenyon Martin's replacement at the 4--the Nets will settle on Villanueva at 15. Charlie has been projected to go as high as the mid-lottery in some mocks, but if GMs are smart they'll wait and let the UConn product slide. He has my prediction as the biggest bust for Paul's 2012 "Looking back--the 2005 NBA Draft".
Paul - F Charlie Villanueva, Connecticut
--Villanueva fits in nicely with the Nets' open court offense, but the team's most obvious need is some reliable defense in the frontcourt. You sure as hell aren't getting any of that with local boy Villanueva.

16. Toronto Raptors

Anthony - C Andrew Bynum, St. Joseph's (NJ)
--Many experts have Bynum floating into the lottery, the top-10 and even the top-5. This is the same kid who was going to fight for minutes at UConn and looks like a direct descendent of Fat Albert. While he does have potential to be a dominating force in the paint, at just 17 years old, he is still several years away. The Raptors can affoprd to wait.
Paul - C Andrew Bynum, St. Joseph's (NJ)
--Assuming the Raptors hold on to this pick, look for Rob Babcock to go big after taking Granger with the 7th pick. Allow me to say this-- I have sources that are very close to Bynum and they're saying that the Shaq comparisons are a complete farce. If anything, Bynum much more closely resembles Desagana Diop. Ouch.

17. Indiana Pacers

Anthony -G Roko Ukic, Croatia
--With Jamaal Tinsley nursing injuries every season, Indiana GM Donnie Walsh will draft some insurance in the form of Ukic. Labelled by some as the next Manu, Ukic's positioning has gone from somewhere in the 2nd round, to the first, and now to here in the top-20. The Croat is said to have all the skills of a play-making point guard, assets the Pacers desperately need.

Paul - G Roko Ukic, Croatia
--The Pacers may try to trade up and land one of the three guys they reportedly covet the most: Villanueva, McCants, and Garcia. But if they hold steady at 17, look for them to choose between either Roko Ukic or Fran Vazquez and keep them overseas for a year.

18. Boston Celtics

Anthony - Joey Graham, Oklahoma St.
--If Graham is still here at 18, Danny Ainge will gobble him up in a heart beat. The Celtics are desperate to find a 'big 3' and they get just what they're looking for in Graham. With plenty of collegiate experience and a former OSU teammate of Tony Allen's, JG may just be the perfect fit in Beantown. A more likely scenario may have Vazquez wearing Celtic green.
Paul - SF Joey Graham, Oklahoma St.
--I think Ainge is going to stand pat and see which players fall to him here. The Celtics could really use a big 2/3 that can come in and raise the defensive intensity of the team, so Graham seems like a nice fit ahead of Vazquez and Ike Diogu.

19. Memphis Grizzlies

Anthony - PF Fran Vazquez, Spain
--Amidst the possibility that they will lose both Stro Swift and Lorenzen Wright this summer, Jerry West should be thrilled with Vazquez falling to him at 19. Projected as high as 6 in several mocks, Vazquez's mediocre workouts over the past few weeks have scouts and GMs throughout the league questioning his potential. Fellow Spaniard Pau Gasol will be extactic over his new teammate.
Paul - PF Ike Diogu, Arizona St.
--While Jerry West may have a hard time passing up on Fran Vazquez, he has a history of drafting guys with outstanding intangibles and Diogu fits exactly that mold. And with Stro Swift on his way out the door and Lo Wright openly seeking a trade, Diogu can give them some necessary depth in the frontcourt.

20. Denver Nuggets
Anthony - SG Rashad McCants, North Carolina
- The word is that the Nuggets are so high on McCants that they are discussing a deal to move up to the Clippers' 12 spot. I say if they have to give up both 20 and 22 to get to 12, do ot. Rashad is an absolute steal for a team that should contend for the NBA title next season.


No Shad, you'll be going 12th or 20th, sorry

Paul - SF Yaroslav Korolev, Russia
--As I stated earlier, I'm a strong believer that the Clippers pull the trigger with Denver to obtain the #20 and 22 picks. So with that in mind, look for the Clippers to fulfill their promise with Korolev (albeit 8 picks later) at 20.

21. Phoenix Suns
Anthony - PF Ike Diogu, Arizona St.
--There's no question that Phoenix is looking to add some depth to their rather fragile frontcourt and with Diogu slipping all the way through the top-20, the Suns should be extatic. Remember that Ike was double and triple-teamed all of last season and still managed to put up All-American numbers. Has my prediction as the "steal of the draft".
Paul - PF Fran Vazquez, Spain
--While the Suns would love to see Arizona State product Diogu slip to them here, they may end up with the steal of the draft by picking up Fran Vazquez this late. The Suns really need a gritty, defensive-minded guy like Vazquez to come in give the team more toughness.

22. Denver Nuggets

Anthony - C Martyans Andriuskevicius, Lithuania
--With Marcus Camby presenting an perennial injury risk for George Karl and co., expect Kiki Vandeweghe to snatch up Andriuskevicius and stash him away for a few years. With a roster that's already stocked with depth, it makes the most sense for Denver to get their '2' at 20 and a project at 22. Could end up being the Clippers' pick.
Paul - PF Wayne Simien, Kansas
--Once again, look for the Clippers to be drafting in this slot. And with Chris Wilcox now in trouble with the law and likely on his way out of LA, Elgin Baylor can use some more upside in the frontcourt. Petro appears to be too much of a project and Taft is just too similar to Wilcox, making Simien the logical selection.

23. Sacramento Kings

Anthony - SF Ersan Ilyasova, Turkey
- Almost a clone to Peja, the Kings elect to draft their star shooter's eventual successor. With loads of potential and a deadly perimeter game, the Kings can let him develop in Europe for a couple years before bringing him over to be mentored by Stojakovic.
Paul - PF Chris Taft, Pittsburgh
--Geoff Petrie has a knack for drafting players with the most upside regardless of team need, so Taft probably won't slip past him at 23. If the kid can develop like many once thought he kid, he could make a tough addition to the Kings' frontline alongside Brad Miller.

24. Houston Rockets

Anthony - PF Wayne Simien, Kansas
- Houston arguably got knocked from the first round due to their lack of depth at the 4. With Juwan Howard hurt, Ryan Bowen was their best option. That will all change with Simien, who was regarded as one of the best players in the country at the beginning of the '04-05 season. I have a feeling a lot of teams will end up regretting passing on the former Jayhawk.

Paul - PG Jarrett Jack, Georgia Tech
--Jeff Van Gundy gets a nice addition in his point guard of the future by drafting Jack 24th. While the Rockets may look to add a power forward, they decide that Jack is too tempting to pass up, especially considering Wayne Simien and Chris Taft are off the board.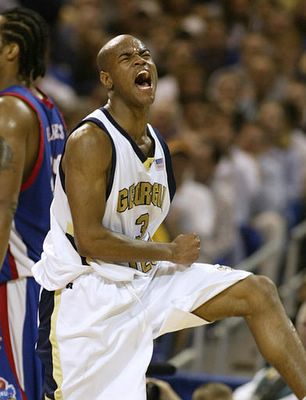 Jack is pumped to slide into the first round
25. Seattle Supersonics



Anthony - PF Chris Taft, Pittsburgh
--With Ray Allen, Antonio Daniels, and Jerome James all testing free-agent waters, the Sonics begin their plan for the future. While scouts question Taft's drive and work ethic, expect the Pitt product to tool on fellow bigs Robert Swift and Vitaly Potapenko in practice, gain confidence, and become a solid pro within the next three years.
Paul - C Johan Petro, France
--The Sonics need more size upfront and will likely end up taking the best big man available to them at 25. Like the Rockets, they too are bit discouraged that neither Simien or Taft made it to them, but they'll take their chances on the upside of Petro.

26. Detroit Pistons

Anthony - SG Julius Hodge, N.C. State
-The one glaring weakness for the Pistons this past off-season was their lack of depth. Hodge's versatility and experience should allow him to become a fixture off the pine for Larry Brown and co. Should compete for minutes will the highly touted Carlos Delfino.
Paul - SF Ryan Gomes, Providence
--With it looking more and more like a distinct possibility that Larry Brown could be back on the bench next season, expect Joe Dumars NOT to go with an international player or high school kid. More than likely Dumars will grab someone that can help the Pistons right away-- Gomes is a nice choice, although Luther Head and Julius Hodge may also end up here.
27. Portland Trail Blazers



Anthony - SF Ryan Gomes, Providence
--I think this pick will ultimately belong to New Orleans and that being the case they get a guy in Gomes that could come in and be one of their strongest players. With 4 years of Big East ball under his belt, Gomes could show J.R. Smith a thing or two and help bring this Hornets team back to respectability.
Paul - C Martyans Andriuskevicius, Lithuania
--The Blazers are known to be big on Andrisdsdkdjskjds and won't mine taking a gamble this late in the draft. It'll be fun watching Andyrsudhs and Ha-Seung Jin sharing laughs together on the bench next season.

28. San Antonio Spurs

Anthony - Andray Blatche, South Kent Prep (CT)
--Why the hell not?
Paul - SF Ersan Ilyasova, Turkey
--Nobody really has any idea as to what the Spurs are going to do, but you can be rest assured that it's going to end up being a smart move. Nobody is better at finding gems in a pile of coal than Gregg Popovich, R.C. Buford, and co.

29. Miami Heat

Anthony - C Johan Petro, France
--Shaq has no more than two years left in him, thus the time is now for Miami to find a kid for him to mentor. That will be Petro.

Paul - G Luther Head, Illinois
--In light of all this talk about the Heat possibly not bringing back either Damon Jones or Keyon Dooling next season, I'm beginning to think that they may have offered Luther Head a guarantee at this spot. Just a tough player who knows what it takes to win-- would be an excellent choice for the Heat as they look to win a title next season.

30. New York Knicks

Anthony - PG Jarrett Jack, Georgia Tech
--I think Jack will probably go a bit higher, but it's very difficult to find his ultimate desitination. If he's here at 30 expect New York to snatch him up, making Marbury expendable in a season or two. Isiah has to realize that his team is going nowhere with Stephon running the point, but on the other hand, he probably has no clue.
Paul - G Monta Ellis, Lainier H.S. (MS)
-With two first round picks, it would make sense for the Knicks to grab a project that they can wait on with this pick. Ellis had an excellent workout for them and Isiah would be more than happy to scoop up the Mississippi prodigy.
This will be the last 12 year-old allowed in the Draft

Paul's 2nd Round Board:

31. Atlanta - SG Julius Hodge, N.C. State
32. Clippers - G Nate Robinson, Washington
33. New Orleans - SG C.J. Miles, Skyline H.S. (TX)
34. Utah - C Mile Ilic, Serbia & Montenegro
35. Portland - PF Andray Blatche, South Kent Prep (CT)
36. Milwaukee - PF Jason Maxiell, Cincinnati
37. Lakers - G Salim Stoudamire, Arizona
38. Orlando - C Randolph Morris, Kentucky
39. Lakers - SF Mickael Gelabale, France
40. Golden State - PF David Lee, Florida
41. Toronto - PF Ronny Turiaf, Gonzaga
42. Golden State - PF Lucas Tischer, Brazil
43. New Jersey - PG Travis Diener, Marquette
44. Orlando - F Angelo Gigli, Italy
45. Philadelphia - G/F Kennedy Winston, Alabama
46. Indiana - SG Matt Walsh, Florida
47. Minneota - C Dwayne Jones, St. Joseph's
48. Seattle - PF Brandon Bass, LSU
49. Washington - PG Daniel Ewing, Duke
50. Boston - F Linas Kleiza, Missouri
51. Utah - SF Dijon Thompson, UCLA
52. Denver - G Louis Williams, South Gwinnett (GA)
53. Boston - F Chuck Hayes, Kentucky
54. New York - PG John Gilchrist, Maryland
55. Seattle - SF Stefano Mancinelli, Italy
56. Detroit - PF Axel Hervelle, Belgium
57. Phoenix - SF Sean Banks, Memphis
58. Toronto - PF Amir Johnson, Westchester H.S. (CA)
59. Atlanta - PG Filiberto Rivera, UTEP
60. Detroit - SF Jawad Williams, North Carolina