Looking Back-- The 1996 NBA Draft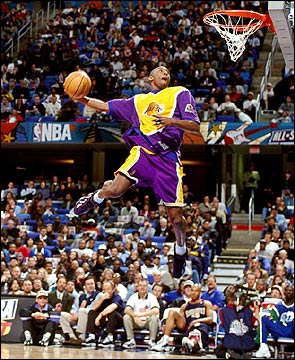 Kobe Bryant put forth a dazzling performance in the 1997 Slam Dunk Contest, winning the first of several trophies he would eventually receive.
By Paul Benedict
Throughout the year, I'm going to reminisce over every NBA draft of the past ten years. It's always fun to look back and see how your favorite team fared, see which guys totally busted, and see which draftees turned out to be the biggest steals. I'll profile each 1st round pick with a little more emphasis on the lottery picks and then discuss some of the noteworthy 2nd round picks. The grades will be based on how each player turned out with regard to their respective draft position. So without further delay, I present to you a look back at the 1996 NBA Draft.

Revisiting the 1996 NBA Draft


· Best Player: Kobe Bryant
· Best Pick: Kobe Bryant
· Steal of the Draft: Jermaine O'Neal
· Worst Player: Efthimios Rentzias
· Biggest Bust: Todd Fuller
· Draft Most Known For: Producing an abundance of stars, but just one that has been able to win a ring.
· Overall Draft Grade: B+


Lottery Picks

1. Philadelphia - G Allen Iverson, Georgetown
Career Stats:
9 Seasons: 27.4 PPG, 41.8 FG%, 6.0 APG, 2.4 SPG
Career Highlights:
-MVP of 1997 Rookie Game
-1997 Rookie of the Yer
-Eastern Conference All-Star Starter in each of last 6 seasons
-MVP of 2001 and 2005 All-Star Game
- 3 Time 1st Team All NBA ('99, '01, '05)
-3 Time NBA Steals/Game Leader ('01, '02, '03_
-4 Time Scoring Champ
-2001 Regular Season MVP
-Led 76ers to Playoffs in 6 of last 7 seasons including NBA Finals appearance in 2001
- Co-Captain of 2004 Bronze Medal USA Olympic Team
The Lowdown:
Allen Iverson is one of the defining players of his generation-- some would even argue that he is the defining player because of the way he bridged the NBA and hip-hop culture together. As a player, A.I. is one of a kind-- what he lacks in size and strength, he makes up for in mind-boggling quickness, extraordinary toughness, and a genuine passion for the game that you rarely find in players. As an image, Iverson glorified the street swagger he brought with him ever since landing in jail after his infamous bowling alley brawl as a teenager, and encouraged legions of people to rock cornrows, headbands, and arm sleeves just from sporting them himself. Though his legacy as a hip-hop icon seems to have come full circle, Iverson and his fans are still searching for more as his playing career winds down. Although he's already ensured his own plaque in Springfield, Iverson's career won't ever seem complete until he's wearing that ring. And because of what he's accomplished both on and off the court, there's no player out there that fans want to see win a championship more than A.I.
Grade: A


2. Toronto - PF/C Marcus Camby, Massachusetts
Career Stats:
9 Seasons: 10.7 PPG, 8.6 RPG, 1.0 SPG, 2.3 BPG
Career Highlights:
- Set Rookie Game record with 12 rebounds in 1997
-1st Team All-Rookie in 1997
-NBA leader in Blocks in 1997-98
-2nd Team All-Defensive in 2004-05
-Played key role for Knicks team that reached NBA Finals in 1999
The Lowdown:
When Toronto selected Marcus Camby with the 2nd pick of the draft, many critics questioned the selection wondering whether his slight frame would be able to withstand the rigors of physical NBA play and the endurance it takes to make it through an 82 game season. Though his talent was never doubted, Camby has indeed struggled to stay on the court throughout his entire career. He has missed at least 16 games in each season he's played with the exception of 2 and has essentially become a punchline around the league for his 82 game day-to-day injury status. That said, Camby is still one of the most dynamic and unique defensive forces that exists in the NBA when he is on the floor-- 4 times he has averaged more than 10 rebounds per game; 5 times he has blocked more than 2 shots per game. Camby's ability to run up and down the floor and make key defensive plays in a full court game make him a rare commodity and one that seems primed to become a bigger force as the NBA heads towards a more fast-paced game. If he can find a way to stay on the court consistently, Camby has a chance to be remembered for a whole lot more than just a wimp.
Grade: C


3. Vancouver - PF Shareef Abdur-Rahim, California
Career Stats:
9 Seasons: 19.8 PPG, 46.9 FG%, 8.1 RPG, 2.7 APG, 1.1 SPG, 0.8 BPG
Career Highlights:
-Participated in 1997 Rookie Game
-1st Team All-Rookie in 1997
- NBA All-Star in 2002
-Averaged 20+ PPG for 5 straight seasons ('98-'02)
-Member of Gold Medal USA Olympic Team in 2000
The Lowdown:
SAR immeadiately established himself as one of the NBA's most consistent and durable players upon entering the league by averaging at least 19 PPG and 7 RPG in 6 of his first 7 seasons while missing only 9 games. Of course it needs to be noted that Abdur-Rahim put up these numbers for teams that never won more than 35 games in a season. To date, 'Reef has never played for a winning team and has still yet to make it into the Playoffs. While people like to give a good citizen like Abdur-Rahim the benefit of the doubt because it's not necessarily his fault that he's been put on such pathetic teams, it has become clear that he is unable to be a 1st or 2nd option on a quality team. Heading in to free agency this summer, Abdur-Rahim has a chance to start over with a winning team and kick off a new era in his basketball career. I'm guessing that he embraces whichever role is allotted to him and revives the hype that once surfaced around his name.
Grade: B-


4. Milwaukee - PG Stephon Marbury, Georgia Tech
*

Traded to Minnesota for Ray Allen and future 1st Round Pick
Career Stats:
9 Seasons: 20.6 PPG, 43.5 FG%, 8.3 APG, 1.3 SPG
Career Highlights:
-Selected to 1997 Rookie Game, but did not play due to injury.
-1st Team All-Rookie in 1997
-Only player besides Oscar Robertson in NBA history to have career averages over 20 PPG and 8 APG.
-Led NBA in total assists in 2003-04
-Has played for 4 Playoff teams
-2 Time All-Star ('01, '03)
- 2 Time 3rd Team All-NBA ('00, '03)
-Member of Bronze Medal USA Team in 2004 Olympics

The Lowdown:
Stephon Marbury's career thus far can be summed up like this-- Hall of Fame numbers, yet no Hall of Fame consideration. He practically defines the theory that statistics in basketball mean very little unless your team is winning. Marbury will forever be tainted by his refusal to sign a contract extension with Minnesota and thus divorcing himself from the pairing alongside Kevin Garnett that could have made the Timberwolves a perennial title contender. Instead Stephon has loitered around the purgatory of the NBA-- mediocrity, still never leading a team beyond the 1st round of the Playoffs. It's impossible to fault Marbury for his inability to incur success on his teams when you look at his practically flawless stat sheet. But when you watch him play, you see an extremely gifted 2-guard in a point guard's body, someone that just doesn't understand what it takes on both ends of the floor to lead his team to victory on a consistent basis, a player who has always failed to rise above in situations when true superstars defy all odds. There's still time for Stephon, but it's all on him to shun the criticism that is becoming synonamous with his name.
Grade: B



5. Minnesota - SG Ray Allen, Connecticut
*Traded with future 1st Round pick to Minnesota for Stephon Marbury

Career Stats:
9 Seasons: 20.6 PPG, 44.6 FG%, 39.7 3PT%, 4.7 RPG, 3.9 APG, 1.3 SPG

Career Highlights:
-2nd Team All-Rookie in 1997
-Has averaged at least 21 PPG for 7 straight seasons
-5 Time All-Star ('00, '01, '02, '04, '05)
-2 Time All NBA (3rd Team in '01, 2nd Team in '05)
-Won Joe Dumars Sportsmanship Award in 2003
-2001 3-Point Contest winner
-Member of Gold Medal USA Team in 2000 Olympics

The Lowdown:
Allen, coming off his best season ever after leading Seattle to a fantastic '04-05 campaign, has now firmly established himself as the NBA's premier sharpshooter. He now heads into the summer as the most sought-after free agent and will likely face a decision that could determine the course of where his potentially Hall of Fame-bound career is headed. Does he re-up with Seattle and try to further their rise in the West as the team's top dog? Or should he flee elsewhere and take on a sidekick role that could give him a better shot at a ring?
Grade: A-

6. Boston (from Dallas) - F Antoine Walker, Kentucky
Career Stats:
9 Seasons: 19.8 PPG, 41.5 FG%, 8.7 RPG, 4.1 APG, 1.4 SPG
Career Highlights:
-1st Team All-Rookie in 1997
-3 Time All-Star ('98, '02, '03)
-Has missed a total of 21 games in his 9 year career
-Led the NBA in 3PT Attempts in 3 straight seasons ('01-'03)
-Has averaged at least 20 PPG and 8 RPG 4 times ('98, '00, '01. '02)
The Lowdown:
'Toiney was just 20 years old when he bolted for the NBA out of Kentucky, but that didn't stop him from assuming a starring role with the Celtics in his rookie season. Advertised as an outspoken and fearless leader, Walker sure as hell wasn't shy when he kicked off his career in Boston and it appears as though nothing has changed since his return in February. Despite a load of skill and talent, including an uncanny ability to handle the ball, see the floor, and create his own shot from the power forward position, 'Toine has developed a notorious reputation for being a chucker and assuming he has the greenlight at all times. It might be premature to suggest that Walker's best years are behind him, but it is clear that no organization out there is willing to hand the keys over to Walker to steer their team. As he heads into free agency this summer, Walker better be prepared to take less money than he's anticipating and to make sure that he takes on a role with a team that can best utilize his skills.
Grade: B+

7. Clippers - PF/C Lorenzen Wright, Memphis
Career Stats:
9 Seasons: 9.2 PPG, 7.1 RPG, 0.8 BPG
Career Highlights:
-Participated in the 1997 Rookie Game
-A member of the last Clippers team to reach the Playoffs (1996-97)
-Has started 355 of 598 career games
-Starting center for Playoff-bound Grizzlies the last two seasons
The Lowdown:
Lo Wright has never materialized into anything more than a decent starting center, though he is known around the league as a hard-working, strong-headed capable big man. His continuous knee and ankle problems have limited his mobility throughout his career which may explain why he never became the explosive post threat many envisioned and why he has never played more than 30 MPG in a season. Look for him to be a solid bench contributor on a good team as his career plays out.
Grade: C


8. New Jersey - SG Kerry Kittles, Villanova
Career Stats:
8 Seasons: 14.1 PPG, 37.8 3PT%, 3.9 RPG, 2.6 APG, 1.6 SPG

Career Highlights:
-2nd Team All Rookie in 1997
-Set NBA Rookie record in 1996-97 with 158 3-Pointers made
-Starter for the 2002 and 2003 Nets teams that reached the NBA Finals
The Lowdown:
Dubbed as the next Byron Scott after four unforgettable seasons at Villanova, Kittles hasn't quite lived up to the enormous potential he showed during his Big East glory days. Known for his ability to mow 'em down from outside and rise over just about anyone on his way to the rim, Kittles has suffered from major knee problems throughout the duration of his career in the NBA. Through perseverance and undeniable talent, Kittles has still found a way to stay successful in the NBA, but one can only imagine what he might have become had he stayed healthy all these years.
Grade: B-



9. Dallas (from Boston) - PF/C Samaki Walker, Louisville
Career Stats:
9 Seasons: 17.3 MPG, 5.4 PPG, 4.8 RPG, 62.9 FT%, 0.7 BPG

Career Highlights:
-Participated in the 1997 Rookie Game
-Key contributor for the 2002 NBA Champion Lakers
-Has reached the Playoffs in 5 straight seasons with 3 different teams and would have made it 6 had Washington not cut him earlier this season.
The Lowdown:
Walker has had by far the most disappointing career of any player drafted in the top 10, yet coincidentally, he is the only one sporting a championship ring at this point in his career. To his credit, Walker has stuck around the league by taking on back-up roles with good teams, but that still doesn't justify why the 9th pick in an outstanding draft could never put together a season better than 8.9 PPG and 7.4 RPG despite all the opportunity in the world.
Grade:

D+

10. Indiana (from Denver) - C Erick Dampier, Mississippi St.
Career Stats:
9 Seasons: 8.9 PPG, 63.6 FT%, 7.4 RPG, 1.5 BPG

Career Highlights:
-Participated in 1997 Rookie Game
-After serving as a back-up for Indiana in his rookie season, has started 428 of 484 games.
-Had his best season in 2003-04 when he lead the league in offensive rebounding and averaged a double-double (12.3 PPG, 12.0 RPG) for the first time in his career.
-Popped his Playoff cherry this season with the Mavericks after 8 seasons of lottery madness.
The Lowdown:
With an imposing physical presence and unteachable instincts on the defensive end, one can only wonder why it took Erick Dampier until his 8th season before he ever realized his potential. Of course there's strong evidence that suggests maybe it was because 2003-04 was a contract year for the big fella-- a dissappointing 2004-05 campaign including an embarrassing run in the Playoffs only embellishes that notion. It's frustrating to come upon cases like Dampier where you have to question a player's dedication and heart when you look back on their career, but for every Allen Iverson and Steve Nash there has to be an Erick Dampier and Tim Thomas.
Grade: B-


11. Golden State - C Todd Fuller, North Carolina St.
Career Stats:
5 Seasons: 11.1 MPG, 3.7 PPG, 3.0 RPG, 0.3 BPG
Career Highlights:
-Played exactly 2,500 minutes in his entire career- remarkable!
-Led the NBA in FT% in '00-01 with an astounding 100% (8-8)
-Scored a career-high 18 points against the Nets in his rookie seson
The Lowdown:
If you want to talk about Samaki Walker being a bust, then Todd Fuller must rank as a massive train wreck (he might be the only player who's college GPA (3.97) was higher than his career scoring average of 3.7-- well, maybe that's going too far). Let's look back and try and wonder what the hell GM Dave Twardzik was thinking in June of 1996...
Twardzik: "Todd Fuller, I really like him. I see him becoming the next Bill Walton. Did you know he was a Rhodes Scholar finalist this year as a Math major?!"
Asst. GM: "Umm...okay. I don't know, boss. He seems like a stiff. Kobe Bryant has star potential written all over him, maybe we should take a closer look at him."
Twardzik: "Nah. We have a great kid in Latrell Sprewell who promises to be a model citizen in Oakland for years to come."
Asst. GM: "What about this kid playing in Greece-- Peja Stojakovic? I heard he's a Eureopean version of Chris Mullin. Maybe Mully could help bring the kid along?"
Twardzik: "Nonsense. Mully isn't ready to take a backseat. He's still got 4 or 5 good years left in him."
Asst. GM: "Well what about a point guard? We could really use a talented and seasoned college player like Steve Nash after you traded Tim Hardaway to the Heat for a bag of pretzels?
Twardzik: "Steve who? I told you I'm going after Mark Price this summer. Nobody will suspect a monster comeback season from him after he missed 109 games the last 2 seasons."
Asst. GM: "Well maybe we should consider giving a look to at least one of these high school players. I hear this kid Jermaine O'Neal is a real project, but the upside is undeniable."
Twardzik: "C'mon. Joe Smith is a future Hall of Famer and Clifford Rozier is going to be a great back-up for years to come. What we need to do is trade away Donyell Marshall-- is Adam Keefe available?"
Asst. GM: (Slams head against the wall) "I don't think we should give up on Donyell just yet. We'll talk about that later, but if you really want a center, let's at least work out Todd Fuller against that gigantic Lithuanian."
Twardzik: "Yeah, I've already scheduled it. Priest Lauderdale will be going up against Fuller on Friday."
Asst. GM: "Not him, I meant Zydrunas Ilgauskas. I think he's got a lot of potential."
Twardzik: "I'm not drafting a guy who's name I can't pronounce. Listen to me-- everything is under control. I've been doing this for years! Trust me, Fuller is the real deal."
Asst. GM: (Throws self off building)
Grade: F


12. Cleveland (from Washington) - C Vitaly Potapenko, Wright St.
Career Stats:
9 Seasons: 6.8 PPG, 47.8 FG%, 4.6 RPG, 0.3 BPG
Career Highlights:
-Participated in 1997 Rookie Game
-Showed a lot of promise after being traded to Boston in 1999 (10.8 PPG, 7.2 RPG)
The Lowdown:
Doesn't it seem like we're still waiting on Vitaly Potapenko, the supposed "Ukraine Train", to realize his potential after all these years? I feel like every year we hear someone claim that whichever team Potapenko is on is excited about his future and trying to get the big man more minutes. It's over peoples! The guy is nothing but a crappy back-up center!
Grade: C-


13. Charlotte - SG Kobe Bryant, Lower Merion H.S.
Career Stats:
9 Seasons: 22.4 PPG, 45.2 FG%, 83.1 FT%, 5.1 RPG, 4.4 APG, 1.5 SPG
Career Highlights:
-Won Slam Dunk Contest and participated in Rookie Game in 1997
-2nd Team All-Rookie in 1997
-Became youngest All-Star ever in 1998
-7 Time All-Star ('98, '00-'05)
-2002 All-Star Game MVP
-Finished in the top 6 in scoring in each of the last 5 seasons
-3 Time All Defensive 1st Team (2 Time 2nd Team)
-Named to All-NBA Team each of the last 7 seasons (1st team '02-'04)
-3 Time NBA Champion with the Lakers ('00-'02)
-This year was the first time he ever missed the Playoffs
The Lowdown:
When the Hornets drafted Kobe Bryant and then traded him to the Lakers for Vlade Divac shortly after, the deal made sense for both sides. The Hornets needed a big man to help them make a serious Playoff push and since Kobe wouldn't have played for Charlotte anyways, the deal was a no-brainer. And for Jerry West, let's just say the move alone could have earned himself a place in Springfield. Bryant has become the premier 2 guard in the league and arguably the NBA's most gifted player. Critics can come down on him all they want for his recent off-the-court troubles and for pushing Shaq out of LA, but the fact remains that Kobe has already won 3 Championships and still has his best basketball ahead of him at the age of 26.
Grade: A+


The Rest of the 1st Round


14. Sacramento - SF Peja Stojakovic, Greece
Career Stats/Highlights:
7 Seasons: 18.5 PPG, 46.5 FG%, 39.8 3PT%, 89.0 FT%, 5.0 RPG, 1.1 SPG
-Finished 2nd in voting for 2001 Most Improved Player Award
-3 Time All-Star ('02-04)
-Led NBA in FT% in 2004 (92.7%)
-Has averaged over 20 PPG 4 times ('01, '02, '04, '05)
-2nd Team All-NBA in 2004
-Has reached the Playoffs in each of the 7 seasons he's been in the NBA
The Lowdown:
Many people wondered whether Stojakovic would ever come to the US after enjoying so much success at a young age in Europe, but after two seasons he joined the Kings and immediately paid dividends for the franchise. 7 years later he's established himself as one of the NBA's best scorers and quite possibly its most lethal shooter. Though he has been criticized for his inability to step up on both ends of the floor in big games, it's hard to come down too hard on a guy that many never expected to play in this league.
Grade: A

15. Phoenix - PG Steve Nash, Santa Clara
Career Stats/Highlights:
9 Seasons: 12.8 PPG, 47.0 FG%, 41.8 3PT%, 89.2 FT%, 6.7 APG, 0.8 SPG
-Participated in 1997 Rookie Game
-3 Time All-Star ('02, '03, '05)
-Led the NBA in assists in 2005 (11.5 APG)
-3 Time All-NBA (1st Team in '05)
-2005 Regular Season MVP
-Been to the Playoffs 7 times and has twice reached the Conference Finals ('03 with Dallas; '05 with Phoenix)
The Lowdown:
With Kevin Johnson's career winding down, Jerry Colangelo thought Steve Nash would be a perfect fit in Phoenix to be KJ's heir apparent. Of course the Suns went out and traded for Jason Kidd only a few months later and in what has to be considered one of the more interesting deals in NBA history, Nash was shipped to Dallas a year later for Martin Muursepp, Bubba Wells, Pat Garrity, and a 1st Round pick in 1999 that would become Shawn Marion. So if you want another reason to chuckle at how Steve Nash has gotten the last laugh with Dallas, remember that he's now teaming up with Shawn Marion, a guy that Nash cost the Mavericks 6 years ago.
Grade: A
"And thank God for allowing me to come back here. And thank you for helping me stick it to Mark Cuban!"

16. Charlotte (from Miami) - G Tony Delk, Kentucky
Career Stats-Highlights:
9 Seasons: 9.2 PPG, 40.7 FG%, 2.5 RPG, 1.9 APG, 0.8 SPG
-Has averaged double figure points 4 times in his career ('98, '01, '02, '05)
-Exploded for 53 points against the Kings in 2001
-Has been to the Playoffs 6 times with 5 different teams
The Lowdown:
The much-traveled Delk has been with 7 different teams in his 9 year career, never once staying even 2 full years in one city. The constant moving seems to be a common trend for back-up guards in the league as most are considered interchangeable, and Delk has done little to prove he is a commodity.
Grade: C+


17. Portland - PF Jermaine O'Neal, Eau Claire H.S.
Career Stats/Highlights:
9 Seasons: 13.3 PPG, 46.4 FG%, 7.4 RPG, 1.8 BPG
-Won Most Improved Player Award in 2002
-4 Consecutive All-Star appearances ('02-05)
-Led the NBA in total blocks in 2001 (228)
-3 Time All-NBA (3rd Team in '02 and '03; 2nd Team in '04)
-Finished 3rd in MVP Voting in 2004
-Won Magic Johnson Award in 2004 for combination of elite status and cooperation with the media.
-Has reached the Playoffs in every season he's been in the league
-Played for Team USA's Senior National Team in '01, '02, and '03.
The Lowdown:
The 1996 Draft has to be considered one of the best all-around drafts of all-time, but if you had to choose the greatest draft ever for any single division, then the Pacific in 1996 has to take the cake. Lakers essentially drafted Kobe 13th; Kings draft Peja next (which by the way really opened the doors for teams to leave Euros overseas before bringing them to the States); Suns nab Nash 16th; Blazers take Jermaine O'Neal 17th (and the Lakers grabbing Derek Fisher 24th wasn't too shabby either). That's essentially 4 perennial All-Stars taken within a span of 5 picks, 13 through 17 mind you, all by teams from the same division. Anyways, Jermaine showed he had a load of talent in Portland, but the team was in a sticky situation trying to find him some minutes while also seriously contending for a title. That's still no excuse for the Blazers shipping him off to Indiana for a more experienced big man in Dale Davis. Everyone knew that deal was going to come back to haunt them at the time and that Davis wasn't going to put them over the edge as a title contender. Sure enough Jermaine's career has taken off in Indiana and he's now considered one of the most dominant post players in the league both offensively and defensively. The Pacers are set with Jermaine as their franchise player for years to come while the Blazers are stuck in the lottery for the 2nd straight season and don't appear to be headed upwards anytime soon.
Grade: A


18. New York (from Detroit) - F John Wallace, Syracuse
Career Stats/Highlights:
7 Seasons: 16.1 MPG, 7.6 PPG, 46.2 FG%, 2.8 RPG, 0.6 BPG
-Participated in 1997 Rookie Game
-Averaged 14.0 PPG and 4.5 RPG for Toronto in '97-98.
The Lowdown:
After leading Syracuse to an improbable run to the NCAA Title game in 1996 (in a year when Georgetown, UConn, and Villanova were all LOADED), Wallace had built up a lot of momentum heading into the '96 Draft-- that is, until the day of the draft. Wallace ended up being the year's big slipper and when he became available to the Knicks at 18, you can only imagine how ecstatic Knicks fans were. Of course, Wallace's problematic behavior (he punched and choked his girlfriend in May of 1997) and problems on the defensive end led to his being traded out of the 'Big Apple' after only one season. After a promosing season with the Raptors in '97-98, Wallace's career went puzzlingly downhill and never really resurfaced.
Grade: C-

19. New York (from Atlanta) - F Walter McCarty, Kentucky
Career Stats:
9 Seasons: 5.3 PPG, 39.4 FG%, 2.7 RPG, 0.7 SPG
The Lowdown:
McCarty had no place on the Knicks roster and was traded to Boston after one season. He had been with the Celtics serving as a quality back-up forward for 7+ years until he expressed his desire to play elsewhere and was sent to Phoenix this past February where he made little impact.
Grade: C+


20. Cleveland - C Zydrunas Ilgauskas, Lithuania
Career Stats/Highlights:
7 Seasons: 14.8 PPG, 47.0 FG%, 76.6 FT%, 7.7 RPG, 1.8 BPG
-MVP of the Rookie Game in 1998
-1st Team All-Rookie in 1998
-2 Time All-Star ('03, '05)
-Has averaged 15+ PPG and 8+ RPG 3 times ('99, '04, '05)
The Lowdown:
Cleveland faithful were on their knees hoping and praying John Wallace would slip to them with this pick, but instead they caused an uproar when then-GM Wayne Embry drafted a 2nd Euro big-man in Ilgauskas (Potapenko being the first). Cavs fans were even more angry when 'Big Z' missed the entire 1996-97 season with a foot injury that had some wondering whether he would ever don a Cleveland uniform. However, the pick was justified after a stellar rookie campaign that saw Big Z earn 1st Team All-Rookie honors in 1998. Ilgauskas would actually battle more serious foot problems over the next two seasons, causing him to play in just 29 games, but he has since remained almost completely healthy and now stands as one of the top true centers in the NBA.
Grade: A-


21. New York - SF Dontae Jones, Mississippi St.
Career Stats:
1 Season: 15 Games, 6.1 MPG, 2.9 PPG, 33.3 FG%, 0.6 RPG
The Lowdown:
Some of you might remember Jones-- an outstanding athlete, yet raw basketball player, from that Mississippi St. team that reached the Final Four in 1996. He batttled foot problems his rookie season in New York and was released by Boston a year later after showing them very little. He has since bounced around the professional ranks, playing everywhere from the ABA to Italy, and the CBA to South Korea.
Grade: F


22. Vancouver (from Houston) - C Roy Rogers, Alabama
Career Stats/Highlights:
3 Seasons: 16.9 MPG, 4.8 PPG, 48.3 FG%, 3.5 RPG, 1.5 BPG
-Participated in 1997 Rookie Game
-Ranked 2nd among rookies in blocked shots in 1997 (2.0 BPG)
The Lowdown:
Rogers had the reputation of being a Theo Ratliff-clone when the Grizzlies drafted him in 1996- a classy and intelligent kid who had an insane ability to block shots. Unfortunately, Rogers encountered knee problems shortly after his NBA career started and once his shot blocking skills went south, his status in the league soon followed.
Grade: D-

After Roy Rogers's NBA career came to an end, he started a very successul fast-food franchise. You can find Roy Rogers' joints all over the Jersey Turnpike.

23. Denver (from Indiana) - F Efthimios Rentzias, Greece
Career Stats:
1 Season: 35 Games, 4.1 MPG, 1.5 PPG, 33.9 FG%, 0.7 RPG
The Lowdown:
Woof. It took 7 years before a team could actually pluck Rentzias from Greece and I had the luxury of watching all of the 76ers game in the 2002-03 season. If you want to talk about possibly the worst player ever to land in the NBA, Rentzias warrants serious consideration.
Grade: F


24. Lakers - PG Derek Fisher, Arkansas- Little Rock
Career Stats/Highlights:
9 Seasons: 7.9 PPG, 39.7 FG%, 36.9 3PT%, 78.3 FT%, 3.1 APG, 1.0 SPG
-Participated in the 1997 Rookie Game
-Has averaged double-figures in scoring 4 times ('01, '02, '03, '05)
-Won 3 NBA Championships with the Lakers from '00-02 and was the starting point guard on the '01 and '02 teams.
-Made one of the most memorable shots in NBA Playoff history a year ago-- a fadeaway prayer with 0.4 seconds left to beat the Spurs in Game 4 of the Conference Semis.
The Lowdown:
Everyone knew Jerry West had an eye for talent, so it was no surprise that he pulled Derek Fisher out of the '96 Draft and that he ended up becoming a key contributor in the Lakers' 3 consecutive Championship runs from 2000-2002. Known for his stellar defense at the point and solid shooting from the perimeter, Fisher parlayed his experience and success with the Lakers into a big contract with the Warriors last summer and proved that he was not merely a benefactor of playing alongside 2 Hall of Famers by putting together a solid season.
Grade: B+


25. Utah - G Martin Muursepp, Estonia
*Traded to Miami for future 1st Round pick
Career Stats:
2 Seasons: 83 Games, 11.5 MPG, 4.7 PPG, 2.2 RPG, 0.5 SPG
The Lowdown:
A lot of people had Muursepp pegged as the steal of the 1996 Draft, so it surprised no one when the Heat offered a future 1st Round pick to the Jazz in exchange for the draft rights to Muursepp. The Heat went through hell and back in working out a buy-out with Muursepp's Israelian team, including an agreement that would have them playing an exhibition game in Israel. Needless to say, it was a price that DEFINITELY was not worth paying.
Grade: F


26. Detroit (from San Antonio) - F Jerome Williams, Georgetown
Career Stats/Highlights:
9 Seasons: 6.6 RPG, 50.2 FG%, 6.4 RPG, 1.1 SPG
- Has twice finished in the top ten in rebounding ('00, '03)
-Finalist for J. Walter Kennedy Citizenship Award in 2000
The Lowdown:
'The Junk Yard Dog' was drafted by the Pistons with the hope that he could turn into the next Dennis Rodman, and in a sense, he has. Though he hasn't quite enjoyed the same success as Rodman (or been nearly the sideshow), both have been fan favorites wherever they have played for the hustle and energy they bring to the court each and every night out. Williams is also known as one of the league's most outspoken and respected citizens and that will surely help his cause as he looks for work around the league after his playing career is complete.
Grade: B+


27. Orlando - F Brian Evans, Indiana
Career Stats:
3 Seasons: 102 Games, 1 Start, 10.8 MPG, 3.7 PPG, 38.1 FG%, 1.6 RPG
The Lowdown:
The Magic drafted Evans because they knew they needed to surround Shaq with mature perimeter players who they thought could step in right away and release some pressure off of the big fella. And Evans could shoot-- just not with NBA players in his face threatening to swat his shot. He moved on to play in Europe after being released by Minnesota in 1999 and you can now find him on the basketball instruction video, "Better Basketball" teaching the proper fundamentals of shooting the basketball.
Grade: F


28. Atlanta (from Seattle) - C Priest Lauderdale, Greece
Career Stats:
2 Seasons: 74 Games, 7.1 MPG, 3.4 PPG, 1.9 RPG, 0.4 BPG
The Lowdown:
My fondest memories of Priest Lauderdale come from NBA Live '97 when I would always trade for the 7'4" behemoth and make him into the true dominant force that the Atlanta Hawks and Denver Nuggets never could. It's a damn shame my NBA Live days weren't for real because Priest would be well on his way to the Hall of Fame. Instead he's dominating the surplus of talent over in Bulgaria right now.
Grade: F




29. Chicago - C Travis Knight, Connecticut
Career Stats/Highlights:
7 Seasons: 12.3 MPG, 3.4 PPG, 3.1 RPG, 0.6 BPG
-Participated in 1997 Rookie Game
-2nd Team All-Rookie in 1997
-Won NBA Championship with Lakers in 2000
The Lowdown:
Knight was actually released by the Bulls soon after the draft because they decided he wasn't worth a 3-year guaranteed contract, and then picked up by the Lakers with whom he enjoyed a mildly successful rookie season in being named 2nd Team All-Rookie. I'm assuming he dumped this chick I went to high school with by this point, which is good because everyone was tired of hearing her Travis Knight sex stories.
Grade: C


Notable 2nd Rounders


30. Houston - PF Othella Harrington, Georgetown
Career Stats:
9 Seasons: 8.1 PPG, 50.8 FG%, 74.9 FT%,4.9 RPG
The Lowdown:
'Othella the Big Fella' has endured a rather succesful career to this point, especially when considering a lot of people thought he was a reach even with the 1st pick in the 2nd Round. Though he has limited athleticism and is small for his position, there aren't many power forwards who have as soft a shooting touch as Harrington which explains why he has managed to find a roster spot all these years.
Grade: B


31 & 32. Philadelphia - PF Mark Hendrickson, Wash St./ F Ryan Minor, Oklahoma
Career Stats:
Hendrickson- 4 Seasons: 13.2 MPG, 3.3 PPG, 80.3 FT%, 2.8 RPG
Minor- 0 Seasons
The Lowdown:
I still can't figure out why nobody talks about how Pat Croce was so thrilled to get Allen Iverson with the 1st pick, that he got bombed directly afterwards and mistakenly thought this was the Major League Baseball Draft!
Grade: F

33. Milwaukee - PG Moochie Norris, West Florida
Career Stats/Highlights:
8 Seasons: 5.4 PPG, 2.0 RPG, 3.0 APG, 0.8 SPG
-Played in every single game from the '00-01 season through the '02-03 season.
The Lowdown:
Norris, known better for his basketball skills on the street than in the NBA, has stayed within the league for a steady 5 years now after having bounced around the professional ranks for a few years. Though he's never received an opportunity to become a consistent starter for any team, he has done a solid job backing up in Houston and New York.
Grade: B


37. Denver - PG Jeff McInnis, North Carolina
Career Stats/Highlights:
8 Seasons: 10.6 PPG, 80.5 FT%, 4.6 APG, 0.7 SPG
-Has averaged at least 11 PPG and 5 APG 4 times ('01, '02, '04, '05)
The Lowdown:
McInnis struggled to find a steady role with any one team until he landed with the Clippers in 2000 and immediately assumed the team's starting point guard spot. After two promising seasons, he signed on with Portland to take on a reserve role because they were offering more money, but a year later bitched and moaned his way to Cleveland after Maurice Cheeks didn't give him sufficient minutes. McInnis was having his best season ever with the Cavs alongside LeBron James this year before once again bitching and moaning his way to the bench. Now as a free agent this summer, he has not only cost himself a great deal of money from his constant bitching and moaning, but he'll be lucky to find a team willing to deal with him.
Grade: B+


44. Charlotte - PF Malik Rose, Drexel
Career Stats/Highlights:
9 Seasons: 7.1 PPG, 45.2 FG%, 4.6 PPG, 0.7 SPG, 0.4 BPG
-Has appeared in the Playoffs in 8 of his 9 seasons and won 2 Championships with the Spurs in 1999 and 2003.
The Lowdown:
Rose was anything but stellar in his rookie season with Charlotte, but the Spurs saw something in him and decided to pick him up before the '98-99 season. Rose's career then took off as he assumed a pivotal bench role for some great Spurs teams over the last 8 seasons before being reluctantly sent to New York for Nazr Mohammed in a deal that the Spurs simply could not turn down.
Grade: A-


54. Utah - G/F Shandon Anderson, Georgia
Career Stats/Highlights:
9 Seasons: 7.8 PPG, 45.8 FG%, 3.2 RPG, 1.5 APG, 0.8 SPG
-Made two appearances in the NBA Finals with the Jazz ('97, '98) and one in the Conference Finals with the Heat ('05).
The Lowdown:
Shandon Anderson either carries a rabbit's foot wherever he goes, or he's one of the luckiest guys ever to play in the NBA. Jerry Sloan gave him a reserve role after the Jazz drafted him in '96 and Anderson performed well enough that the team kept him along for their journey to 2 straight NBA Finals appearances. He then signed a small contract with Houston in '99 and was nothing short of mediocre in a starting role there. And then Scott Layden inexplicably decided to throw a monster long-term contract at Anderson during the summer of 2001 to which Anderson happily accepted. Finally after three crappy seasons with the Knicks in which he not only did nothing to add to the team, but his contract also limited the team's financial flexibility, Anderson was released only to sign on with a title contender in the Miami Heat. And so the story goes of Shandon Anderson, the luckiest man in the NBA...
Grade: B