NBA Finals--Game 2 Preview

Thursday night's plan: Leave work, go home, eat dinner, get changed, and go to a nice, quiet bar to catch Game 1 of the NBA Finals. Seemed simple enough, right? But no matter how hard I try to be on time for a tip-off, it just never works out. I got home at 6:00 PM, giving me exactly 3.0 hours until Al Michaels and Hubie Brown officially kicked off the first game of the series. I didn't have to baste a pot roast, re-shingle the roof or re-sod my backyard, all I had to do was eat and get changed. This should have taken at most, (if I ate with chopstix and only used the ring finger on my right hand to change), an hour. Well, somehow my brain shut off and I lost track of somewhere between 30 and 60 minutes while eating dinner and I didn't get to the bar until 9:10. But with the pre-game show lasting at least 10 minutes, I figured to be just in time. Unfortunately, I assumed the bar would be fairly dead with the local college being dismissed for over three weeks now. It turned out that the bar was have a promotional night with a radio station and giving away free concert tickets, jet skis, t-shirts, beer jackets, key chains, etc. As if that wasn't a big enough distraction, a girl working for the station (whose breasts were basically on the outside of her shirt) was giving out free Coronas every 15 minutes or so. So much for no distractions and a quiet setting, huh? So if my recap seems a bit patchy, well, I did the best I could.

Damn Coronas
Game 1 Recap:

1st Quarter:
The Pistons were executing their game plan to perfection. On the offensive end they slowed down the pace and got great looks by taking advantage of questionable match-ups (Bowen giving up 2+ inches to Prince and Barry getting blown out of his jock by Rip). On the defensive side, everyone was crashing the boards while managing to frustrate Duncan and Ginobili every time they touched the ball. Thanks to this near-flawless execution coupled with three San Antonio turnovers in the first 3:25, the Pistons built an 11-4 advantage. That lead quickly grew to 13-4, 15-4, and finally 17-4, before the Spurs began their inevitable run. All of a sudden, Detroit began allowing the Spurs to get into the paint on nearly every possession. Tony Parker was cruising to the hole, Duncan was getting the ball 2 feet from the hoop, and when the Pistons came to trap the kick out for a wide open J was always there. I sensed Detroit getting a bit lethargic, but they were still managing to hold onto their lead by the slimmest of margins.
End of the 1st: 20-17, Detroit

1st Quarter Notes:
--Ben Wallace air balled a free throw at 2:45, prompting ABC to inform us that against the Heat, Detroit's big man shot just 28.6% from the line, the second worst percentage of all-time in a 7-game series. How do you make only 1 out of every 4 free throws, yet still be able to crack an NBA roster? I mean does he practice free throws at all? Can't you see Big Ben getting a body double to shoot free throws for him in practice while Larry Brown rubs Ben-Gay on his hip?


Wallace's free-throws have looked about as good as his hair

--Glenn Robinson saw his first action since the Spurs' second round match-up with Seattle. The "Big Dog" saw 6 minutes of action while throwing down a nasty break away dunk, ripping 3 boards and blocking 3 shots. I wondered why Popovich didn't leave him in longer but then I realized that getting good minutes from G-Rob is like going 135 MPH on the freeway without either getting pulled over or dying.

2nd Quarter:
The second quarter was a battle of the starting point guards. Parker scored 8 of his team's 18 points, while Billups answered with 10 of Detroit's 17. One of Chauncey's hoops was a fast-break layup in which he nearly torn every ligament in Robert Horry's legs. Billups had a 2-on-1 break and faked the behind-the-back pass to Hamilton and Horry was left looking like he was an 80-year old man bending down to pick up his fiber pill on the bathroom floor. Hands down one of the sickest plays of the postseason. As for the game itself, the teams were mirror images of one another—moving the ball well and playing excellent team defense on every possession. This one looked as if it would come down to the final minutes.
Halftime: 37-35, Detroit


Parker was the man in the second
2nd Quarter Notes:
--Is it just me or has Bill Walton aged like 15 years in the last 2 months. Is his hair real? It looked as if it could blow off his head at any moment last night. Poor Bill.

--Anyone ever wonder why the Spurs have a coyote for a mascot? Does that have anything to do with a spur? Although I guess a guy in a metal suit with jagged spikes all over him wouldn't be too safe running along the sidelines, huh?

--There was a shot of Hakeem Olajuwon walking around the arena with a very determined look in his eye. It was one of those looks like either, A) He had approximately 35 seconds before he shit all over himself and the bathroom had to be a good 2 minutes away, B) "Shit, I was supposed to get that weed from Nate Newton at the end of the first, I hope he didn't leave", or C) "I know I'm high, but am I supposed to be playing tonight? Or was that 10 years ago? I bet Kenny Smith would know…"

--As Paul mentioned in his preview, Stuart Scott had been rocking those tinted lenses quite often over the last few months. During his halftime interview however, Stu elected to go back to the clear lens for some unknown and unfortunate reason. That eye of his has gotten at least 20 times worse since "Dream Job 2" and I wouldn't doubt if he had less than 15% vision left in that thing. It's hard to imagine he could.

Stu's eye looks pretty good here
3rd Quarter:
After Rip buried a 14-footer to open the quarter, Manu hit a deep three to pull the Spurs to within 1. This was a sign of things to come. After keeping things relatively close throughout the 3rd, the Spurs' extra rest eventually began to show. Manu hit two more driving layups to end the quarter then rimmed out a 41-footer as the buzzer sounded. He didn't rim out much of anything the rest of the night.
End of the 3rd: 55-51, San Antonio

4th Quarter:
After four or five (five) Coronas, I decided to make my moronic bet of the week with my buddy Matt and take Detroit +6 points. They were only down 4 and looked solid all night long, so why not, right? With Sheed a non-factor up to this point I felt he was do for a solid final quarter. But never did I expect Ben Wallace to absolutely shut his brain off and pick up a technical with his team only down by 2 (55-53). He must have been playing NBA Live with Paul Pierce and Antoine Walker before the game. Anyway, this sparked the Spurs to go on a 19-4-run led by 8 points from Ginobili. With a 74-57 lead, it seemed all but over for the Pistons. They made one small run to get within 7, but then Manu responded with a thunderous dunk to seal the deal. The nail in the coffin came with 3 seconds left when Robert Horry buried a three-pointer from the wing, subconsciously letting the Pistons know their reign is all but over.
Final Score: San Antonio 84, Detroit 69, two shots of Jager, on me.

Obi Wan Ginobili had the force
Post Game Notes

--How many American Express Coach K commercials can ABC squeeze into one basketball game? I swear I saw at least six of them. Who's going to go grab an AMEX just because Coach K has one? People buy credit cards based upon interest rates not ACC coaches. Does anyone in the American Express marketing department realize this?

--In Bill Simmons Finals preview I thought he was a little quick to assume that the Spurs had the best two players in the series. I couldn't help but think Billups and Rip were right at Manu's level, especially with their Finals experience from a year ago. But, once again I was wrong and Manu proved to be the difference maker in Game 1. He was a man on a mission, which leads me to believe there's some sort of strange force behind those Obi Wan Ginobili t-shirts.

--I didn't like that Tim Duncan was bitching at the refs with 34 seconds left with his team up 12. What's the point man? Go sit down and shut up. For a guy that's usually pretty respectful on the court, I thought this was a rather poor move on his part. But what do I know? He'll probably get the most pivotal call on Sunday because he did that.
--Anyone catch the shot of the nun cheering on the Spurs at the end of a Manu made basket? Can any team lose with a nun in the crowd? Remember when that nun was rooting for Joe Torre in the Yanks in 1996? There's a reason that team ended up winning 4 of the next 5 World Series. Why doesn't every team do this? Would every game go into like 4 overtimes until one of them fell asleep?

Game 2 Preview

Why Detroit will win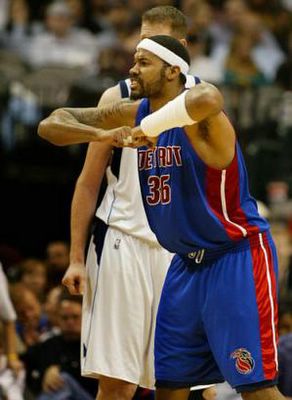 1. Rasheed Wallace. The Pistons' power forward attempted only 6 shots in Game 1, totaling just 6 points in 33 minutes of action. I expect him to play a much bigger role on Sunday and put up somewhere in the neighborhood of 12-15 shots. He has to make more plays to get Duncan moving more so he isn't so fresh on the offensive end.
2. Rest. Both teams have had three days off since Game 1 and should be close to 100% rested. Detroit was going up against a Spurs that had 8 days off since their Game 5 win over Phoenix. In Game 2, I expect the boys from Mo-Town to be able to play all 48 minutes, something they weren't able to do on Thursday.
3. Rebounding. There's no way the Pistons let themselves get out-rebounded by 14 (49-35) again. They allowed the Spurs 15 offensive rebounds, including 6 from Tim Duncan (17 total). Detroit needs to keep TD out of the paint like they managed to do in the first 6 minutes of the 1st quarter. But in order to control the boards, Big Ben (7 reb. in 39 min. in Game 1) must show why he was the Defensive Player of the Year.

Why San Antonio will win

1. Manu Ginobili. Detroit really has no defenders that match up well with Manu. They did a good job of trapping him in the first half, but eventually Ginobili worked his way past a tiring Billups and Hamilton. The problem is if Rip is chasing Manu all game long he's not going to be as valuable on the offensive end. Hamilton's game revolves around fighting through screens and tiring out defenders, but he can't be effective if he has to chase the Argentinean nightmare around all night. Manu is the x-factor and until Larry Brown figures out a way to shut him down, the Spurs are going to keep on winning.
2. Tim Duncan. It seemed as if Rasheed and Ben Wallace were intimidated of Duncan all night in Game 1. Duncan, 24 points on 10-22 shooting, seemed to get 2-3 feet from the basket at will and simply lay the ball in. Big Ben needs to be much more aggressive in keeping TD out of the paint and limit his second chance opportunities. Do the Pistons even practice boxing out? Duncan had to have at least 4 tip-ins on Thursday. So much for a bad ankle, huh?
3. Gregg Popovich. Pop had the better game plan in Game 1 and I expect the same for Game 2. He waited patiently on Thursday for his opponent to tire then simply let Manu loose and run the entire show. He knew that once Manu got going there was nothing Detroit could do. The Piston defenders could only keep up with him for so long. Once Billups and Hamilton tired, the Spurs became relentless in their attack behind an excellent inside-outside game from TD and Manu. Now the game plan obviously can't be the same for Game 2, but with all of their previous opponents matching-up very differently, I assure you Pop will figure out a way to get to Detroit with a 2-0 lead.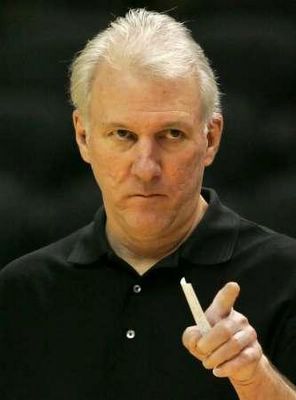 Pop will have the troops ready

Ant's Game 2 Prediction: Spurs 97, Pistons 84.
Paul's Game 2 Prediction: Pistons 87, Spurs 86.