Stuck on 16
By Anthony Peretore


Note: Just so you know, Paul okayed me to write this Celtics article. He said, "If it means getting you to write for The NBA Source instead of that bullshit MLB Source, then fine." Or something like that.
As usual, the Boston Celtics were not expected to be very good this past season. With a new head coach, six rookie or second year players, a starting '4' with Nancy Kerrigan knees, a washed up point guard, and the NBA's perpetual "bad ass" in Ricky Davis, expecting to sneak back into the playoffs seemed like a reach. In fact, of all the expert predictions I analyzed in the preseason, I estimate that maybe 10% of them picked Boston to win the feeble Atlantic. Well, almost eight months have past, the Celtics won their division, headed to the playoffs as the three seed, and yet not one Boston fan on the planet feels good about this team heading into 2006. Why is that? Maybe it has something to do with this quote on the team website (
celtics.com
):
"QUITE simply, the Boston Celtics are "the Franchise," Celtics Green is "the color," and the winking leprechaun that serves as the team's logo symbolizes five decades of NBA tradition. A charter member of the Basketball Association of America (which evolved into the NBA), Boston flies more title banners from the rafters of its home arena than any other franchise."
Ainge has a big offseason ahead of him

Therein lies the problem. When a team filled with so much pride and tradition goes without a championship for 19 years, it starts to take a collective toll on the organization, the city, and it's fans. So what does a guy like Danny Ainge do in such a demanding situation? The only appropriate answer of course is to win, and win now. For most Directors of Basketball Operations, preparing the summer blueprint for an overachieving 45-37 team with a flurry of developing youth would be a blessing. But this Celtics team is different. They are built around a superstar that has character and leadership issues. They have a free agent that may or may not be the right guy to help lead them in the right direction. And as if this weren't bad enough, half of the roster is made up of players with just one or two years of experience, with three picks yet to be added from the upcoming draft. So the questions (spelled out a bit more clearly) for Danny Ainge to answer this summer are as follows: Is Paul Pierce the right guy to lead this team? Should they re-sign Antoine Walker? If not, whom should they acquire? Do they use their draft picks on Americans, Europeans (and possibly leave them overseas), or package them to other teams? Well, if it were up to me to decide, here are the three plans I would initially consider (in ascending order of preference) in helping to bring this Celtics team one step closer to that illustrious 17th banner.

This is the Pierce the Celtics desperately need
1. Trade Paul Pierce
As soon he was seen arrogantly waving his jersey in the Conseco Fieldhouse tunnel following his Game 6 ejection, the often-heard questions surrounding #34 quickly arose: Is this guy a true leader? Can he really be counted on to carry the most storied NBA franchise on his back? Would Boston be better off trading him and starting over with their profusion of youth? While these are all legitimate questions, the dilemma remains in that there are no clear-cut answers. First off, how many legit superstars are there in the NBA right now? 15? 20? Is Paul Pierce one of them? Well, it depends on your definition of superstar. Mine is three-fold:
1)
He can be counted on at any juncture of a game to carry his team on both the offensive and defensive end
2)
He plays in a manner in which his teammates and coaches not only trust him, but feel confident with him leading the way
3)
He will always give his team the best chance to win and never jeopardize that in any way.
Now I'm sure this in itself could stir up hours of debate, but I feel I've covered every basic quality a superstar must possess in order to be considered for the part. Many fans simply go by the numbers and if they prove hefty enough, that player qualifies. But certain guys will put up the stats while failing to make his team any better (e.g., Stephon Marbury). Based upon my definition, let us analyze Pierce.
1)
I believe he does have the capability to shine on both ends of the floor and we saw that for much of the end of the year after Walker was re-acquired.
2)
Here's where it gets tricky. Now Paul's teammates may very well have faith in him as a leader, but the problem is that I'm not sure Doc Rivers feels the same way. In my opinion (and perhaps Doc's as well), Pierce doesn't have the attitude of a leader. He gives the impression that he knows it all and anything the coaching staff may have to offer means shit because he's "The Truth". Does Tim Duncan blow off his coach? How about Richard Hamilton? Steve Nash? Shaq? These four guys are proven winners because they listen to their coaches and are constantly working to improve. Pierce cannot be considered in this same group and until he can be, I would assume his teammates and coaches are going to have a hard time viewing him as their "leader".
3)
By getting tossed from Game 6 in the Indiana series, #34 showed his worth as a leader in completely jeopardizing the Celtics' chances to win in a do-or-die situation. The question now is, can he learn from his mistakes?
All in all, if a team finds its "superstar" committing these basketball crimes, it may be time to turn elsewhere. And that's exactly what the Celtics' front office is trying to decide right now; where do we go from here? The only way to trade Pierce and still remain a contender is to deal him for a player of his caliber or for a contract that can be voided. The one deal that has surfaced for the past two weeks has been:
Pierce and #18 to Portland for their #3 and Nick Van Exel
. If Ainge could pull this off, get rid of NVE's contract, and be assured that Ray Allen would be interested in wearing Celtic green, this is a deal that would have to be highly considered. Allen and either Marvin Williams, Chris Paul, Gerald Green or Deron Williams for Pierce and #18? Ainge would replace a bad apple in Pierce with a genuine good guy in Allen and add a potential All-Star in one of four aforementioned rookies. I can't think of a much better situation for the Celtics, but something tells me this isn't going to fly. The Boston Globe's
Shira Springer
has already reported that Pierce would boldly refuse any deal to the Blazers. But while this trade may seem dead, don't be surprised if Danny is using Portland as a smoke screen to construct a similar deal with another team. If Pierce's name has come up at all, chances are Ainge is exploring his possibilities.
The other two plans:
2. Keep Pierce and re-sign Walker
Another alternative is to see what the team from last year can do playing all 82 games together. The C's displayed stellar basketball for much of the two months after Walker was acquired and who's to say they couldn't continue to improve with a full year under their belts? With the youngsters developing and Pierce and Walker learning from their costly mistakes in the playoffs, this could be a 50-win team in 05-06. But do you honestly think this current ball club has any chance at a title either next year or anytime in the next five? Didn't think so…
3. Keep Pierce, let Walker walk, and bring in two Euros

--Mid-Level Exception: The other option is to take the MLE (which would most likely be used on Walker) to instead sign Sarunas Jasikevicius, a Lithuanian guard who has reached Michael Jordan-level popularity overseas. The Celtics are currently talking with Saras in hopes that he will give up his fame to take a crack at the NBA. It seems as if he is leaning toward this path but no final decision has yet been made. In watching film of Jasikevicius, he seems to be the perfect fit in helping the Celtics get to the next level. They have a young, energetic team but last season had an old, deteriorating point guard slowing everything down. If they could bring in a guy with experience, energy, and a knack for playing the game that European "right way," I believe that Boston would place themselves in prime position to win 50+ games and become a legit contender in the East. Payton was supposed to be the guy controlling the team this past season, while helping them to mature and develop as a whole. His final grade: F-. Who knows, maybe a high energy guy like Saras could come in, get the Celtics all playing on the same page, push Pierce to become a true "superstar", help the youth to develop, and at the very least get this team past the first round of the playoffs.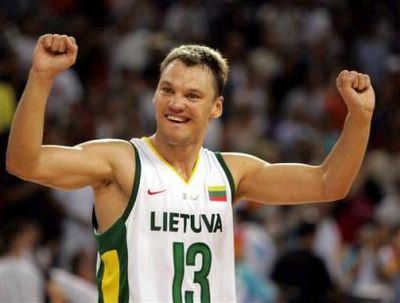 He may look goofy, but Saras can play
--2005 Draft:
Anyone notice what Manu Ginobili has done for the San Antonio Spurs? Well with the draft less than two weeks away, comparisons to the Spurs' shooting guard are popping up left and right. The most recent came from
Chad Ford
in which he compared Croatian point guard Roko Ukic to the budding superstar. Not only has Ukic impressed nearly every NBA scout, but he was also quoted as saying, "Boston has Delonte West, but I think because of my size, we could play together in the backcourt." Ukic should be around at 18, so why not continue the youth movement and see if he can come in and further develop under the leadership of a guy like Saras? Worst case scenario: both Euros come in and absolutely stink, yet Boston has only wasted a MLE and a late-first round pick. Seems worth the risk to me…
In the end, trading away Pierce appears far too risky and letting Walker impede the path of a potential star like Jefferson won't help much either. The only way to keep this current team winning while steadily improving is to let the youth shine and give a guy like Saras (and later Ukic) the reigns to the future. This is my plan to get the Celtics a step closer to #17, but will Danny Ainge take the same route? Stay tuned…

Mock Draft 2 coming tomorrow...