To Trade or Not to Trade?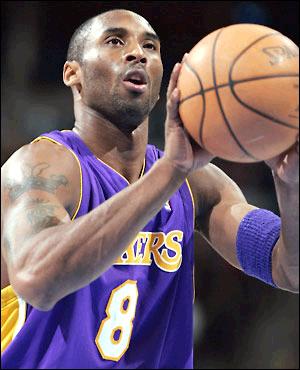 By Anthony Peretore
Many of you may have caught
Chad Ford's blog
this week in which he discussed the possibility of the Lakers trading Kobe Bryant now that Phil Jackson is back with the team. I'll admit that this notion never even crossed my mind, but now that it has, why not delve into a handful of possibilities? Before I get to some potential deals, let us first think back to last summer when the debut of Jackson's book:
The Last Season: A Team In Search Of Its Soul,
provided the public with a glimpse as to what really went on behind Laker doors. We all figured that Kobe and Phil weren't exactly fishing buddies on the weekends, but never did we expect such harsh and criticizing comments from the coach with nine World Championships. Take a look:
"I won't coach this team next year if he is still here. "He won't listen to anyone. I've had it with this kid."

Well ultimately, that's exactly what happened. Dr. Jerry Buss and GM Mitch Kupchak took Jackson's comments to heart and after their Finals loss to the Pistons, the Lakers set their sites on life without the Zen Master. It didn't take long before Phil and the media made their assumption that management took it upon themselves to choose between coach and superstar, with the ultimate decision siding with Bryant. On the day of his firing, Jackson's had this to say:
"Kobe and I did work well together -- for four months, that is. This time the same tension between us wasn't there. We both knew I would never coach him again."
Well Phillip, now you're back on the sidelines preparing to coach the same "kid who won't listen to anyone" who may turn out to be even more difficult to handle after a frustrating 04-05 campaign. So what's the reasoning behind his change of heart? Can Jackson assume that everything will be buddy-buddy after the slew of harsh comments that were made? Can he assume that Kobe has changed at all since he last coached the team? Is he really willing to deal with the consequences if things do indeed turn sour again? One final quote from the coach:
"Kobe is missing out by not finding a way to become part of a system that involves giving to something larger than himself. He could have been the heir apparent to [Michael Jordan] and maybe won as many championships. He may still win a championship or two, but the boyish hero image has been replaced by that of a callous gun for hire."
Sure this statement was made during perhaps the most difficult time of Phil's career, but still, these same opinions have to remain bottled up in his mind somewhere, right? So the question still stands, why would Phil Jackson return to the Laker bench and coach a player that he has had so many problems with? Has he really gotten that high during his hiatus to think that Bryant has changed and will buy into his system? Either that or Jackson does indeed have intensions on dealing Kobe and working with a fresher, hungrier squad, and one that will buy into his every word. So what if the plan is to trade Bryant, where would the Lakers ship him off to? Did they not see what happened in Orlando and within their own system this past season after dealing away superstars? When trading a player of Kobe Bryant's caliber, can management really expect to gain back a player or players equal to #8's talent? Perhaps a more logical question is, can they do more with say, 80% of the talent, but 200% more of the willingness to listen, learn, and ultimately, win? Let's take a look at some deals I brewed up and the impact they would have on both teams. (Remember that Bryant has a no-trade clause and can reject any potential deal. Thus, I have only provide destinations that I assume Bryant will abide to.)
Keep in mind that Kobe is due roughly $97.5 million over the next five seasons, so any team dealing for him would have to match that money, or come within 15%.
1) Kobe to the LA Clippers for PF Elton Brand ($59.2 million over four years), GF Bobby Simmons (sign and trade to make salaries work), and a future 1st round pick.
Brand would become a fixture in the frontcourt
--The Lakers get a young (26), established big man to control the frontcourt with Lamar Odom and a free-agent center (Stro Swift?), along with a defensive minded and budding star in Bobby Simmons. LA could then draft a point guard, perhaps by using Caron Butler as trade bait. The Clippers get a superstar to team with Corey Maggette while moving Brand to give a player like Chris Wilcox more run.
2) Kobe to Memphis for PF Pau Gasol ($68.6 million over five years), GF Dahntay Jones ($4.9 million over three) and PG Earl Watson (sign and trade to make salaries work).
--Again, LA gets a solid, young big man in Gasol, along with a budding point guard and a GF with a good deal of potential. More importantly however, these players not only have the skills to help the Lakers get back on track, but are also very coachable and willing to buy into Jackson's system. Jerry West on the other hand, gets his guy in Kobe and would have no trouble putting the pieces around him to get Memphis to the Finals. (That Bryant Grizzlies #8 would certainly be the hottest jersey on the market).
3) Kobe to Philadelphia for PG Allen Iverson ($76.8 million over four), SF Jamal Mashburn ($20.9 million over two), and a first round draft pick.
--Jackson not only nets a superstar in return for Bryant, but also the hungriest player in the entire league. Iverson's statistics certainly wouldn't fall too short (if it all) from Kobe's and he would also take pride in finally getting to play for a coach of Phil's caliber. Mashburn would be thrown in for financial purposes, but if he was ready to go for the 05-06 season, Caron Butler could become expendable. AI just turned 30, still giving him perhaps 3-4 great seasons left in the tank. That first round pick would be made conditional in order for the Lakers to receive Philly's best overall slot in the next five years. Kobe returns home to Philly and gets a chance to bring the city it's first championship in over 23 years.
Would this be a fair exchange?
While the most likely scenario has Bryant staying put until he and Jackson have their first clash, it's fun to imagine what would happen if this does in fact occur. I've offered a few of my potential deals, I challenge you to come up with something better.