The Bucks Start Here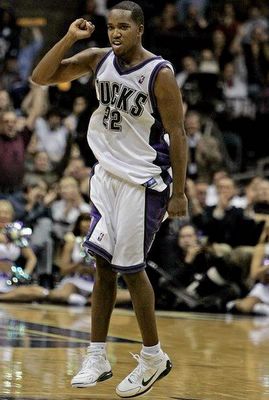 Redd and the Bucks could be jumping for joy in 05-06
By Anthony Peretore
I know, I know—it's the Bucks, who cares, right? But let's not be quick to write off the boys from Milwaukee just yet. While the beginning of their offseason was about as murky as a glass of tap water in Bridgeport, Connecticut, the Bucks have quietly had the most efficient offseason to date. Sure, this may seem like a moot point, but remember that the majority of the big name free agents (Ray Allen, Michael Redd, Larry Hughes, Zydrunas Ilgauskas) have already determined their colors for the 2005-06 season. Unless a team is able to snag two or more of the remaining stars on the market (Swift, Walker, Curry, Chandler (staying), Dalembert, Joe Johnson (staying), Matt Bonner (joking)), or manages to construct a blockbuster trade, the Bucks may just end up as the offseason's ultimate victor. In today's NBA, the summer is not just about the names a team adds to it's roster, but more so the challenge of filling necessary holes to ensure improvement on both the offensive and defensive ends of the floor. I think the Bucks have done just that and the results could land them a top-5 seed in the 2006 Playoffs.

So when exactly does an offseason start? For most teams it's on the final day of the regular season, or after the final horn in one's season ending loss in the playoffs. But how about for a team that finishes 12.0 games back of a playoff berth and 24.0 games out of first place? I think it's safe to say that Bucks' GM Larry Harris and his staff began carefully orchestrating the '05 offseason somewhere around March 1. Let's take a look inside the mind of Harris beginning at the end of the regular season up through his latest signing.

April 19: "Sweet, we only allowed 249 points in our last two games, there's no way Redd is going to re-sign. That's it, I'm firing Terry Porter"

May 24—Pre-Draft Lottery: "Well I have a 6.3% chance at landing the top pick, a 7.09% at the 2, and a 8.09% shot at the 3, ugh. I hope to God to be holding one of those white balls in my hands by the end of the night. Jesus, I sound like Danny Pintauro."

The closet wasn't big enough for Jonathan Bower

May 24—Post-Draft Lottery: "Holy shit, are you kidding me? Now do I take Bogut and risk having picked a Caucasian disaster, or go with Williams and hope he turns into the next KG? Ah fuck it. I've got over a month to decide. I'm gonna go toke up with Calvin Booth."

June 28—Morning: (Talking to his wife) "Well on the bright side, I can't fuck up any worse than the past GMs of this team. Remember in '77 when they took Kent Benson #1? I'm pretty sure he just released his latest film, Working the Low Post 3."

Kent Benson
June 28—Post Draft Meeting:
"Well guys, in addition to getting Bogut, I just found out that TJ Ford is leaving the Mike Utley Clinic and should be returning to action this season. We just got two starters in one night…Dan, what are the odds of retaining Redd?"
Dan Kohl (Assistant GM):
"Well he's basically deciding between moving back home and playing with LeBron, or staying here, getting more money and remaining the face of the franchise. I say we have a pretty decent shot."
Harris:
"Let's just get some of the shit Denzel gave to Ethan Hawke to smoke in Training Day and go pay Redd a visit."
July 7:
(Talking to Kohl) "Yeah, we're getting Michael back and I'm not stopping there. Wait what? We don't have a coach? Holy shit, when did I fire Porter? Must have been during my guest appearance on
Entourage
. Well, I need money to sign a few more guys, so go get some gawky white guy."
July 8:
(Talking to Kohl) "Oh yeah Terry Stotts. I think my wife was watching a
Lifetime
movie about her last night…Wait, WHAT? He's our new head coach? Another guy named Terry? Where'd he come from the WNBA?"
July 9:
(Again, talking to Kohl) "Yeah dawg, I got Bobby Simmons! Yup, Bartlestein owed me a favor—I hooked him up with this dope Brazilian chick last summer. The deal is the same one I offered to Abdur-Rahim, five years, $47 mill, but man is Mason gonna be pissed. Remember when he almost beat Zaza to death last season when he thought he stole his lotion? Let's have Joe Smith break the news to him, maybe then we can get out of his contract."
July 12:
"Hey Danny, you think we should keep Gadzuric? Did you see that 21-20 game he had at the end of the year? I don't want him going to Atlanta and blowing up. Let's re-up him just in case. Besides, he told me he'd do anything to help the team win, even if it means sitting on the bench. What a dumb ass, he could be getting like $8 million from the Hawks and he's gonna stay here and let a white kid dominate him for the next 6 years."
As you can see the life of Terry Harris has drastically changed over the last three months. In facing the possible departure of Michael Redd at the beginning of the offseason, it appeared that the Milwaukee franchise could be headed toward disaster. But one bounce of a ping-pong ball later, coupled with Harris' determination and strategic offseason planning, and the Bucks are looking like a legitimate 05-06 playoff contender. Who knows, maybe this is the first of many teams attempting to replicate the team models of the Spurs and the Pistons, much like NFL franchises are emulating the Patriots. Think about it:
1) A strong inside presence on both ends of the floor (Bogut and Gadzuric)
2) Sound perimeter shooting (Redd)
3) A defensive-minded 3 (Simmons)
4) Experience off the bench (Mason, Kukoc, Strickland)
These are the same strengths both Finals teams exhibited throughout the playoffs and traits the Bucks are hoping to build on this season. With a deep bench, the face of their organization back for another 7 years, and a newfound defensive prowess, Milwaukee should be making some noise in the suddenly talent-heavy Central Division. That is as long as Terry Stotts stops making
Lifetime
movies.
Simmons should be even better in Milwaukee
--------------------------------------------------------------------------------------
I wanted to address a question Paul and I received the other day via email:
"I read your misconceptions on Game 7 article about the chosen hero Tim Duncan. Could you offer any insight on the misconceptions involving the USA Olympic basketball team that didn't win the Gold?"—Sean
Sean, this is an article that could go on for days, but I'll do my best to keep it brief. I think if your going to try and compare this team to another, your best bet is to focus on the foundations of any modern day championship squad and how Team USA chose to ignore the majority of those facets. The problem you might run into however is that the selection committee had ideas of a much better team but several of those originally invited players elected not to play. Nevertheless, let's take a look at the 2004 Team USA roster and come up with the main factors that contributed to their failures.
Lamar Odom and co. seemed to be in this position a lot
2004 Team USA Roster

| | | | | | | |
| --- | --- | --- | --- | --- | --- | --- |
| Name | Pos | Ht | Wt | Age | Yrs Pro | Team |
| Carmelo Anthony | F | 6-8 | 229 | 20 | 1 | Denver |
| Carlos Boozer | F | 6-9 | 258 | 22 | 2 | Utah |
| Tim Duncan | F | 7-0 | 248 | 28 | 7 | San Antonio |
| Allen Iverson | G | 6-0 | 165 | 29 | 8 | Philadelphia |
| LeBron James | G/F | 6-8 | 240 | 19 | 1 | Cleveland |
| Richard Jefferson | G/F | 6-7 | 222 | 24 | 3 | New Jersey |
| Stephon Marbury | PG | 6-2 | 205 | 27 | 8 | New York |
| Shawn Marion | F | 6-7 | 215 | 26 | 5 | Phoenix |
| Lamar Odom | F | 6-10 | 225 | 24 | 5 | LA Lakers |
| Emeka Okafor | F/C | 6-10 | 252 | 21 | 0 | Charlotte |
| Amare Stoudamire | F/C | 6-10 | 245 | 21 | 2 | Phoenix |
| Dwyane Wade | G | 6-4 | 212 | 22 | 1 | Miami |
1) Experience
As far as I'm concerned, the core of an Olympic basketball team must be built around experience. However, as you can see 6 of the 12 players on the roster had 2 years or less of professional experience and of the other six, Jefferson had only 3, leaving only five members with 5 years or more under their belts. That leaves Duncan, Iverson, Marbury, Marion, and Odom as the only veterans.
2) Maturity

Now maturity and experience would seemingly go hand and hand, but in the case of some of these players it is certainly not the case. Let's first take Lamar Odom. Before the Olympics began he was traded to his second team in one year and third overall. The fact that no team saw him as an untouchable asset or a building block to their future hints to me a great deal of immaturity. The same can be said for Stephon Marbury and his resume of four NBA teams in eight seasons, yet only two trips to the playoffs and never advancement out of the first round. How can a point guard who consistently fails to bring his team to any sort of pinnacle ever be considered for a Team USA roster spot? That leaves only Duncan, Iverson, and Marion as legitimate selections to this team.
3) Cohesion
NBA teams get 82 games per season to generate team chemistry and grow not only as individuals, but also as a cohesive unit. Team USA was not fortunate enough to have months of preparation and practice and so once the team set foot on the court, what we got was 12 high-caliber individuals rather than one unstoppable team. In addition, the fact that no true point guard was brought to Athens is mind boggling. Iverson, Marbury, and Wade? They're all shoot first guys with absolutely no sense of how to run a game like say a Jason Kidd or John Stockton. So why not J-Kidd?
4) Loyalty
If you think back to the '03-04 season, remember all of the superstars who were invited to the team yet declined the offer: Kidd, Kobe Bryant, Kevin Garnett, Ben Wallace, Richard Hamilton, Tracy McGrady, Shaquille O'Neal, Kenyon Martin, and Vince Carter, to name a few. Now I can't help but sympathize with those who used the threat of terrorism as an excuse, but for the rest of them who simply turned down the opportunity, they provided a prime example of the selfishness in professional sports today. While it kills me to admit it, the Olympic committee cannot be held completely responsible for their construction of a mediocre basketball team. Sure they could have selected guys like Chauncey Billups, Michael Redd, Mike Bibby, or Ray Allen, but the fact that the aforementioned players all chose to turn down the opportunity to play for their country really left that committee with their hands tied.
So Sean, in my eyes these are the four biggest reasons why Team USA 2004 failed to live up to expectations. I hope I have provided you with (at the very least) a starting point and you can use some of my thoughts to generate those of your own. Good luck with your report and thanks for writing in. (I hope you don't take this and copy and paste it into Word and use it as your own because that's probably what I would have done in my high school and college years).
5) Wearing watches while playing