Eastern Conference Summer League Report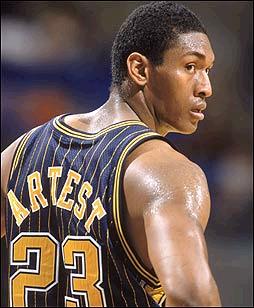 Artest looked scary once again...to his opponents, not the fans.
By Anthony Peretore
The Summer League season is just about coming to a close and with Paul bringing you his Western Conference Report on Wednesday, it's only fair to present you with the Eastern half as well. Here's a quick listing of my East All-Summer League Teams followed by detailed team reports. Enjoy...

1st Team
G- Maurice Carter, Indiana MSL
G- Nate Robinson, New York VSL/MSL
F- Ron Artest, Indiana MSL
F- Dwight Howard, Orlando VSL
C- Earl Barron, Miami SPL

2nd Team
G- Tony Allen, Boston VSL
G- Eddie Basden, Chicago VSL
F- Sean May, Charlotte RMR
F- Wayne Simien, Miami SCSL
C- Andrew Bogut, Milwaukee MSL


Atlanta Hawks
Rocky Mountain Revue (2-3)

The Vets: F Josh Childress led the team in scoring in the MSL with 13.5 PPG while shooting 60.0% from the floor. Slam Dunk Champ Josh Smith left the team early with ankle issues, but still managed to drop 9.3 PPG, all dunks (I'm guessing). G/F Boris Diaw (8.4 PPG), F Donta Smith (4.4 PPG, 31.3 FG%), and G Royal Ivey (4.0 PPG) all turned in rather disappointing weeks. Seems sickening to think this is the core of their 05-06 ballclub, doesn't it?


Marv didn't quite look this smooth
The Draftees:
#2 overall pick
F Marvin Williams
had a rude awakening to the pro game, shooting at a 26.0 FG% clip, good for just 7.8 PPG. He did manage to lead the team in rebounding with 5.0, but overall not a great start to a promising career. On the other hand, shooter extraordinaire
G Salim Stoudamire
averaged a team-leading 12.0 PPG in five games, including 7-14 from long-distance. The one thing he must continue to work on is taking care of the basketball (3.0 TO per game)... and shaving more than twice a month.
The Wannabes: F Gyasi Cline-Heard
wore #64 all week for some reason. There were no basketball numbers available from 1-55? Things like this bother me.
Boston Celtics (4-2)

Vegas Summer LeagueThe Vets:
Second year
G
Tony Allen
(16.8 PPG, 3.8 RPG, 1.8 SPG) led a summer league tested Celtics squad to a solid 4-2 record, including a 29 point, 4 rebound, 3 steal performance in the team's final game against Detroit. Boston's "frontcourt of the future"
PF Al Jefferson
(7.5 PPG, 44.4 FG%, 6.0 RPG) and
C Kendrick Perkins
(4.7 PPG, 37.0 FG%, 4.5 RPG, 31 PF) did not fare as well, but to their credit only averaged slightly over 20 minutes per game--aka plenty of time to average much higher totals than they did. Perhaps the surprise effort of the team came from second year product
F Justin Reed
(11.7 PPG) who may have assured himself a spot in Doc Rivers' 05-06 rotation. And finally,
PG Delonte West
(7.3 PPG, 1.5 APG) turned in a subpar week that ended with him missing the team's finally two contests with mildly sprained ankle. The good news: word out of Boston has the Celtics shopping Marcus Banks again, a sure sign they're happy with West--until next week anyway.
The Draftees:
Besides throwing down one of "the best
dunks
Danny Ainge has ever seen",
SG Gerald Green
(8.0 PPG, 40.4 FG%) showed plenty of immaturity throughout the team's six game schedule.
F Ryan Gomes
on the other hand, landed himself a two-year contract due to his stellar all-around play, "maturity, and knowledge of the game," according to Rivers. It will be interesting to watch Reed and Gomes battle for minutes all year. And not to be forgotten,
PG Orien Greene
missed the session due to a broken foot, but remains extremely anxious to show Danny Ainge and co. they made the right decision in drafting him with their final pick. Hope he's watching plenty of NBDL game tape.
The Wannabees:
The only players on this list with a remote chance to wear Celtic green this season are
PF Taylor Coppenrath
(7.2 PPG, 59.1 FG% in 15.5 min) and
PG Will Bynum
(4.2 PPG, 2.7 APG). Both had their share of struggles in the VSL, but seemed to show steady improvement as the league wore on. The upcoming weeks of free agency should decide their fate--which is a nice way of saying that unless half of the F.A.'s die in a freak accident, Cop and Bynum will be playing overseas or in the DL next season.
Charlotte Bobcats

Rocky Mountain Revue (4-1)The Vets: G/F Matt Carroll
proved to be the catalyst for a very exciting and successful Bobcat team in Denver. The sharp shooter from ND averaged a league-high 15.4 PPG, along with 3.8 RPG and 2.0 APG. Carroll hopes to get the chance to be the shooter the 'Cats so desperately need off the bench. In addition,
G Bernard Robinson Jr.
(10.4 PPG, 57.1 FG%)turned in a nice week as well, but has me wondering why he didn't pursue a boxing career with a name like that. Right?
Felton and May look ready to roll
The Draftees: With one of the more highly touted 2005 draft classes, many eyes were on the play of the young Charlotte squad, particularly PF Sean May and PG Raymond Felton. Both players looked as if they hadn't lost a step from their championship run with May averaging 14.8 PPG (52.6 FG%) and a league-leading 8.4 RPG and Felton (12.5 PPG, 5.5 APG) proving to be the floor general GM/Coach Bernie Bickerstaff hoped he was drafting.
The Wannabes:
Former collegiate stars
PF Jason Capel
(UNC)
and
F Edmund Saunders
(UConn) were scheduled to participate but instead took part in a bowl packing tournament. Unfortunately for them, Darius Miles ran away it.
Chicago Bulls (3-2)

Vegas Summer LeagueThe Vets: F/C Jared Reiner
destroyed the VSL tallying a monster 5.0 PPG while ripping down 2.3 RPG. I'd be shocked if he retained his roster spot.
The Draftees:
None
The Wannabees:
The Bulls had to come away thrilled with the play of
SG Eddie Basden
(14.0 PPG, 5.0 RPG) who managed to crack the league's All-Second Team. Although in years past, they felt the same way about guys like Eddie Robinson, Roger Mason Jr., Dalibor Gabaric, and Theo Huxtable. Another surprise was the young Croatian
F Drago Pasalic
(9.6 PPG, 47.7 FG%, 4.2 RPG) who managed to steal the thunder against competing forwards
Kasib Powell
(8.8 PPG, 50.0 FG%) and
Mario Austin
(7.6 RPG, 37.6 FG%). The only other recognizable names,
PG Kenny Satterfield
(5.0 PPG, 34.8 FG%) and
C Arthur Johnson
(5.2 PPG, 31.3 FG%) reportedly looked "cute" together on the bench.
Cleveland Cavaliers (6-0)

Vegas Summer LeagueThe Vets: G/F Luke Jackson
somehow managed to garner First-Team All-RVSL honors despite shooting 31.0% from the floor and totaling just 11.5 PPG. His 5.3 RPG and 4.0 APG however, had to give the Cavs confidence that Jackson can provide a solid all-around game off the pine this season. But wait, 31%? I think Jim Abbott could have shot 31% in the VSL.
The Draftees:
Cleveland's draft day trade for
C Martynas Andriuskevicius
(3.0 PPG, 2.7 RPG) did not pay immediate dividends, as the 7+ footer struggled to warrant minutes throughout the week. For now we will consider the Lithuanian a "work-in-progress," meaning he is now ranked 1,458th on the list of foreign 7-3 guys who absolutely suck.
The Wannabees:
The biggest surprise of Cavs perfect run had to be the play of the young Nigerian forward
Olumide Oyedeji
(9.2 PPG, 61.8 FG%, 7.0 RPG), who managed to nab 2nd Team All-VSL honors. In addition, former college stars
G Blake Stepp
(10.2 PPG),
G John Lucas
(9.3 PPG, 56.0 FG%) and
G Kelenna Azubuike
(7.5 PPG, 55.3 FG%) also turned in solid weeks. On the other hand, former Maryland
PG John Gilchrest
had a rough session, shooting only 35.1% from the field and tallying just 6.8 PPG. It appears that all five of these players will fall short of making the Cavs' roster, but should make nice players in the NBDL--which is like driving a Kia rather than a Porsche.
Detroit Pistons (3-2)

Vegas Summer LeagueThe Vets:
As Paul wrote in his summer league preview, "Anything less than a superb showing by
Darko
will be deemed as disappointing...it'll be interesting to see how he copes with the added pressure." Well Pauly, hows 9.8 PPG, 5.8 RPG, and 1.4 BPG in 29.8 minutes? Not
too
bad, but throw in the 36.7 FG% and it's safe to say that the bust label is being scolded into Milicic's forehead as we speak. His best game: 14 and 7 with 2 blocks in 32 minutes, hardly anything to write home to Serbia or Montenegro about. As for G/F Carlos Delfino, he fared about the same in totaling just 7.0 PPG (40.0 FG%) and 5.3 TO in 28.3 min. Delfino must have been dribbling with a wooden arm to average a turnover every 5.34 minutes.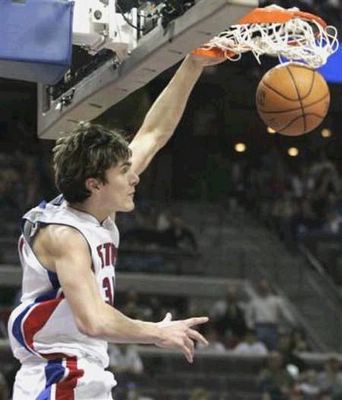 When did this happen?
The Draftees: I don't think the Detroit coaching staff could have asked for any better play from their three draft picks. PF Jason Maxiell (15.0 PPG, 51.9 FG%), SG Alex Acker (14.4 PPG, 46.2% 3-PT), and PF Amir Johnson (8.8 PPG, 69.2 FG%) are going to make it difficult on the aforementioned "veterans" come training camp.
The Wannabees: It's safe to say that G Rodney Billups (2.6 PPG, 35.7 FG%) has a long way to go in catching up to his brother's play. SG Bryant Matthews (4.0 PPG, 25.0 FG%) struggled mightily with the Pistons, but managed to turn around his fortunes with Toronto in the MSL (12.8 PPG). Should be a NBDL veteran by 2009.
New Jersey Nets (0-5)
Vegas Summer League

The Vets:
None
The Draftees:
First round draft pick
SG Antoine Wright
(16.4 PPG, 36.0 FG%) was far from spectacular yet still warranted All-Second Team honors for the hapless Nets. In the team's five games, Wright took an average of 15 shots per, and in sinking only 5.4, contributed first hand to their 0-6 record. Think Rod Thorn regrets passing on Hakim Warrick and Danny Granger? Yeah, me too.
The Wannabes:
Two reasons to smile for New Jersey came in the form of former USC Trojan
F Sam Clancy
(14.8, 6.4 RPG, 1.0 BPG) and
F Brian Boddicker
(11.0 PPG in 13.0 min). For a team looking to fill the void of the departed Brian Scalabrine, Clancy seems well suited but only if he can manage to avoid the injury bug that has thus far hampered his career. In addition, last year's draft pick
F Christian Drejer
was an absolute disaster, averaging just 2.6 PPG on 18.2% shooting in 17.6 minutes per game. The former Florida Gator would be smart to spend another season conditioning overseas or just fucking retiring.
New York Knicks
Vegas Summer League (4-1), Minnesota Summer League (3-2)
The Vets:
In turning in a rather surprising rookie season for the Knicks, the coaching staff had high expectations for
F Trevor Ariza
coming into the Vegas league. The sophomore out of UCLA didn't disappoint showing an above-average all-around game with 10.0 PPG (50.0% FG), 4.4 RPG, 2.6 APG, and 1.0 SPG in 28.2 minutes. The other two veterans,
F Jackie Butler
(5.4 PPG, 59.1 FG% combined VSL and MSL) and
C Bruno Sundov
(7.8 PPG, 4.4 RPG in MSL), played well at times, but in reality suck pretty badly.
The Draftees:
Seemingly all the success of the Knicks summer league teams rested on the shoulders of 9th overall pick,
C Channing Frye
. Frye struggled mightily in his first three games at the VSL (shot like 1%) but seemingly turned around his play for good in the team's fourth contest with 16 points and 11 boards in 33 minutes. With 14 points (6-7 FG) and 7 rebounds in their fifth and final game, Frye assured himself a spot of the 2nd Team All-VSL and didn't stop there. In the MSL, Channing totaled 13.8 PPG to go along with 5.0 RPG and 1.6 BPG in five games. While there are still some kinks to work out with their big man, the Knicks have been blown away with the play of their other first rounder,
G Nate Robinson
. The former Washington Huskie had VSL averages of 17.8 PPG and 1.4 SPG and then compiled 15.2 PPG, 5.8 APG in a second place finish at the MSL. Robinson seems fitted to be the teams primary backup once the regular season begins, even if he wears a size 6 sneaker. Finally,
F David Lee
(12.0 PPG, 6.2 RPG in VSL) received 2nd Team All-VSL honors, managing to quietly duck the pressure of both Frye and Robinson. A roster spot isn't entirely out of the question, but he's white and goofy, so probably not.
Nate Dogg is about to make some bodies turn cold...
The Wannabes:
In the VSL, no wannabe warranted enough PT to make a name for himself. However, in the MSL
G Rueben Douglas
opened some eyes in sharing the teams' points lead of 15.2 PPG, while hitting on 52.0% of his field goals. However, Douglas mind as well have been Michael Douglas because he has about as good a chance of making this team as Anthony Fuqua, or Anthony Peretore for that matter.
Orlando Magic

Vegas Summer League (3-2) The Vets:
Throughout Orlando's five game stretch, all VSL eyes were seemingly on last season's 2004 first overall pick,
F Dwight Howard
. The results: 19.0 PPG (4th in VSL), 7.5 RPG (4th VSL), 1.5 BPG (4.0 VSL) and 1st Team All-VSL honors. Keep in mind that Howard looked like he'd be more interested in having a three way with Jason Klotz and Ruben Boumtje-Boumtje than playing aggressively, thus you can imagine what to expect when the real games start in October. Despite being an absolute man-child, DW also got his braces removed--making him a sure fire top-10 fantasy pick. Last year's other first round pick,
PG Jameer Nelson
(10.3 PPG, 2.3 APG), failed to impress and with word that Orlando has offered Keyon Dooling a contract, don't be surprised to see Nelson riding the pine in year two. The final vet of the group,
SF Mark Jones
, quit his gig at ESPN to join some Entertainment Weekly show, and now is trying his hand at the NBA. On a serious note, it's not even the same Mark Jones, but who really cares?
The Draftees:
While
PF Fran Vazquez
pulled off the team at the last minute,
PG Travis Diener
(8.8 PPG, 4.8 RPG, 4.0 APG) opened some eyes, especially in the team's last game, dropping 16 points, 12 boards and 6 assists. F Marcin Gortat got his fair share of run and actually managed to rank 3rd on the team in fouls per game with 4.3.
The Wannabes:
Perhaps the best news for the Magic came in the form of
G Roger Mason Jr
. who dropped a team high 29 points in the team's final game, to go along with 0 rebounds and 1 assists. I predict that Mason recievs the annual "Blue Balls Award" for giving his team high hopes and then absolutely falling flat on his face once the real games begin.
F Jerome Beasley
turned in a nice first game (21 and 5) but decided to get wrecked for the rest of the trip and put up just 34 total points in the Magic's final 4 games.
Washington WizardsVegas Summer League (2-4)The Vets:
The most highly recognizable Wizard scheduled to dress for the team was
G/F Jarvis Hayes,
and he pulled out faster than Peter North in a gang bang. That left
PF Damone Brown
(2.0 PPG, 1.0 RPG) and second year
C Peter John Ramos
(5.2 PPG, 32.4 FG%, 3.2 RPG) as the only vets of the group. Looks like another year of riding the pine for these bums...
The Draftees:
Washington's lone draft pick, prep star
PF Andray Blatche
opened some eyes during the session, averaging a respectable 9.5 PPG, 6.5 RPG, and 0.7 BPG in 30.0 minutes. While the team is kicking Kwame out the door, they're hoping Blatche can develop into a solid replacement.
The Wannabes: G Gerald Fitch
turned in the most promising six games of any Wizard player, tallying 13.4 PPG and 3.8 RPG in 24.0 minutes.
G Donnell Taylor
out of UAB also played some solid ball and will compete for a final roster spot come October.
F Hiram Fuller
led the team in boards with 7.3 per game, while former Tar Heel
PG Eddie Cota
recorded the most dimes with 2.7 per game.