30 Reasons to Get Fired Up For the 2005-06 NBA Season - #26
At this time last year, the Central Division was home to the reigning NBA champion (Detroit), an archrival intent on exacting revenge for their Conference Finals loss (Indiana), an up-and-coming squad led by the NBA's brightest young star (Cleveland), a team that lacked any sort of identity and below average talent (Milwaukee), and a club still figuring out how to climb out of the division cellar after 6 straight years of embarrassment (Chicago).
Prognosticators anticipated the Central Division to be the toughest in the Eastern Conference, perhaps good enough to send 3 teams into the Playoffs and both Detroit and Indiana back to the Conference Finals for a rematch. They were right, and they were wrong. The Central Division was no walk in the park, that's for sure. But the truth is, nobody could have ever predicted what happened last season-- Detroit overcoming turmoil all season long to come within mere minutes of repeating, Indiana suffering through a once promising season that essentially was lost in November, Cleveland totally collapsing down the stretch and blowing a Playoff spot, Milwaukee brilliantly tossing away its season at the trade deadline in order to position itself as a major player this summer, and the Chicago Bulls shocking the NBA by marching into the Playoffs thanks to a unique blend of talented youngsters and aging journeymen that was seasoned just right.
So here we are, on the brink of a new season, and I have one prediction that I can assure you will ring true-- the Central Division will be the toughest in the NBA. Each team has enjoyed a successful summer and certainly has reason to believe that they could and should significantly improve upon last year's campaign. Let's find out why...
ChicagoKey Offseason Moves:
Re-signed Tyson Chandler, Chris Duhon, and Othella Harrington.
Signed Malik Allen and undrafted rookie Eddie Basden.
Close to re-signing Eddy Curry and Jannero Pargo, and signing Darius Songaila.
Reason For Optimism:
The Bulls didn't lose a single player that actually contributed for them last season. Chandler should be less distracted by his contract situation now that he's signed on long term. Curry will be playing with plenty of motivation knowing that he has one year to prove that he's completely healthy and that he's worth a lot more than the little attention he received this summer. Hinrich, Gordon, Duhon, and Pargo are all a year older, and likely a year wiser as well. Songaila, Allen, and Basden could be nice role players ready to step in for the older guys if they ever run out of gas.
Outlook:
It won't be easy to top the 47 wins they amounted last season, but with everyone back and understanding their role, I certainly wouldn't put in past them either.
Cleveland
Key Offseason Moves:
Hired Mike Brown as Head Coach and Danny Ferry as General Manager.
Re-signed Zydrunas Ilgauskas.
Signed Larry Hughes, Donyell Marshall, and Damon Jones, and are close to signing Alan Henderson.
Drafted Martynas Andriuskevicius.
Lost Jeff McInnis, DeSagana Diop, and Robert Traylor via free agency.
Waived Lucious Harris.
Traded Jiri Welsch to Milwaukee.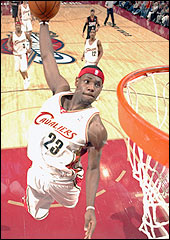 Reason For Optimism:
Hiring Mike Brown and Danny Ferry, two of the most brilliant young minds around the league, was shear genius. Larry Hughes should partner with LeBron to form a dynamic scoring duo, but more importantly, bring some desperately needed defensive intanglibles to the team. Jones and Marshall bring experience and immediately solve last year's perimeter woes. Big Z enables them to match up with the frontcourt-heavy stalwarts in the East (Miami, Detroit, Indiana). And of course, there's still no way to tell when King James will ever hit the ceiling.
Outlook:
On paper, this team looks damn good. Ferry addressed just about every concern they had during the offseason, and lost next to nothing in the meantime. The Cavs undoubtedly have the makeup to be a 50 win team, but they're going to have show significant strides in those key elements you don't find on paper: defense, chemistry, and experience.
Detroit
Key Offseason Moves:
Hired Flip Saunders as Head Coach after Larry Brown resigned.
Signed Maurice Evans and Dale Davis.
Drafted Jason Maxiell, Amir Johnson, and Alex Acker.
Lost Elden Campbell, Darvin Ham, and Horace Jenkins via free agency.
Reason For Optimism:
The Pistons once again return their core, the same group of guys that narrowly missed repeating as NBA Champions. They also welcome aboard Maurice Evans and Dale Davis, two players that will help address Detroit's most glaring problem from a season ago-- lack of depth. Flip Saunders is a players coach who won't allow anything to distract this team from the goal at hand-- reclaiming their championship belt.
Outlook:
The Pistons know the real season begins in April, so don't expect a 60 win team out of this bunch. Nevertheless, Saunders knows well enough that home court advantage is crucial, so he won't simply let them coast along. There's probably less talk around Detroit this year than any of the legitimate title contenders and that could be a very good thing considering all of their distractions last year. Don't write the Pistons off, this team can definitely win another title.
Indiana
Key Offseason Moves:
NBA re-instated Ron Artest after being suspended 73 games last season.
Signed Sarunas Jasikevicius
Drafted Danny Granger and Erazem Lorbek
Lost Reggie Miller via retirement, and Dale Davis and James Jones via free agency.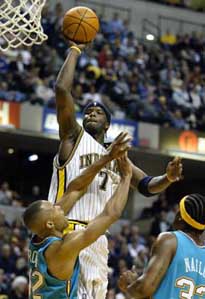 Reason For Optimism:
Ron Artest returns to a team that is hungrier and more focused on their goal than probably any other in the league. Point guard Sarunas Jasikevicius brings a great deal of experience (3 Euroleague championships in past 4 years) to a position that has been topsy-turvy for them in recent years. Danny Granger adds even more power to a bench that could compete with at least of half of the league's starting fives.
Outlook:
We'll see right from opening tip on day one that the Pacers will take nothing for granted this season. After suffering (though still competing every night out) through an entire season wondering what could have been, the opportunity is right there for the Pacers to make up for their mistakes. Did I forget to mention their top 5 talent? Anything less than 55 wins and a Central Division crown will be deemed a disappointment...by them.
Milwaukee
Key Offseason Moves:
Hired Terry Stotts as head coach after firing Terry Porter.
Re-signed Michael Redd, Dan Gadzuric, and Toni Kukoc
Signed Bobby Simmons, Charlie Bell, and Ervin Johnson
Acquired Jiri Welsch via trade
Drafted Andrew Bogut and Ersan Ilyasova
Bring back T.J. Ford who missed last season with a spinal injury.
Lost Zaza Pachulia, Calvin Booth, Marcus Fizer, Anthony Goldwire, Erick Strickland, and Daniel Santiago via free agency.
Reason For Optimism:
Much like Cleveland, all the cards appeared to be falling into Milwaukee's lap this summer. They unexpectedly landed the #1 draft pick in June and in turn picked up their big man for the next 15 years; they were able to persuade Michael Redd to continue to build on his legacy in Milwaukee despite furious efforts from outside suitors; they snuck in and swipped reigning Most Improved Player Bobby Simmons from the Clippers; they re-signed one of their two bigs, Gadzuric, when it was expected that they were going to lose both; and T.J. Ford announced that he's returning to the lineup thanks to a miraculous full recovery. Yes, the future looks brighter than it has in quite some time.
Outlook:
It might take some time for the team to work through the kinks of introducing a new coach and what most expect to be three new starters (Ford, Simmons, Bogut), but the Bucks certainly have the talent necessary to battle for a Playoff spot. If Michael Redd proves that he's worth what the Bucks paid him as their franchise player, the Bucks could be a team worth keeping a close eye on for years to come.